'Sustaining a life well travelled' – Cathay Pacific reveals their 2014 development report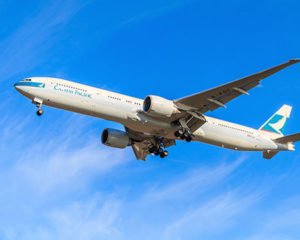 Cathay Pacific Airways has launched its 2014 Sustainable Development Report, which outlines the various sustainable development measures undertaken by the airline and the Cathay Pacific Group's subsidiaries based in Hong Kong. The title of the report is 'Sustaining a Life Well Travelled'.
James Tong, Cathay Pacific Director Corporate Affairs said: "At Cathay Pacific we believe that life should be lived well, and that part of living well is to take a more sustainable approach that can help to preserve the environment for future generations. The Cathay Group's sustainability strategy focuses on five key aspects, including our operations, people and communities, customers, suppliers and infrastructure."
Highlights of the Cathay Pacific Sustainability progress in 2014 include the following:
The group's 'Climate Change' initiative which recorded their fuel efficiency in 2014 having improved by 4.5% in relation to passenger and cargo traffic carried (measured in revenue tonne kilometers, or RTKs) in 2013, brought the total fuel efficiency improvement since 1998 to 22.8% per RTK.
The airline introduced methods such as reusing food offcuts, recycling used cooking oil, and improving its meal planning process, to further reduce waste management. The company strongly believes in recycling as well. Initiatives include turning glass bottles collected from flights into paving bricks for pathways and roads.
The airline's passenger lounge at Charles De Gaulle (CDG) Airport, Paris, achieved LEED® certification to the Silver level for implementing practical and measurable strategies and solutions aimed at achieving a higher performance in sustainable site development, water savings, energy efficiency, materials selection and indoor environmental quality.
Cathay Pacific has continued to engage with the International Union for Conservation of Nature's Shark Specialist Group and TRAFFIC International to address technical issues and develop a cargo framework for helping to identify sustainable sources of shark-related products.
To read more about the report, visit: www.cathaypacific.com