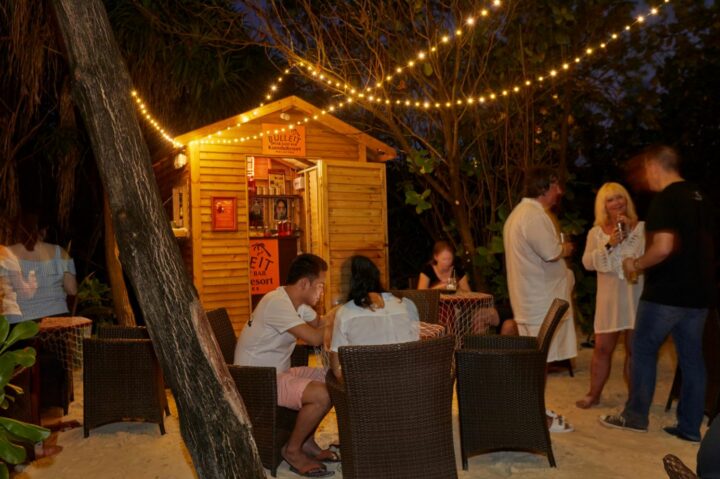 The BULLEIT Bar at Kuredu; First-ever speakeasy bar in the Indian Ocean
Sensory experiences and the ambience are the spotlights when you walk into a bar to drink and chill. Those concealed speakers playing mood-setting music, the mesmeric lighting and yes, the perfectly placed crafts on walls and ceilings will definitely stimuli your experience.
KUREDU BAR-SCENE – Mixed, Shaken & Stirred!
For a memorable holiday, the dash of exclusiveness is all it takes. Kuredu Maldives is proud to present their trendy beach bar-scene, tailored experience of bliss and rejoice. At Kuredu bar-scene, go and grab your desired drink from their themed bars; astounding you with unique concepts and signature menus.
9 BARS, 1 RESORT
Kuredu's all-time favourite all-rounder bar – "Babuna Bar" serves popular cocktails and shots. If you are up for a gin or gin-cocktails, drop by Sangu Bar. The O' Bar welcomes wide-range of vodka and views. Crafted for the choice of true paradise lovers, Akiri Bar includes fancy tiki cocktails from around the globe. Wanna cool down from the tropical heat? Take a dip, enjoy from the range of frozen cocktails at the Pool Bar! Golf Bar is all about the game  while sipping on international beers, long drinks and wine. Kuredu's wine cellar "Sangu" offers up to 250 labels. Enjoy the sunset, high-quality hot beverages and international beer at Sai Kotari. Raalhu Bar is for beers and long drinks.
…and the newest addition to Kuredu's bar string is the "Bulleit Bar". Counting at #9, this secluded bar in the bushes is where you can head to, to enjoy some privacy and a real bourbon whisky. It is one-of-a-kind and Indian Ocean's first speakeasy bar. The place to be if you want to host a private little party!
CREATOR OF THE BAR-SCENE
With over 16 years of international F&B experience – Florian Niessing joined Kuredu in mid-2017. His creative mind and the rich background of knowledge drove Florian to bring the WOW-factor to Kuredu bars, offering something new for the guests to experience. Creating bar-scene was a tasteful project. Existing 8 bars were beautifully themed, re-designing menus to go along the themes.
SPOTTING THE HIDDEN
Florian being creative and resourceful utilized a hidden spot at the beach to set up a unique and intimate bar. Paving the entrance without trampling the natural landscaping, Florian wisely made use of an untapped hut and some idle furniture to bring the bar to life. All-Natural lighting with some solar string-lights is lit after sun-down.
A TWIST IN THE OCEAN
Hasn't the traditional bar concept grown a bit outmoded? Don't we crave for a more serene surrounding with a rustic feel? Kuredu's Bulleit Bar has changed the traditional bar concept, for the first time in the Indian Ocean. This speakeasy bar allows us to reminisce the peace and quiet. We can experience a real connection with the real world! No loud music, no internet… just the natural surroundings, soft music, sounds of the waves, chirps of the white terns, dim lighting. An excellent place to hang out, talk and to enjoy a bourbon whiskey.
EXCLUSIVE DISTRIBUTOR – SIMDI BEVERAGES
In a market where traders are freely trading substandard products by using "price" as the key USP, SIMDI Beverages, the pioneer in alcoholic beverage distribution in the Maldives is taking an entirely different route. SIMDI is governed by strong principles and philosophies. SIMDI Bev at present possess the largest repertoire and distribute world-renowned agencies being the exclusive distributors of such brands legitimately in the Maldives territory.
Traders have made Maldives market a paradise to supply many of the high demanding products illegally, sourced through various sources including supplying counterfeit products.
Speaking to us Sanath Wasantha the Senior Manager (Head of SIMDI Beverages) says "our core objectives are: to drive guest experimental, improve bar rituals and establish a proper route to market. Price is important, but the price isn't everything about buying or selling a product ".
PARTNERSHIP
Sanath further added that "many resorts who have already experienced early treats of counterfeit products (freely supplied by traders) enters into a partnership with us for this very reason explained above.
We are thankful to Kuredu for entering into such a long-term partnership with us and we are already reaping benefits together.
We are hopeful that no sooner we will be able to establish a route to market for all our agencies that we work exclusively with by providing quality and driving product experience".
GM's REMARK
Kuredu GM – Patrick de Staercke expresses his opinion on this creative project.
He believes that the concept of the speakeasy bar by Bulleit is to create a unique experience. A secret bar in the shed with premium drinks and to talk in privacy is a luxury we seldom get.
"The Bulleit Bar gives a great experience of social communication and is super eco-friendly".
Speaking further he shared his gratitude towards SIMDI Bev for their initiative in backing-up this project. "We are so thankful to SIMDI Beverages for bringing in support and developing brand experience. This definitely would enhance the bar experience to our guests".