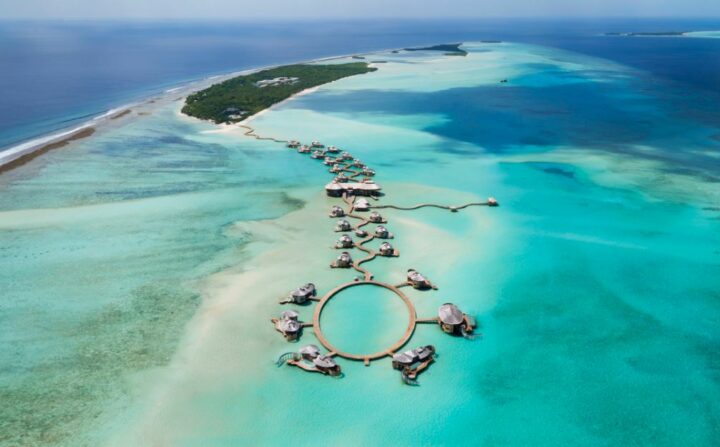 The Soneva Philosophy
With a little over two decades of operation in the Maldives, and having branched out into all the corners of the world, Soneva is a name that is now synonymous with ultraluxury travel. Having created the brand in 1995, the core roots of its operation has stayed steadfast in evolving to cater to the concept of what luxury is.
In an exclusive interview with Hotelier Maldives, Sonu Shivdasani, the co-founder of Soneva, and its initial parent company Six Senses, elaborated on the philosophy of luxury that is one of the driving forces of the Soneva Philosophy. Sonu says that at Soneva they really question and challenge what luxury is, using the phrase "Intelligent Luxury" and try to understand what a rare and exclusive experience is for the wealthy today, the urban elite."Luxury is a concept, it's a philosophy, it's about that which you don't get every day, which is special, which is rare, that's unique. But also something that's true; that when you do experience it, it touches the core of your heart."This concept curates extraordinary guest experiences that are "a change from the day to day life of the urban elite". Sonu says, "for us, it's all about being able to walk barefoot for a week or having that fresh salad that was plucked from the garden that morning."
This concept of unique luxury experiences has given birth to some amazing elements that complete the Soneva experience, like going to the observatory and seeing the stars through the largest telescope in the Indian Ocean. Or having someone like Buzz Aldrin, the second man on the moon or Masimo Tarenghi, who runs the largest telescope in the Atacama desert, explain the known universe to the guests.Then again, simple things like watching a movie with the stars reflected on the screen or having a shower and seeing the full moon above you make for an unforgettable experience at the Soneva resorts.
"Those things, if you're the richest man in India or London or Paris, you can't do, however wealthy you are.And so it's really about giving our guests these sort of rare moments for themselves and their families. These rare, treasured, cherished moments in a natural setting and bringing out the beauty of nature. Rather than the famous restaurant with the famous chef, why not let a sandbank be the restaurant? We love being one with nature. We love the idea of being on holiday where we don't have to wear shoes, where we can be barefoot."
This very idea of going back to nature, and the embodiment of sustainable tourism practices has shaped the core philosophy of Soneva; "SLOWLIFE", an acronym that encapsulates the ideologies of luxury, wellness and sustainability as Sustainable, Local, Organic, Wellness, Learning, Inspiring, Fun, Experiences.
"The way we do it is by questioning and challenging what luxury is. And I gave you a few examples and all of these examples are, I think, the greater luxury for our guests. You know, say we had a designer restaurant that was air-conditioned with a famous chef, importing foods from all over the world, serving and focusing just on imported food. That would obviously not be great on the environment in terms of a lot of built environment, using air-conditioning, importing a lot of your produce.""I would say, 30 percent of our market list comes from Baa Atoll, but in terms of actual kilogrammes of what we serve our guests, it's about 80 percent, that comes from the atoll – whether it's from our gardens or a fisherman. And that's what our guests want. You can have caviar and foie gras in London."I mean we do serve it. We serve sustainable options and animal-friendly options but it's played down. People prefer eating the rocket salad or a fish that was swimming in the sea this morning because you can't get that in London or Paris. So those are the more sustainable options, they are obviously the healthier options as well. And that's what our guests want. You can have caviar and foie gras in London. I mean we do serve it. We serve sustainable options and animal-friendly options but it's played down."Walking barefoot is very grounding for you. If your guests are walking barefoot, it means you can create these beautiful open structures. And not having air-conditioned environments because it's kinder to the environment, they appreciate it."The philosophy is not only about creating such valuable guest experiences, but it is also about the working environment and the values instilled in the Soneva team.
"Out of all the properties, if you think about Vietnam, I'd say half the hosts didn't speak English. Thailand as well, we have people at Soneva Kiri who don't speak English well. So, SLOWLIFE was very easy. It was easy for everyone to understand what it stood for."Eight letters, you could remember it very easily. It was an acronym for eight ideas and so we started with that here, but then we rolled it out. This idea of engaging with the local community and having locals operate with us, the focus on sustainability and the idea that our property should be a learning and inspiring fun experience."By questioning and challenging what luxury is, Soneva has created a philosophy that has withstood the test of time, continuously setting the bar for what a luxurious, intelligent travel experience is.