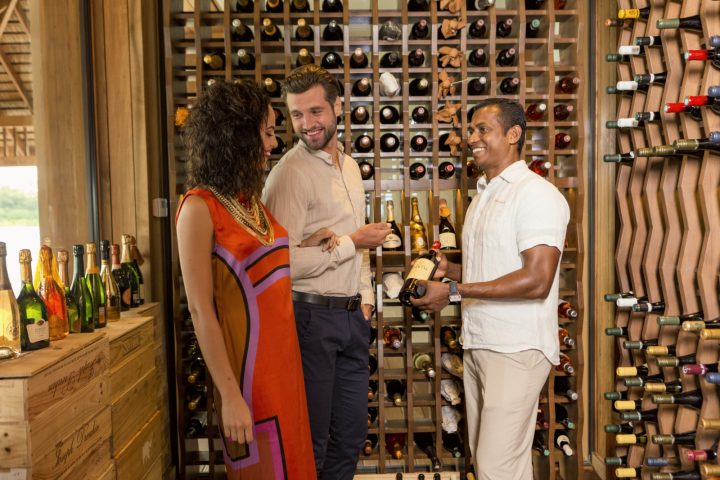 The Wondrous Wine Cellars of the Maldives
Featured Image: Hurawalhi Wine Cellar and Sommelier 
Wine was first discovered in 6000 BC in Eurasia and it has long been enjoyed throughout the world. While the Maldives is a Muslim country and in its inhabited islands drinking alcohol is prohibited, in the resorts where international guests visit, the beverage is the perfect accompaniment to the infinite ocean views. The cellars of five-star resorts contain the best wines on the planet which are available for guests' enjoyment. Talented sommeliers and some of the best wine experts in the world help guests select the right wine for their taste.  These stock labels from all over the world from rare vintages to classic wines.
To mark International Wine Day on 25 May, Hotelier Maldives has searched the archipelago for some of the most lavish wine cellars in the resorts.
Hurawalhi Island Resort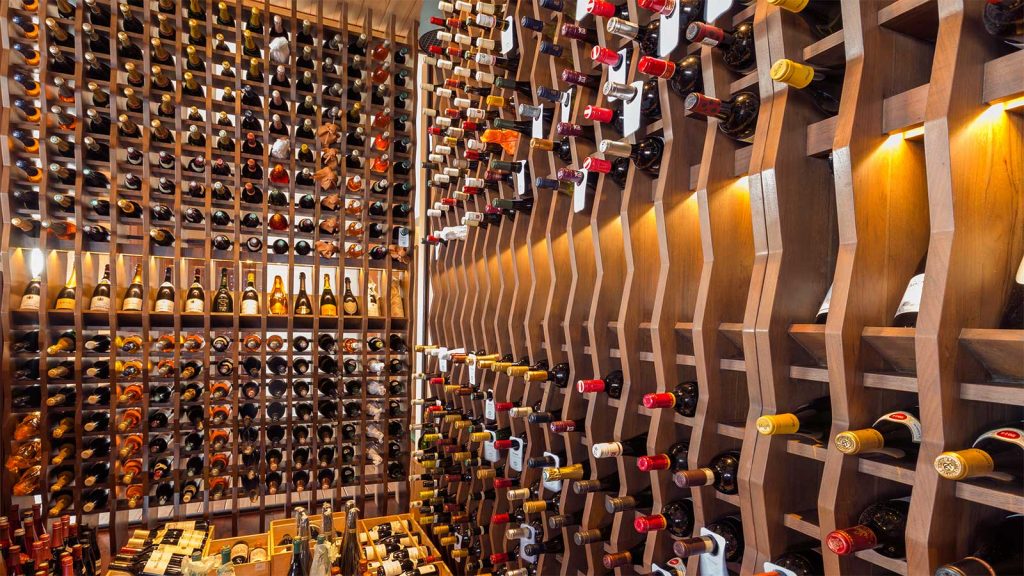 Discover the finest wines and champagnes at Hurawalhi's walk-in wine cellar and immerse yourself in the absolute best vintages from all corners of the globe. With more than 1,000 exclusively available bottles to choose from, there is something for any palette stored in the cellar. Enjoy these treasures overlooking the ocean, at dinner, or the celebration of a special occasion. In 2018, Hurawalhi Maldives won the highest honour in the World's Best Wine Lists Awards. The five-star resort boasts an outstanding selection of wine from leading producers and a good mix of vintages. Famously Hurawalhi is home to 5.8, the largest, all-glass underwater restaurant. It has a tropical champagne pavilion and wine can be enjoyed in the stylish villas.
Kuredu Resort Maldives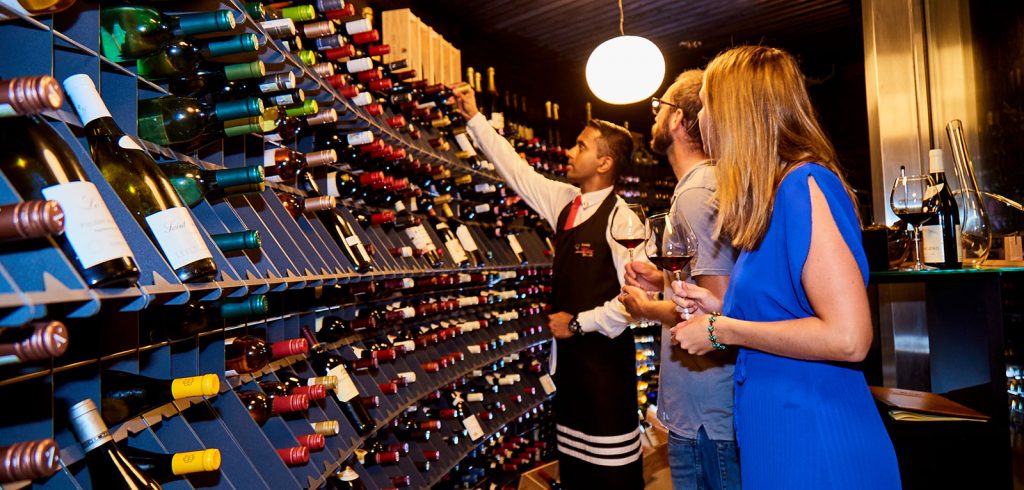 With more than 1,100 premium, exclusively available wines, the Sangu wine cellar is a true source of indulgence that provides the option of adding a luxe touch to your holiday at Kuredu Resort. Toast in style, or simply allow yourself to enjoy a bottle of the world's most grandiose wine to create an ambiance with your loved one. The wine list features labels by magnificent winemakers specially selected to showcase the best wine regions the globe has to offer. These labels are all rated between characterful and exceptional, from deep ruby reds to celebratory champagne. The resort puts care into choosing wines by the glass for your meal and selects only passionate winemakers. Food- friendly wines reflect the mood of the outlet and the cuisine. Furthermore, there are perks of a 20 per cent discount on the Cellar Masters' Reserve selection for Sangu water villa guests, private pool villa guests, gold package guests and guests booking special events. Popular with divers, Kuredu in Lhaviyani Atoll is known for its unrivalled beauty and tropical marine life. With a total of 388 rooms, villas and suites, including 50 water villas, Kuredu Island Resort & Spa in the Maldives is one of the largest of its kind in the Maldives offering affordable all-inclusive packages for families.
Raffles Maldives Meradhoo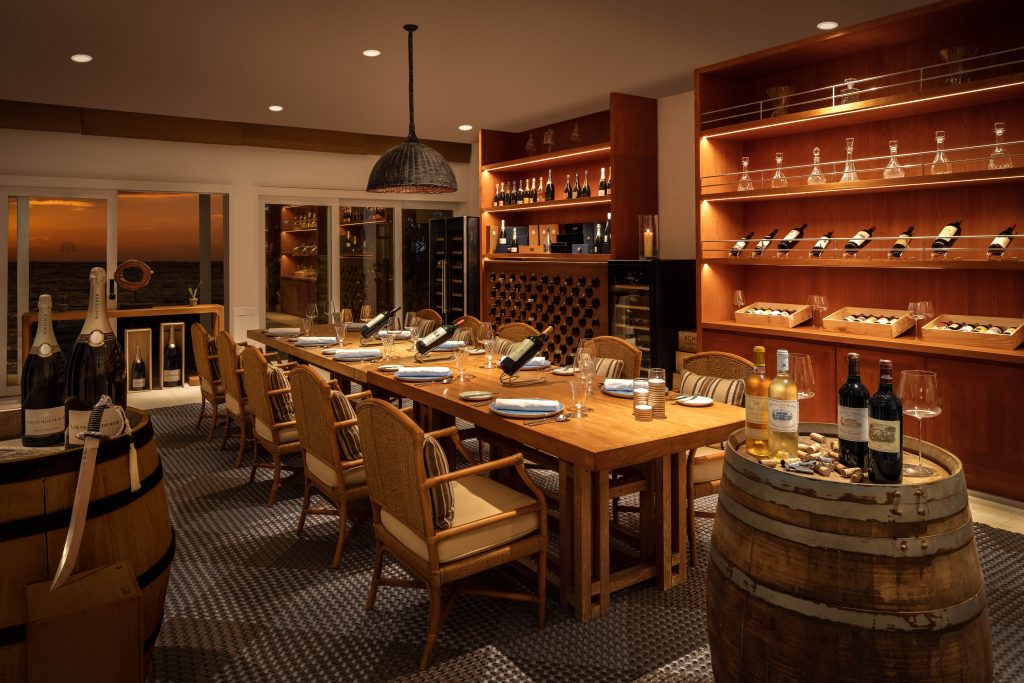 The iconic Raffles Maldives Meradhoo has an impressive wine cellar called the Wine House, where the discerning oenophile can enjoy tasting and pairing experiences led by new head sommelier Manuel Llamas. Offering one of the best wine collections in the Maldives, The Wine House features over 400 labels spanning from old-world classics to innovative new-world varieties. Standouts include a superb range of French and Italian vintages, from a Grand Cru Classe from Bordeaux to a rare Petrus 1996, as well as a kosher wine selection and elegant varieties from the renowned Grace Winery in Japan. Originally hailing from Spain, Llamas brings a wealth of expertise from the Steer Bar and Grill in Melbourne, Fairmont Maldives Sirru Fen Fushi, and InterContinental Dubai Marina.  Guests can sip and savour at the cellar's cosy tasting table which overlooks sparkling Maldivian waters or try a wine pairing session wherever they choose. Experiences are expertly tailored to each guest, whether a romantic chocolate-and-wine pairing for two at a beachfront 'sunken table' built into the sand, a flight of the finest champagnes enjoyed with friends at the iconic Long Bar, or a cheese-and-wine degustation at the Yapa Sunset Bar.
Gili Lankanfushi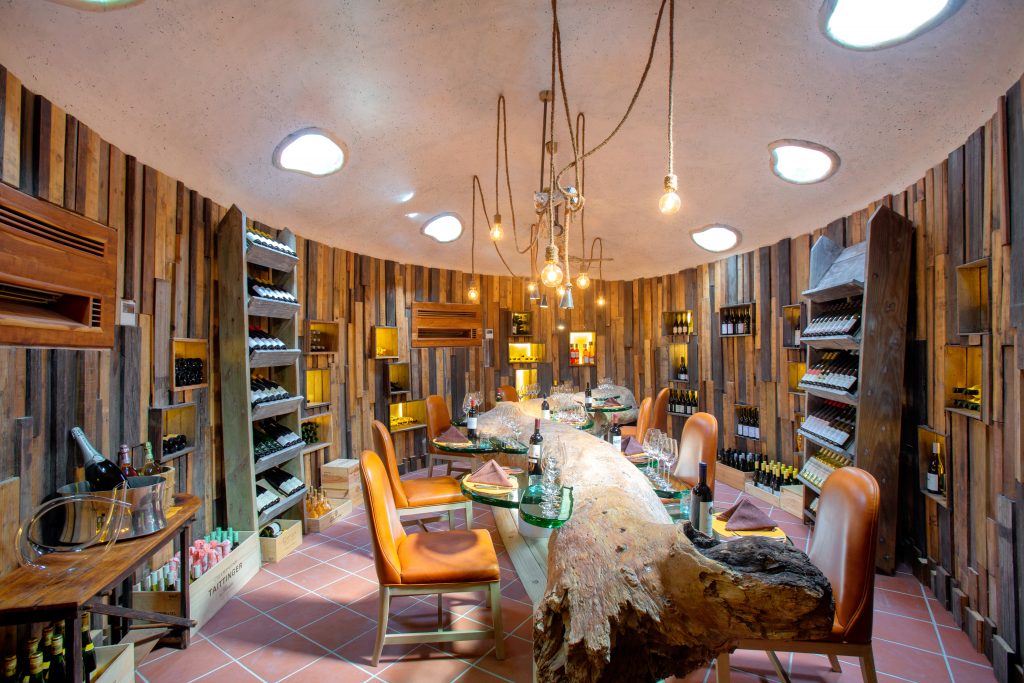 Gili Lankanfushi's unique underground wine cellar is home to a wide range of wines from around the world, a cosy space to learn more about wines with a team of knowledgeable sommeliers. The cellar has been built around an enormous tree trunk, which serves as the table for tastings and dinners. The cellar has been built around an enormous tree trunk, which serves as the table for tastings and dinners. The cellar houses more than 500 labels of wine from numerous regions around the world, and over 10,000 bottles in volume. To really put that in perspective, Gili Lankanfushi is a small hotel – only 45 rooms which means there are 200 bottles of wine per guest villa. Venture across the old and new worlds with a tasting session lead by the expert sommelier Rohan Rasanjana, who is also a great entertainer. On any evening of the week, be prepared to be swept off your feet with mouth-watering gourmet dishes along with sommelier's choice of premium wines hosted by a talented team of sommeliers. This cavernous cellar can be found at the bottom of a flight of glass stairs. Guests gather around a wine tasting table made from driftwood washed up from the tsunami in 2004. The wood planks seen on the walls of the wine cellar are made from the remains of burnt villas from the fire at the resort in 2019, while the wine shelves are upcycled from old villa stairs.
Conrad Maldives Rangali Island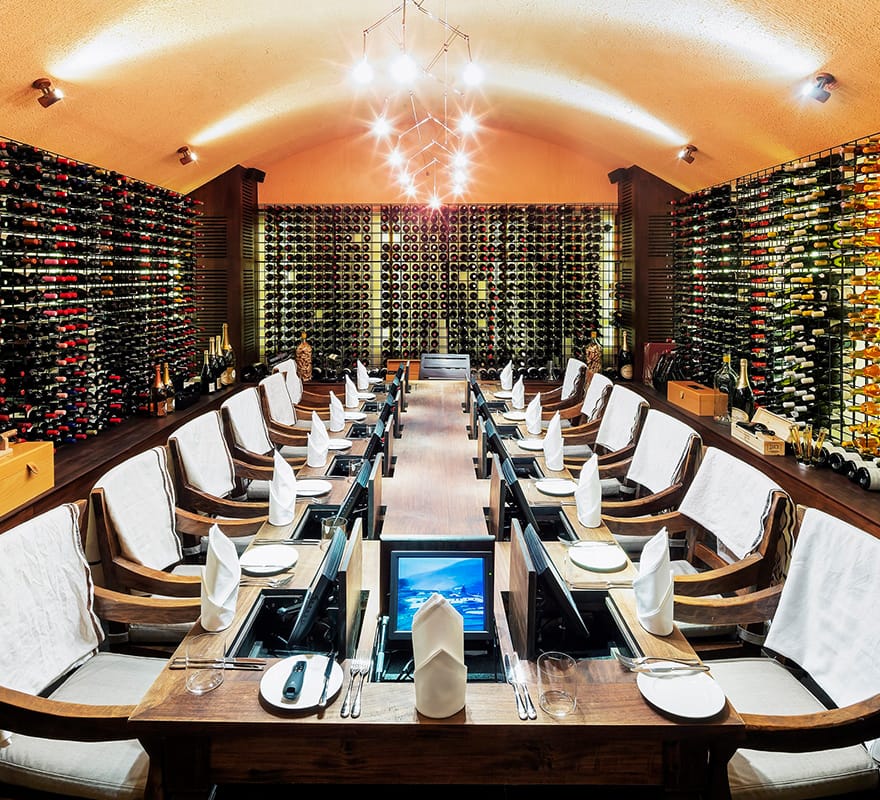 Conrad Maldives Rangali Island is home to the very first wine cellar in the Maldives.  Descend two metres underground where 15,000 bottles of wine and up to 950 labels are expertly preserved. This is the largest collection in the Maldives. Surrounded by the plethora of old and new world wine bottles, guests are served a six-course, paired degustation menu, paired with six hand-picked wines and one champagne skillfully matched by the executive chef and resident wine expert Hamid Hamdee helps guests to select the finest vinos.
InterContinental Maldives Maamungau Resort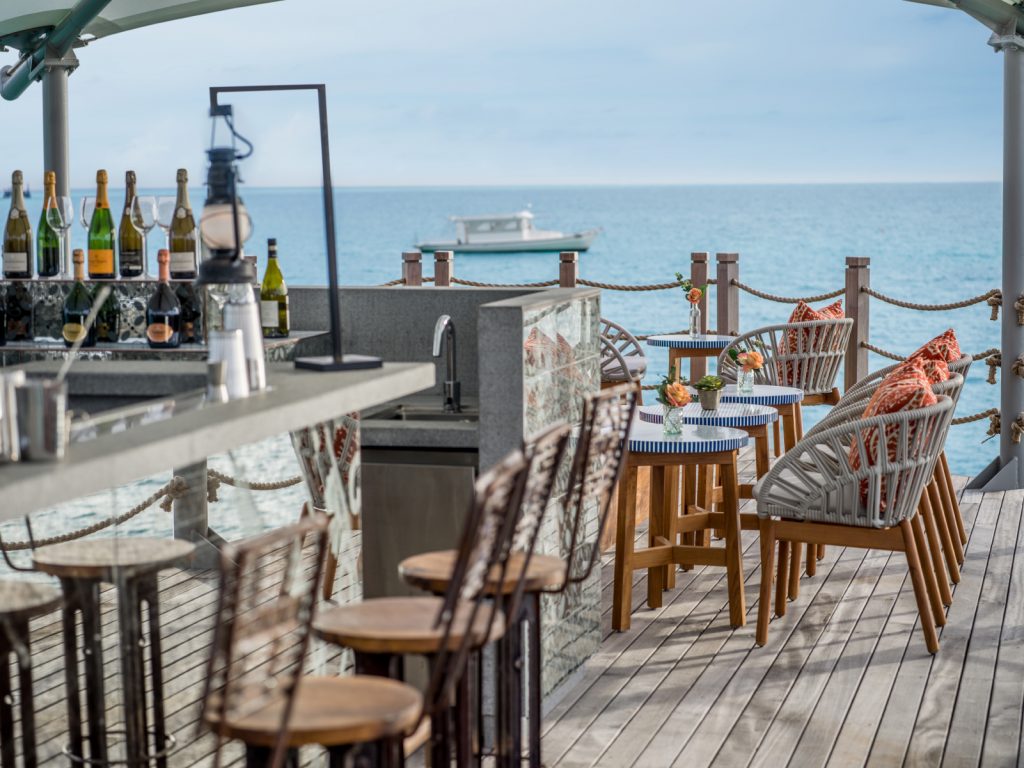 The Sunset Bar is a replica of a traditional Maldivian dhoni that offers spectacular sunset views. In its cellar are over 400 wine labels from all around the world, 40 labels of champagne including vintage and non-vintage, prestige cuvees, rare collections, 1970 port and a Abys champagne which is limited edition and aged in the Atlantic Ocean. The most expensive wine they store is a 1986 Château Pétrus priced at $9,000. Signature experiences at InterContinental Maldives Maamungau Resort include "Wine Games" where head sommelier Retheesh Mohanan leads the guests through a 90-minute blind tasting and a tasting comparison of wines from the northern hemisphere vs southern hemisphere. A favourite tasting of the guests is always the Mediterranean wine and cheese tasting.  The most popular wine with guests is the Kanonkop cabernet sauvignon from South Africa and whispering angel rose from France.
JW Marriott Maldives Resort & Spa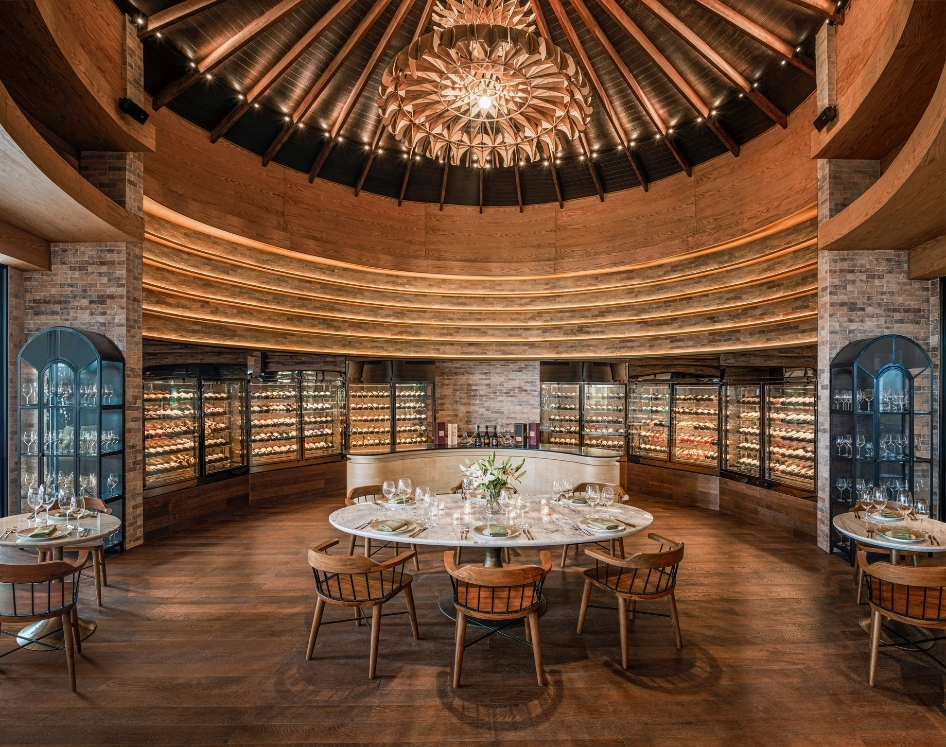 The Wine Room at JW Marriott Maldives Resort & Spa is conveniently located in the heart of Aailaa, all-day-dining restaurant. The Wine Room features an inventory of 1700 bottles and 320 old-world and new world labels from across the globe. Ankit Choudhary oversees the cellar which is home to 2008 Dom Perignon Brut, 2004 Louis Roederer Cristal Brut, 2013 Henschke Hill of Grace Shiraz, Australia and 2015 Didier Dagueneau Silex Pouilly Fume, France. The most popular wines loved by guests include: Veuve Clicquot Brut, Reims, France, 2017 Dog Point Section 94 Sauvignon Blanc, Marlborough, New Zealand, 2018 Domaine Trimbach Riesling, Alsace, France, 2017 Laurenz V Singing Gruner Veltliner, Kamptal, Austria, 2018 Château d'Esclans Whispering Angel Rosé, Côte de Provence, France, 2014 Tenuta San Guido Sassicaia Bolgheri, 2013 Robert Mondavi & Baron Philippe de Rothschild Opus One, 2015 Allegrini Amarone della Valpolicella, Valplicella, Italy and a 2016 La Ferme du Mont Châteauneuf-du-Pape, Southern Rhone, France. And the most expensive wine in the cellar is a bottle of 2007 Château Petrus from Pomerol Bordeaux, France.
Huvafen Fushi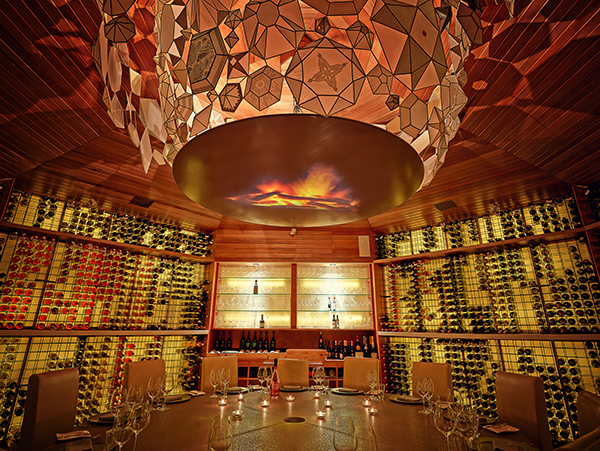 Huvafen Fushi's underground wine cellar Vinum is a cave of wonder that stocks up to 6,000 bottles and approximately 650 labels from all over the world including rare vintages. This iconic cellar is the place where Jude Perera conducts wine and cheese tasting events plus degustation dinners for guests. Vinum has a special ambience unlike anywhere else. Nestled deep in the heart of the island underground, it is accessible by a cool concrete staircase that descends approximately eight metres below ground, illuminated by candlelight. This spherical space can hold up to 6,000 bottles with approximately 650 labels on offer from all over the world, for example: the 2004 Château Angélus 1er Grand Cru Classé B Saint Émilion; 2008 Dal Forno Romano Vigneto Monte Lodoletta, Amarone della Valpolicella DOCG; 2008 Vina Almaviva Puente Alto; 2004 Château Cheval Blanc, 1er Grand Cru Classé A Saint-Émilion; and the 1998 Krug Clos de Ambonnay Brut Reims. The most expensive wine on offer is the 2002 vintage, Chateau Mouton Rothschild 1ER Grand Cru Classe, six litres, Bordeaux France retailing at $46,000.
Anantara Kihavah Maldives Villas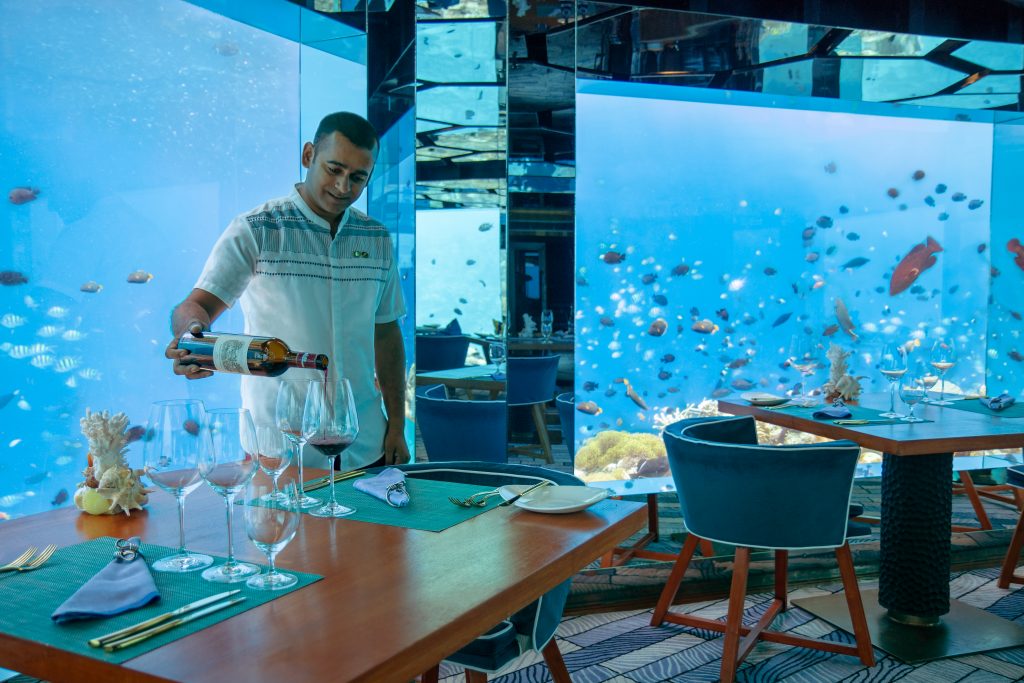 Nestled within Anantara Kihavah's famed house reef, descend into SEA, the resort's award-winning underwater restaurant and wine cellar. Offering diners an unreal underwater marine experience, the octagonal design and mirrored interior optimises the aquatic view making one feel as if they are part of the house reef. Since 2013, the cellar has annually been recognised with coveted awards from Wine Spectator and World of Fine Wine. Oenophiles will delight in the impressive global list from both renowned and off-the-beaten-track wine regions with 450 labels from 15 countries, including vintages dating from 1795. Thirty labels are available by the glass and regular tasting sessions offer guests a tantalising journey through the world's finest champagne houses and wine estates. Guests are welcomed with a Dom Perignon aperitif before enjoying either a gourmet lunch or dinner set menu featuring international classics. An exceptional feast for the senses, savour each course carefully paired with fine wines handpicked by the resident Wine Guru, whilst luxuriating in panoramic views of marine life at play amongst vibrant corals. During the day, SEA showcases turtles, butterflyfish, unicornfish and jackfish in their natural habitat whilst dinner time attracts nocturnal predators including lionfish, reef sharks, moray eels and sting rays.