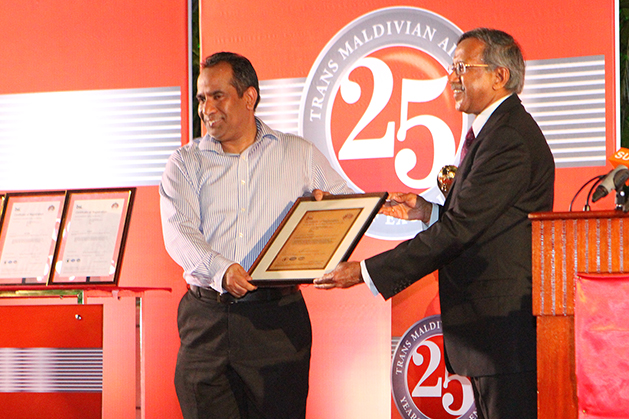 Trans Maldivian Airways Celebrates 25 Years of Excellence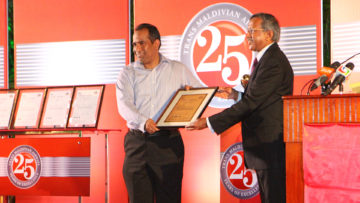 Trans Maldivian Airways (TMA) held a special dinner at Hulhule Island Hotel (HIH) on January 8 to celebrate "25 Years of Excellence". The event also marked the receipt of "World's leading Seaplane Operator" and "Indian Ocean's Leading Seaplane Operator" by TMA at the 2014 World Travel Awards.
TMA also has received ISO-9001 Certification for Quality Management System, ISO-14001 Certification for Environmental Management System and ISO-18001 Certification for Occupational Health and Safety – thus making TMA the first airline in Maldives to receive three ISO Certification as an integrated management system. In addition, TMA also received the PAS 99 Certification from the certification body British Standards Institution (BSI). The certifications were awarded to TMA by BSI's Managing Director Mr. Venkataram Arabolu and received by TMA's CEO Mr.A.U.M. Fawzy.
As oldest seaplane operator in the Maldives, it holds the title of the largest seaplane operator in the world as well. The company was founded in 1989 as a helicopter fleet operator under the name Hummingbird Island Helicopters. It transitioned to a seaplane-only fleet in 1999 to be shortly known as TMA. Since then, the company has come a long way, as it transferred 983,900 passengers in 2014 with their 46 seaplane fleet of Twin Otters.