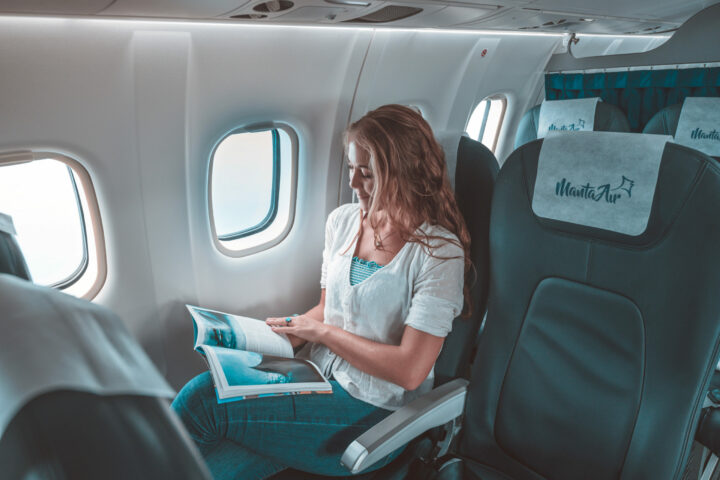 Manta Air – Travel short-haul in style
Manta Air began its operations in the Maldives earlier last year on February 24, to cater to the growing demand for domestic carriers shuttling tourists between the international airports and domestic airports scattered across the country. Today, Manta Air flies to and from Velana International Airport and the domestic airports in Dhaalu Atoll Kudahuvadhoo, Kooddoo Airport in Gaafu Alifu and Baa Atoll Dharavandhoo. Manta Air has also recently started their Seaplane operations.
Despite being the newest domestic airline currently in operation, Manta Air takes pride in being the first to offer luxury services on their short-haul flights, with a mission of providing comfort, safety and luxury travel for all its passengers. The airline pre-published a schedule of flights that applies for a period of six months, to enable trip planning in advance. The airline also offers a user-friendly option to book and manage bookings online. In addition, the check-in process is quick and easy, with friendly staff taking care of passengers through check-in, boarding, and safe arrival at the final destination.
Manta Air operates three brand new ATR 72-600s as their chosen aircraft. Manta Air has also taken a bold approach in going from the traditional 72 seats to 64 seats, taking the unusual step of removing a row of seats to provide extra legroom for passengers onboard. Renowned for its low emission technology and fuel efficiency, each flight carries sixty-four passengers, in its Comfort and Sapphire classes in a 2:2 seat configuration.
The airline offers various tiers of fares for those looking for varying degrees of flexibility in their travel plans; Comfort Super Saver fares are available fourteen days prior to departure, Comfort Saver fares seven days prior, and Comfort Flex fares available five days prior to departure. The baggage and cabin baggage allowances are very reasonable at 22 kg and 5 kg respectively, with the option to buy baggage add-ons for those travelling heavy. Passengers who prefer a little rest and relaxation at the airport can also take advantage of the airline lounge service package as a part of add-on service and passengers who prefer to bring more luggage can also take advantage of their baggage add-on service.
Sapphire class passengers benefit from a range of light refreshments and snacks during the short flight, as well as additional baggage allowances, and extra comfort with ample legroom and reclining seats. In addition to these perks, Sapphire class passengers enjoy the option of priority boarding or boarding at their convenience and also can enjoy a baggage allowance of 35kg and 5kg respectively.
Manta Air publishes its own in-flight magazine, Rays — which gives the reader the latest news, trends, and helpful information about the destination. Flying from Malé to Dharavandhoo Airport, which opened in October 2012, the magazine provides useful background about the natural beauty of Baa Atoll for which it is famous. It also highlights nearby diving hotspots such as Dharavandhoo Thila and Hanifaru Bay, known worldwide for its marine diversity and protected status by UNESCO.
Manta Air also offers a connecting shuttle between the airport and the jetty in Dharavandhoo, for the convenience of passengers looking to transfer to and from nearby islands and resorts. Throughout the journey, it is clear that the emphasis is on creating a seamless, reliable, and comfortable experience for all passengers, and Manta Air delivers on all three fronts.