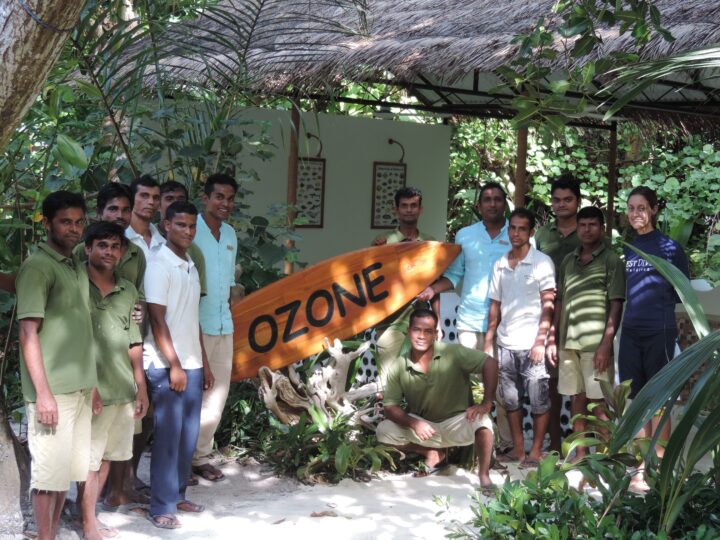 Outrigger Konotta Maldives' OZONE Hut; the hub for its environmental campaigns
Outrigger Konotta Maldives has unveiled the OZONE Hut, an initiative under its environment conservation and sustainability programmes. The OZONE Hut is a homegrown initiative which would encompass the property's efforts to spread awareness on environment conservation, and especially on preservation of marine life.
"The OZONE Hut was built using recycled materials. We used empty glass bottles and other recycled materials such as plywood and dried thatch from palm trees for the roofing," Ibrahim Mirnan – Marketing Coordinator at Outrigger Konotta Maldives, told Hotelier Maldives.
"It will be used as a workplace to organize environmental campaigns, and host presentations on the importance of preserving our natural habitat," he added.
Outrigger Konotta Maldives undertakes a comprehensive environmental campaign, which sees a number of conservation projects. Building the Ozone Hut took less than a month, which was carried out by hosts from the island.
Environmental projects undertaken by Outrigger Konotta Maldives include its coral regeneration programme – an initiative carried out in partnership with Best Dives Maldives, O-Zone and the Coral Doctors, and is scientifically supported by the German Oceanographic Museum of Stralsund.
The aim of the project is to create an environment where coral could be induced to grow artificially. Artificial reefs are a form of active restoration aimed at increasing coral health, diversity and abundance. Our long-term goal is to provide a sustainable regrowth project that could be monitored and maintained for years to come, it said.
Other such initiatives by Outrigger Konotta Maldives include awareness campaigns carried out by its in-house Marine Biologist, in addition to a range of activities such as celebration of conservation-related occasions, a Turtle Quest trip, and other projects which seek to increase awareness and take positive action to protect the nature and planet Earth.
Comprising 29 Beach Pool Villas, 21 Ocean Pool Villas, two Lagoon Pool Villas and the masterful three-bedroom Grand Konotta Villa, the Outrigger Konotta Maldives Resort offers a complete sense of privacy and intimate luxury. The Outrigger has the largest average villa sizes in the Maldives.
The private island rests within the crystal waters of Gaafu Dhaalu Atoll, located a scenic 30-minute luxury yacht journey from Kaadedhdhoo Airport. Outrigger Enterprises Group is a privately held leisure lodging, retail and hospitality company with corporate offices in Hawaii and operating globally in the Asia-Pacific, Oceania and Indian Ocean regions.