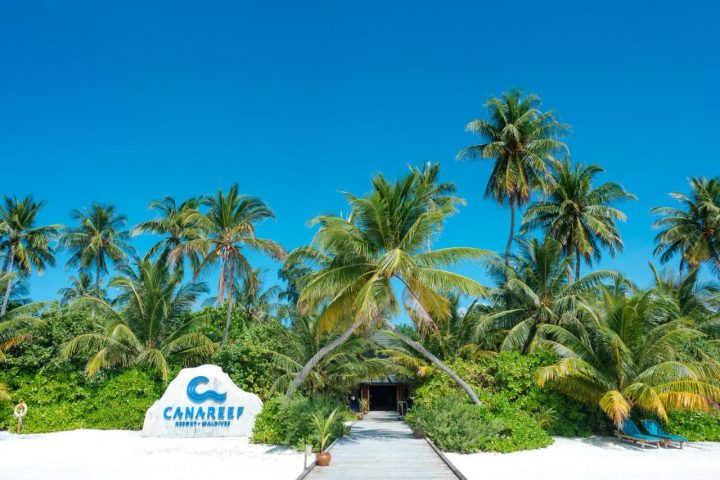 Unforgettable Eid Al-Adha getaway at Canareef Resort Maldives
As the joyful occasion of Eid Al-Adha approaches, Canareef Resort Maldives has prepared an exciting and captivating programme to ensure an unforgettable holiday experience for its guests. Nestled in the southern region of Maldives, this resort offers a range of activities and amenities that cater to every traveller's desires. From thrilling cruises to mouthwatering feasts and exhilarating entertainment, Canareef Resort is set to make this Eid Al-Adha truly remarkable.
Starting on the 28th of June 2023, the Eid Programme kicks off with the Lucky Dolphin Cruise from 09:30 to 11:30. Immerse yourself in the mesmerising marine life of the Maldives as you cruise through the azure waters, encountering these enchanting creatures up close. For a fee of $50 per person, this experience promises to be a highlight of your holiday.
Following the cruise, guests can indulge in an Eid Special Lunch at Kilhi Restaurant from 12:30 to 14:30. Savour the flavours of delectable dishes prepared by the resort's talented chefs, offering a delightful blend of local and international cuisine.
As the afternoon unfolds, head to the Beach Volley Court from 16:00 to 18:00 for an exhilarating game of beach volleyball. Engage in friendly competition as guests take on the resort's staff, creating a vibrant and energetic atmosphere by the ocean.
In the evening, immerse yourself in the tranquil ambiance of Breeze Dinner at Kilhi Restaurant from 19:30 to 21:30. Indulge in a delightful culinary journey featuring an array of mouthwatering dishes, accompanied by stunning views of the ocean. Afterward, dance the night away to the vibrant beats of the DJ Music at Dhoni Bar from 21:30 to 23:00, adding a touch of excitement to your Eid celebrations.
The festivities continue on the 29th of June with another chance to embark on the Lucky Dolphin Cruise from 09:30 to 11:30, giving you the opportunity to witness these magnificent creatures in their natural habitat once again.
In the afternoon, the Dhoni Bar Beach becomes a playground for guests to enjoy a variety of engaging activities. From face painting and colouring to balloon bursting and traditional Maldivian games such as Dhalhuvettun, Kula Jehun, and Bodumas Beynun, there is something for everyone to enjoy. Feel the thrill of friendly competition during games like musical chairs and tug of war, creating cherished memories with family and friends.
As the sun sets, relish a delightful BBQ Dinner at Dhoni Bar Poolside from 19:30 to 21:30. Indulge in a mouthwatering feast of grilled delicacies while enjoying the company of loved ones, all accompanied by enchanting live music. To end the night on a high note, the DJ Music at Dhoni Bar from 21:30 to 23:00 provides the perfect soundtrack to dance the night away.
On the 30th of June, experience the charm of the Maldivian waters with the Sunset Fishing excursion from 17:30 to 19:30. Cast your line into the deep blue sea as you witness the breathtaking sunset, creating a picturesque moment you'll treasure forever.
Conclude your Eid Al-Adha celebrations with an Asian Buffet Dinner at Kilhi Restaurant from 19:30 to 21:30. Immerse your taste buds in the rich flavors of Asian cuisine while enjoying live music, adding a touch of enchantment to your dining experience.
In addition to the exciting Eid Programme, Canareef Resort Maldives has announced a special Eid offer for locals and expatriates that make your stay even more rewarding. The Full Board package ensures that you enjoy a delicious breakfast, lunch, and dinner throughout your stay. As a gesture of warm hospitality, guests receive a complimentary welcome drink upon arrival, setting the tone for a delightful holiday.
Moreover, guests can avail themselves of a 10% discount on rejuvenating spa treatments, allowing them to indulge in ultimate relaxation and pampering. For those seeking underwater adventures, the resort offers a 15% discount on introductory dives, allowing you to explore the vibrant marine life of the Maldives. Furthermore, guests can partake in free dive trials at the lagoon on selected days, perfect for those curious to experience the wonders of diving.
For water sports enthusiasts, Canareef Resort offers a 10% discount on non-motorised water sports, allowing you to engage in activities such as kayaking and snorkelling, all against the backdrop of the stunning Maldivian landscape.
With a range of accommodation options to choose from, Canareef Resort ensures a comfortable and luxurious stay for every guest. The Sunrise Villa offers a serene retreat starting at USD 150 per night, while the Sunset Beach Villa provides breathtaking views from USD 180 per night. For the ultimate indulgence, the Jacuzzi Villa offers a luxurious private Jacuzzi and starts at USD 230 per night.
This Eid Al-Adha, escape to the tropical paradise of Canareef Resort Maldives and immerse yourself in a world of luxury, adventure, and relaxation. With a thoughtfully curated Eid Programme and an array of enticing offers, Canareef Resort promises an extraordinary holiday experience that will create memories to cherish for a lifetime.