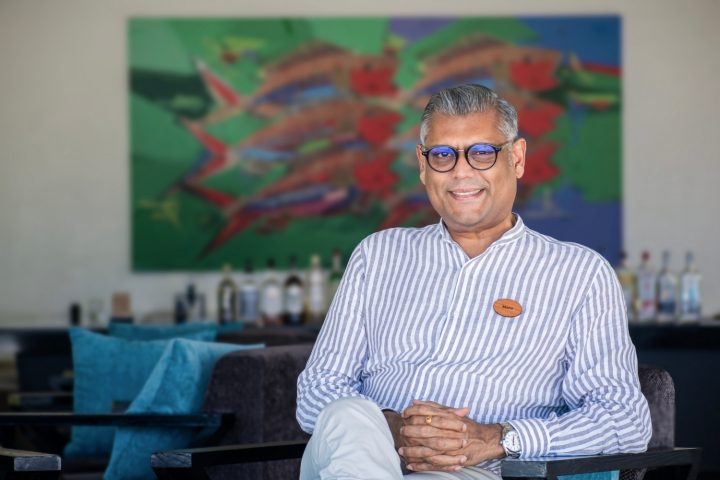 Unveiling soul of hospitality with NOKU Maldives' GM Manoharan Mannarlingam
Manoharan Mannarlingam, Area General Manager at NOKU Maldives resort, did not originally set out for a career in hospitality. But a part-time job as a waiter sparked what has become a lifelong passion.
Now with over 20 years of experience under his belt, Manoharan oversees operations at both NOKU Maldives and NOKU Phuket. His career has taken him from his native Singapore to destinations like San Francisco, Malaysia, Maldives and Thailand. and now the Maldives.
Manoharan first got a taste for hospitality as a 16-year-old in Singapore working part-time as a waiter while waiting for exam results. "I joined a North Indian restaurant as a waiter," he recalled. "I enjoyed what I was doing, and it was within the hospitality industry."
Even though it was just working in a restaurant, the allure of the hotel industry drew him in. "At that time, it was so-called, almost like a glamorous job, working in a hotel and serving the guests," he said.
After finishing his studies, Manoharan went on to pursue a degree in hospitality management in Hawaii. And the rest is history.
Learning to Lead a Resort Team
Although Manoharan had over 20 years of hospitality experience before coming to the Maldives, this was his first time working at a resort.
"It was a little bit challenging in the beginning because of just living on the island. and having no vehicles whatsoever. When you're a city boy and you're seeing the same faces day in, day out, with nowhere to run, it was an adjustment," he admitted.
There was also a learning curve when it came to leading a resort team. "Dealing with the local Maldivian culture, there are different ways of doing things, and it's about learning and immersing oneself in that culture," said Manoharan.
Rather than imposing his own cultural norms, Manoharan focused on assimilating. "I cannot deal with things the way I dealt with them back home. You know, it's different; I'm trying to adjust myself because they are not coming to my culture—I'm entering their culture."
After three years at NOKU Maldives, Manoharan feels settled into the island lifestyle and relishes the daily challenges. "I'm loving it. I mean, it's a different environment, a challenging environment, but a good one," he said.
Serving from the Heart
When asked what he focuses on most in leading his team, Manoharan emphasised service above all else.
"I've always said this and now it doesn't change. I mean the product – the product is a product; you have the bed, the restaurant, the shop, the hardware… it's probably only the quality that changes, but everything else is the same," he explained.
"But what makes us stand out will be the service. We can also call it personalised service," Manoharan continued. "That is something that really distinguishes us. You may compete on other aspects, but service, when done properly, is what builds the guest experience."
Manoharan works hands-on with staff through coaching and leading by example. "It's just a matter of being going there to listen and observe, the staffs don't do anything that's not right. It's just that certain things can be improved – the way you communicate, the choice of words used to communicate with guests," he said.
He also focuses on authenticity. "You have to be genuine, right? And not be a robot," Manoharan emphasised. "It comes from the heart."
Adapting to Changing Travel Trends
With new resorts constantly popping up in the Maldives and trends always evolving, Manoharan keeps adapting to changes. NOKU's offerings.
One trend he has noticed is more all-female groups of travellers. A trend that has become popular in the past one year. "Recently, we have engaged dancers from a nearby island to come in and perform, showing a bit of the local culture," said Manoharan. Introducing more local cuisine and artwork are other ways he aims to appeal to travellers seeking cultural immersion.
However, Manoharan believes NOKU's core offering remains timeless. "There is a niche market for this property, and we are just marketing as such – couples and those who want to come here and unwind. That demographic will never change," he said confidently.
Sustainability initiatives like eliminating plastic, composting food waste, and hydroponic vegetable gardening cater to eco-conscious guests. But simplicity and nature remain the biggest draws. "Our rooms villas don't even have TVs and our guests love that as they can sink into the beauty, atmosphere and activities in the Resort instead of spending time watching TV. but we have had no complaints and many prefer there are many, even with kids, who enjoy it they want to sink into the atmosphere," Manoharan noted.
For those considering a career in hospitality, Manoharan stresses one key trait: "The most important thing is to have the passion for it – passion in wanting to serve the guests and ensure they leave with a memorable experience," he advised.
With passion as the foundation, gaining experience and developing service skills come next. Manoharan acknowledges that dealing with diverse guests makes hospitality challenging but rewarding work. "If you love this job, whatever comes in front of you, you will deal with it," he said.
After two decades in the industry, this hospitality veteran continues learning something new every single day. For Manoharan, pursuing his passion has led to a life of enriching experiences and memories.