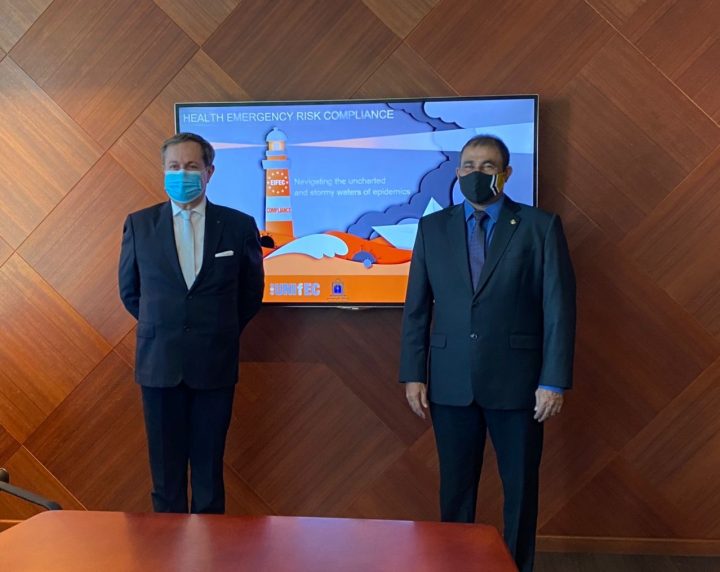 "Vaccinate your Business"
A great slogan but what does it mean and why do you need it?
The "why" is easy – COVID-19, the global pandemic which has disrupted life as we know it has hit everyone and all organisations in the world, and emphasized just how much we took for granted. The Travel and Tourism has been one of the hardest hit industries, with restrictions, and uncertainty generating perceived danger, fear and anxiety for both workers and tourists alike. With the second and third waves of the virus sweeping over huge parts of the globe, the importance of hygiene and sanitation standards have never been greater. Specialised compliance standards minimise the fear of possible danger and give assurance of a commitment to providing a safe environment for all.
EIFEC which stands for the European Institute for Export Compliance, is an International standards organisation for compliance registered at the Commission of the European Union. EIFEC has the multidisciplinary knowledge and competence that allows it to define and develop, by innovation, standards, guidelines and certification mechanisms for emergency situations or critical areas of any nature.
In response to the public health pandemic COVID-19, EIFEC developed a set of new emergency international standards to restore the confidence of the general public and support businesses worldwide to be more effective in their fight against the COVID-19 virus. This new framework was developed through an emergency multi-stakeholder consultation process with the support of UNIFEC, HEALTHBY, and several international expert groups. The goal of EIFEC was to take complex legislation, recommendations and guidelines and simplify them into an easy to understand, straightforward set of standards that could be implemented by any business sector, irrespective of size. Compliance to the standards is assessed via third party auditors and document submissions.
UNIFEC is a strategic alliance network of leading international Universities. (coordinated by EIFEC). It aims at promoting a widespread compliance culture by integrating the relevant best practice and operational procedures using a risk-based approach to establish courses and training sessions.
HEALTHBY is the collaboration arm of an international consortium of leading EU healthcare institutions, universities, professionals. It aims at delivering strategic advice and project expertise.
Having an archipelago of scattered islands and the "one resort – one island" concept makes the Maldives an ideal country for the program to have maximum effect. The EIFEC in collaboration with University of Turin (UNITO) signed a cooperation agreement with Maldives National University (MNU) in August 2020 to introduce and implement EIFEC standards in the Maldives.
Health Emergency Risk Compliance Management System (HER-CMS), series EIFEC ES2001.06:HBY.
A Compliance Management System is a set of written processes, procedures and standards of conduct. It also includes training of compliance officers and implementing a checking mechanism to prevent deviations and omissions. The process will then be verified and validated by a third-party auditor who provides a certificate.
All organizations should have a procedure for tracking sanitization activities; this is where the cleaning schedules, SOP's and cleaning checklists come into play and reinforce those procedures and certifies them as compliant. Once accreditation is achieved the establishment can display their certificate, complete with a QR code which can be tracked back to the EIFEC Compliance Register (ECR) to reassure the guests that the establishment is compliant. The completion of sanitization activities should be submitted to ECR on a weekly basis: upon each submission, a "Certificate of Sanitization" will be issued for internal records and public display.
The validity of each Certificate can be easily verified by scanning the included QR code or in the specific section of the ECR website. The Certificate also states that the sanitization process has been performed in compliance with all guidelines, regulations, best practices and technical specifications applicable.
  "Vaccinate your business"  
The EIFEC HER-CMS can be applied throughout the Maldives to help businesses to protect their workforce and clientele. It is a simple process of 3 steps:
Step One – Choose your standard
Organizations and establishments can adopt two main standards:
Health Emergency Risk Compliance Management System (HER-CMS), which can be adopted and implemented by all organizations.
Compliance Management Systems for Sanitization Service Providers (SSP-CMS), reserved for professional Sanitization Service providers.
There are two levels of standards and audit:
Simplified for MSMEs (Micro, Small, Medium Enterprises)
High Level for more complex organisations
The standards are available in 13 languages.
Step Two – Implement your plan
Simplified emergency procedures and guidelines have been developed to implement your compliance program, irrespective of sector: Tourism, Transportation, Hospitality, Commercial, Offices, Schools, and Factories etc.
Step Three – Get "Vaccinated" (Certified)
In response to the unprecedented circumstances, a simplified interim HER-CMS audit and certification process has been activated. This is a proper remote audit mode, to be carried out online using mobile or desktop applications with the same effectiveness as an onsite audit.
The process activation is available using dedicated Compliance Officers and third-party compliance auditors. Each establishment can have their own dedicated 'Compliance Officer' to manage the process and keep the certificate up to date.
EIFEC certification will not only allay fears of the workforce, but also offers assurance that the establishment is adhering to international standards and best practices. In addition, the certification can be used as a marketing tool to attract tourists by promoting the businesses as a trusted, compliant service provider. Furthermore, it can be used as due diligence defence to safeguard against any potential legal consequences or actions.
EIFEC is working together with UNITO and MNU, their two main counterparts, to assist all segments of the tourism industry of the Maldives to "vaccinate" their businesses.
EIFEC's first initiative in the Maldives was the conducting a complimentary Compliance Officers Training Programme for guest houses and local councils in November 2020. As the guest houses were one of hardest hit sectors this was one of EIFEC's early contributions to the Maldives' efforts in combatting the COVID-19 pandemic in a way that would ultimately be beneficial to the Maldivian economy. All participants who took advantage of this initiative, were awarded a certificate by EIFEC in association with MNU and UNITO.
EIFEC HER-CMS has now been endorsed by the Ministry of Tourism and the Health Protection Agency (HPA) as a tool to combat outbreaks of communicable diseases, and for businesses and organisations to take precautionary stand for the betterment of their business and wellbeing of the community.
For more information on this context please contact:
Email: mdv@ecof.eifec.eu
Phone: +960 9952020
Website: www.eifecmaldives.com