Vakkaru Maldives, A Secluded Sanctuary in the Heart of Baa Atoll

Vakkaru Maldives is a secluded island in one of the Maldives' most popular and pristine regions, Baa Atoll. Distanced from nearby islands, Vakkaru is a private tropical escape for couples, friends, and families. The lush island is a former coconut palm plantation with over 2,000 mature palms surrounded by a vast turquoise lagoon with unique blue holes home to mesmerizing coral reefs. The atmosphere of Vakkaru Maldives is elegant but relaxed, allowing guests to have a luxurious holiday with their toes in the sand.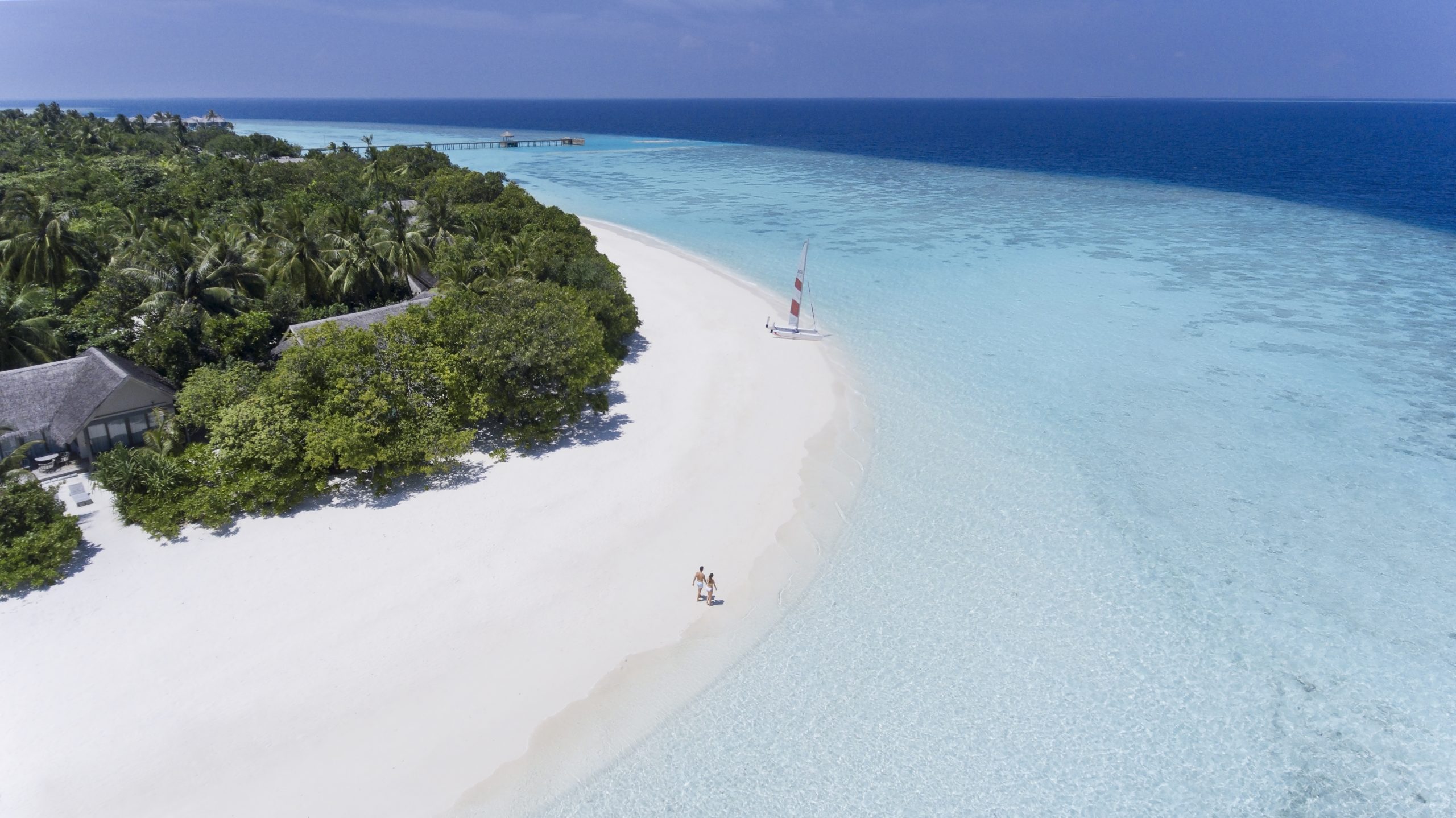 Arrive 
The journey to Vakkaru Maldives is a memorable experience in itself. Fly over the Maldives' ombre turquoise hues in a convenient 30-minute seaplane ride from Velana International Airport. Enjoy light drinks and snacks while awaiting the flight in Vakkaru Maldives' spacious private lounge.
Stay 
The island is home to 113 elegant beach and overwater villas and residences. The room interiors are understated, yet elegant to highlight the destination's natural beauty. Earthy tones and textures complement the island's lush greenery and turquoise lagoon.
The beach villas are hidden under towering palms, offering guest privacy and sanctuary from the glistening equatorial sun. There is variety among the 54 beach villas and residences to accommodate guests' preferences in the number of rooms, area, and pool size. Easily take a refreshing dip in the ocean or pool as all beach villas have private beach access and a pool or plunge pool.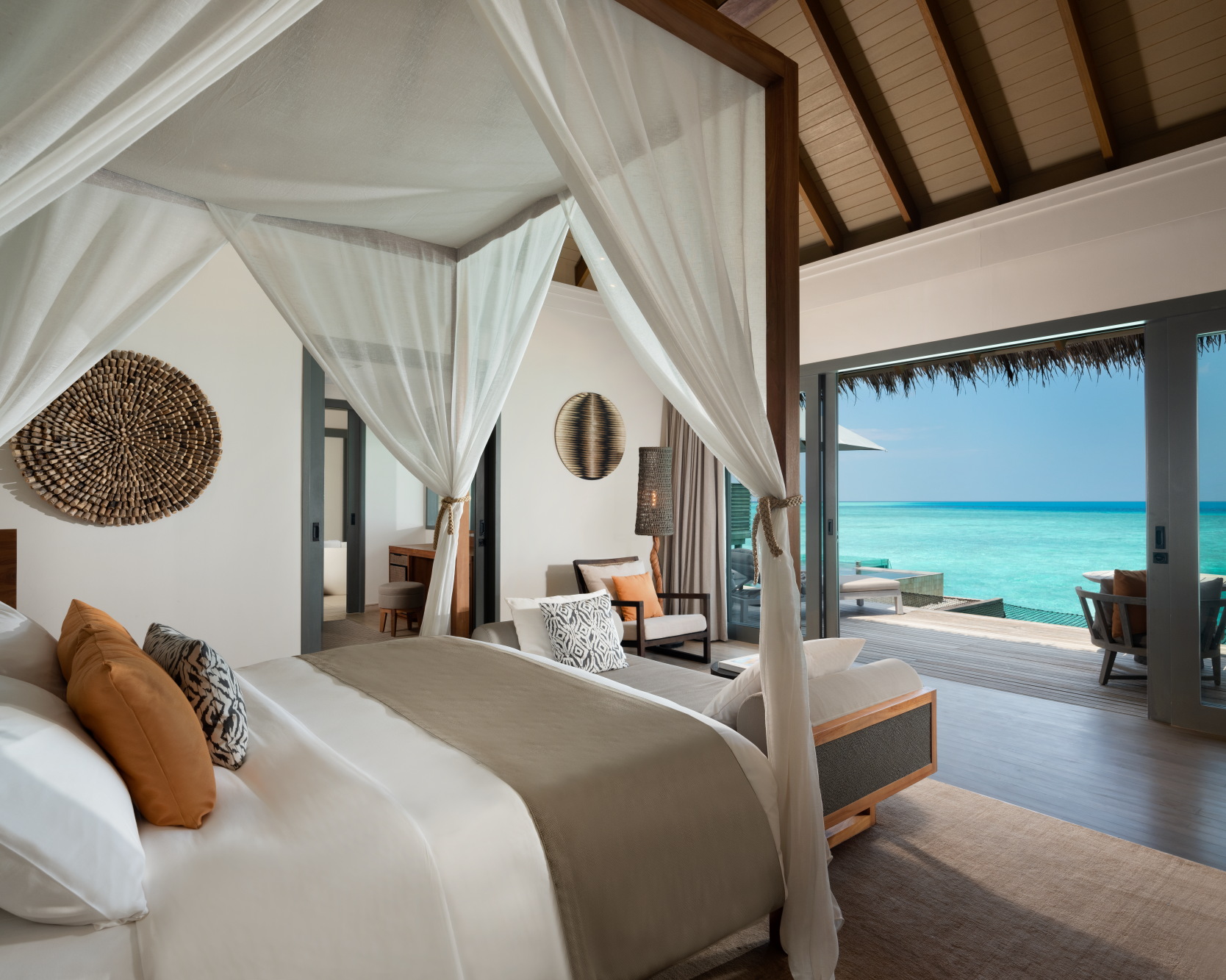 The overwater villas stretch above Vakkaru's crystalline lagoon. The overwater villas offer stunning views and direct lagoon access. During booking, guests can select a villa according to their size, view, and pool preference. Relax on the private outdoor deck to take in the unparalleled natural surroundings.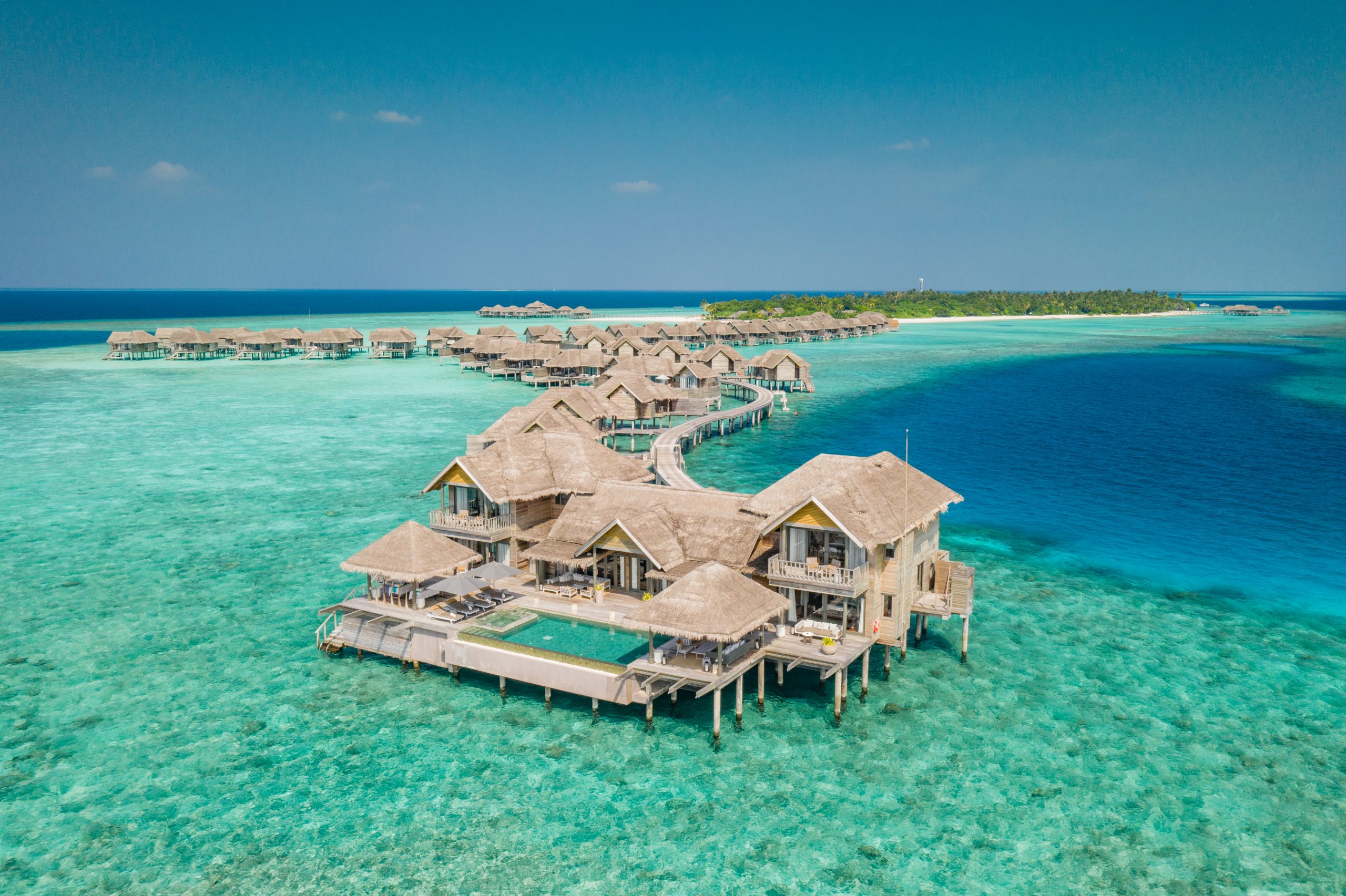 The Vakkaru Overwater Residence is an impressive four-bedroom residence, perfect for friends or families seeking a private escape. The residence sits secluded at the end of Vakkaru's weaving jetty with a private infinity pool, plunge pool, spa treatment area, private butler, and chef. The four bedrooms are spacious with ensuite bathrooms with steam rooms. Enjoy The Maldives' stunning natural beauty alongside loved ones with unobstructed ocean and sunset views.
Dine  
Vakkaru Maldives offers guests a variety of indulgent gastronomical experiences. Dine in one of Vakkaru's six restaurants and two bars, savor excellent wine at Vakkaru Reserve, or enjoy a meal amidst the Maldives' stunning nature with a unique destination dining experience.
Amaany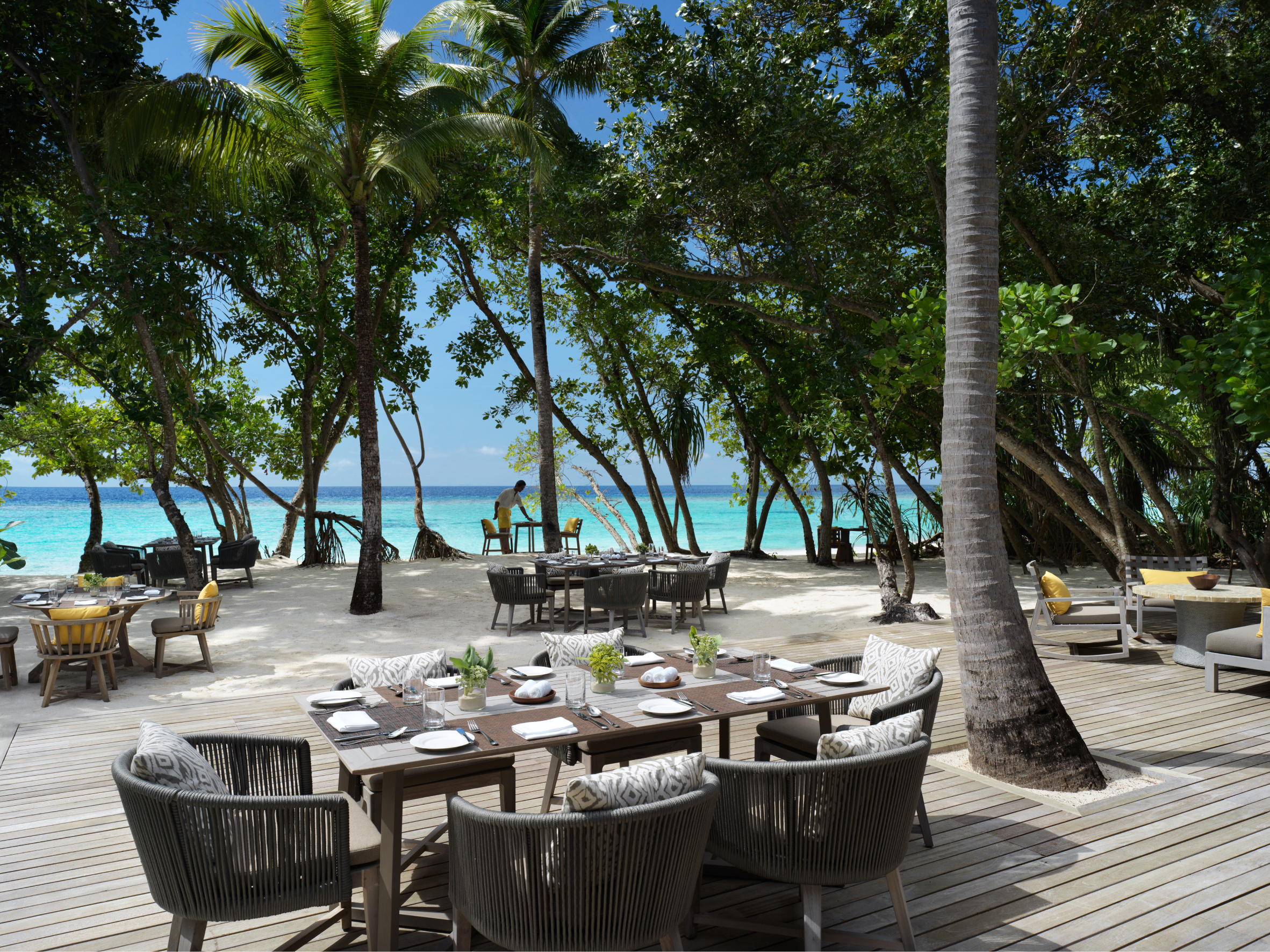 Amaany serves a delightful beachfront breakfast with a choice of indoor or outdoor seating. Start the day grazing on Amaany's diverse buffet serving fresh fruits, pastries, charcuterie, and hot stations with omelets and other savory morning favorites made to order. On selected nights, Amaany is open for themed dinner buffets.
Vakku
Vakku is Vakkaru's signature restaurant serving fresh seafood, the local catch of the day, and excellent grilled meats. The popular open-air restaurant creates a lively yet elegant atmosphere for a refined dining experience.
Onu
Onu serves South East Asian flavors for dinner. Enjoy Onu's zesty and tropical flavors in the beautiful contemporary dining room or outdoors under towering coconut palms.
Isoletta
Isoletta is a whimsical poolside restaurant serving Italian flavors for lunch and dinner. Enjoy a wood-fired pizza, indulgent pasta, or fresh salad in a relaxed atmosphere.
Anguru Teppanyaki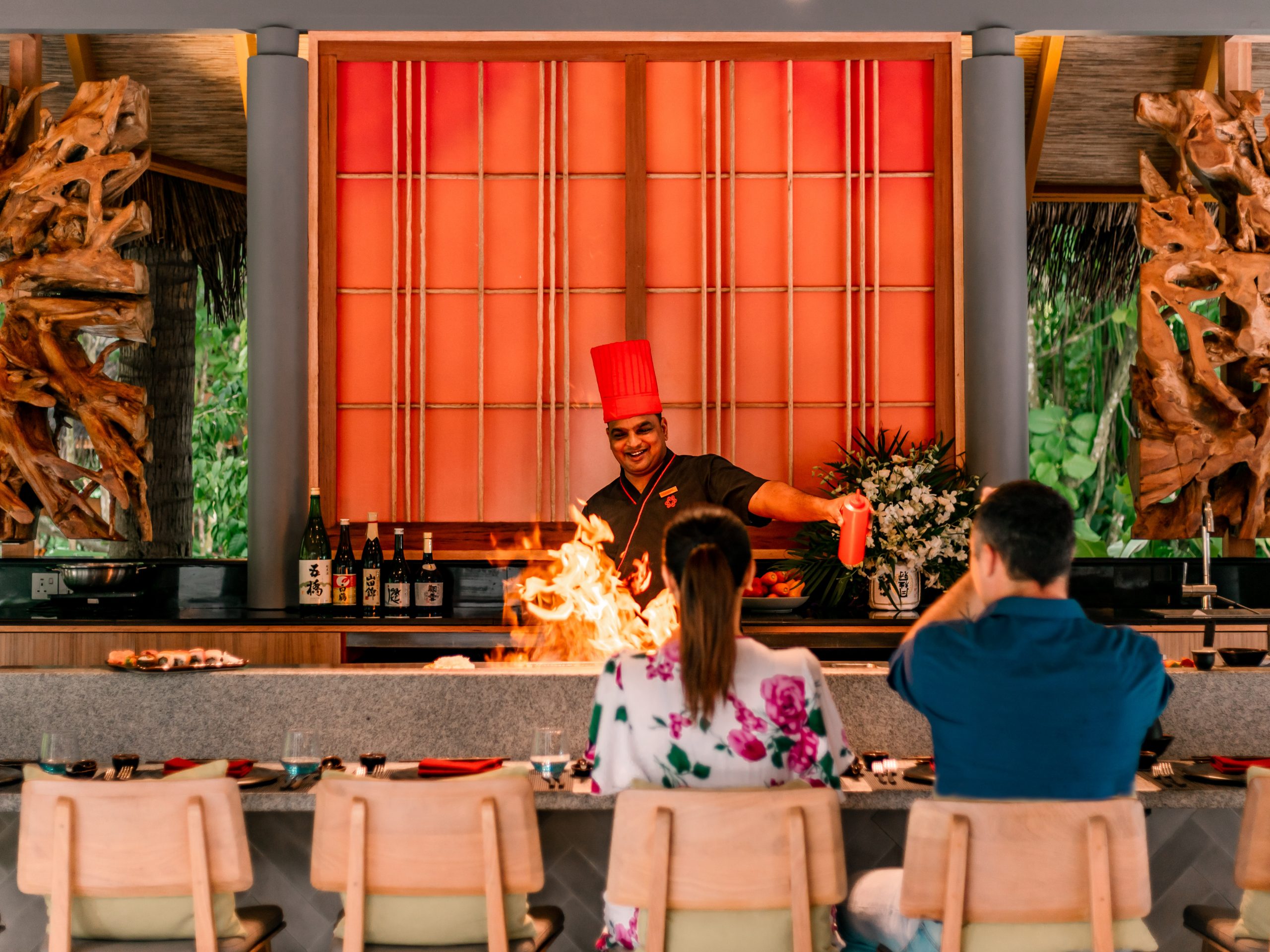 Drawing inspiration from the island's past as a coconut plantation, Anguru means "fire from a burnt coconut shell" in the Dhivehi language. In the old days, coconut shells were used for fire and cooking in the traditional Maldivian kitchen. Housed in a semi-open gazebo with a thatched roof near the main pool, this exclusive outlet seats up to 10 diners and serves an à la carte lunch and set dinner menus.
The latest addition to Vakkaru's exciting culinary offerings, Anguru Teppanyaki creates a deliciously interactive dining experience, where diners watch the talented chefs slice, dice and sear right before their eyes.
Lagoon Bar
Lagoon Bar sits above Vakkaru's aquamarine lagoon, serving sushi, sashimi, and fresh Asian-inspired canapés during lunch and dinner. Lagoon Bar is one of the best spots on the island to watch the sunset and enjoy the sky's blood-orange hues as the sun dips below the horizon while sipping on a refreshing craft cocktail.
Cabana
Cabana is a poolside bar serving refreshing juices, tropical cocktails, cold beer, and light snacks.
Vakkaru Reserve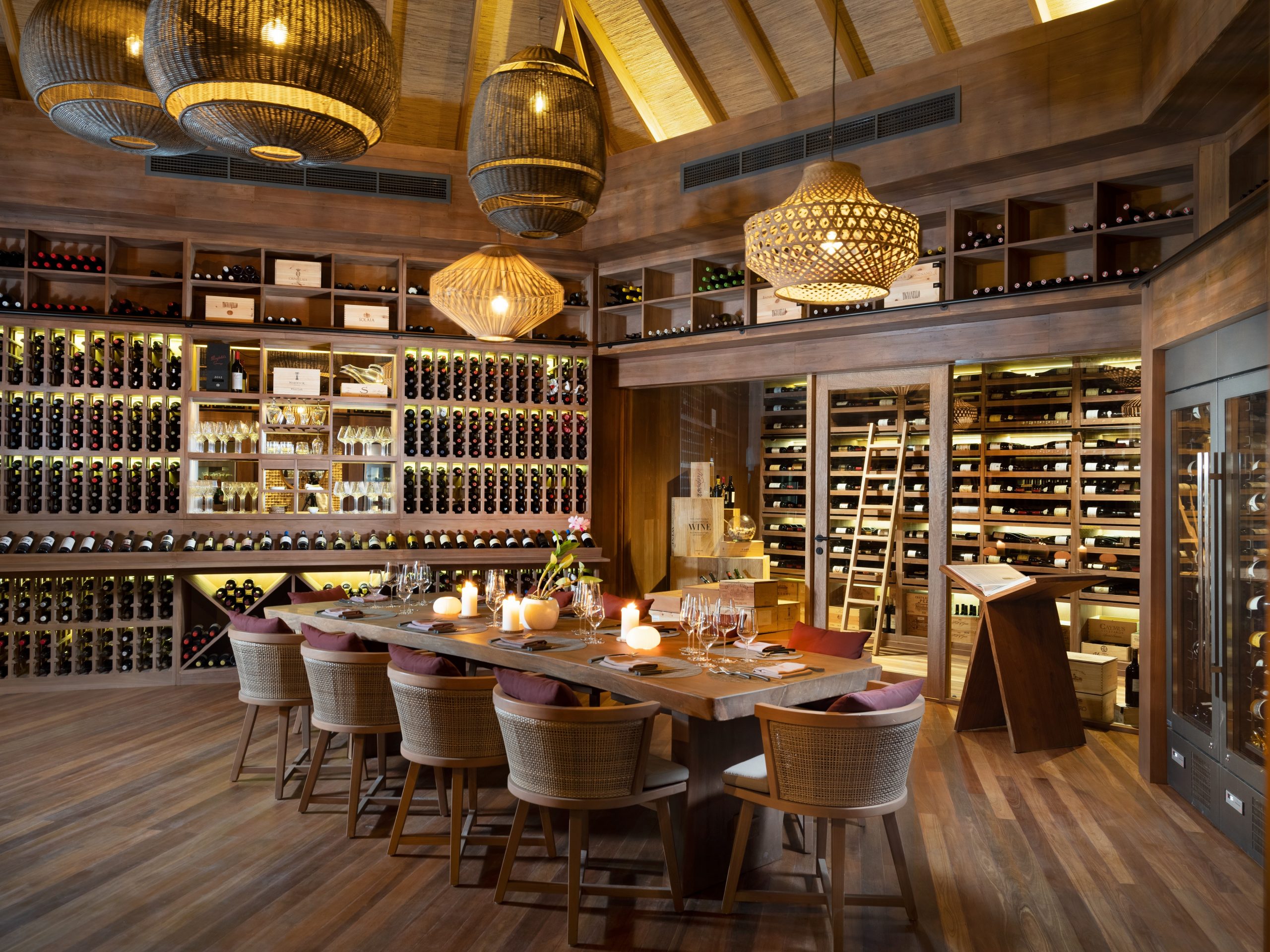 Vakkaru Reserve is the island's stunning wine cellar, home to one of the Maldives' most impressive collections of hand-picked wines, extending over 600 labels. The resident sommelier hosts wine tastings and degustation dinners upon reservation.
Destination Dining
Vakkaru also offers guests unique destination dining experiences to enjoy a meal amidst The Maldives' natural beauty. Wake up to a floating breakfast of fresh fruit, pastries, and classic breakfast dishes overlooking the ocean in your villa's private pool. Adventurous souls will enjoy the Castaway picnic on a secluded sandbank. Down to earth guests can dine alfresco in the island's organic garden for a meal made with freshly harvested vegetables and herbs.
Play 
Vakkaru Maldives may be secluded, but the island has plenty of experiences and entertainment options for guests. Explore the kaleidoscopic coral reefs, play a competitive tennis match, or watch a film under the stars in the Jungle Cinema.
Splash
Splash is Vakkaru's watersports, dive, and excursion center. Explore the Maldives' lively underwater world by diving or snorkeling among coral reefs, turtles, manta rays, and other majestic mega marine fauna. Adventurous guests will enjoy thrilling watersports including jet skiing, wake boarding, kite surfing, and parasailing. Fishing enthusiasts can learn traditional Maldivian fishing techniques while catching big game. Alternatively, guests can explore Vakkaru's lagoon on a standup paddleboard, kayak, or snorkel in one of the island's unique biodiverse blue holes.
Jungle Cinema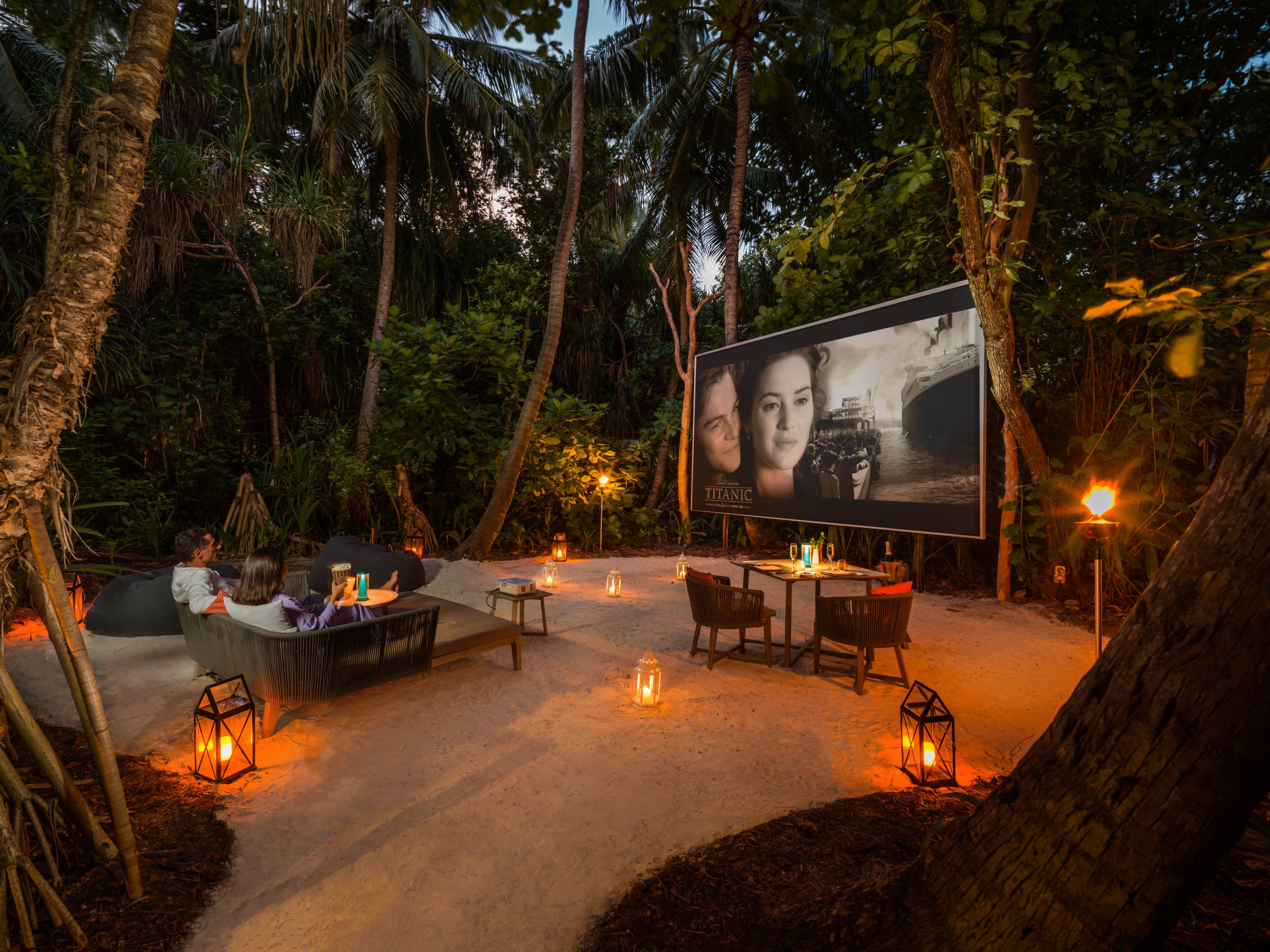 Immerse yourself in a cinematic universe at Vakkaru's outdoor Jungle Cinema. Watch a private screening of your favorite film cozied up on bean bags under lush palms. Enjoy popcorn or even book the jungle dinner and movie experience.
Sports Field
Stay active and competitive while on holiday by challenging your loved one or friends to a football, tennis, padel tennis, or volleyball match. Vakkaru Maldives has two state-of-the-art floodlit tennis courts, a padel court, and a football court. Guests can play beach volleyball with their toes in the sand. Play for fun or improve your tennis technique with the resident tennis coach from Tipsarevic Luxury Tennis academy.
The Coconut Club
The Coconut Club is a fun recreational space for guests to relax and play table tennis, pool, foosball, and board games. The Coconut Club is also home to a cozy library perfect for a quiet moment or to get some work done.
The Parrot Fish Club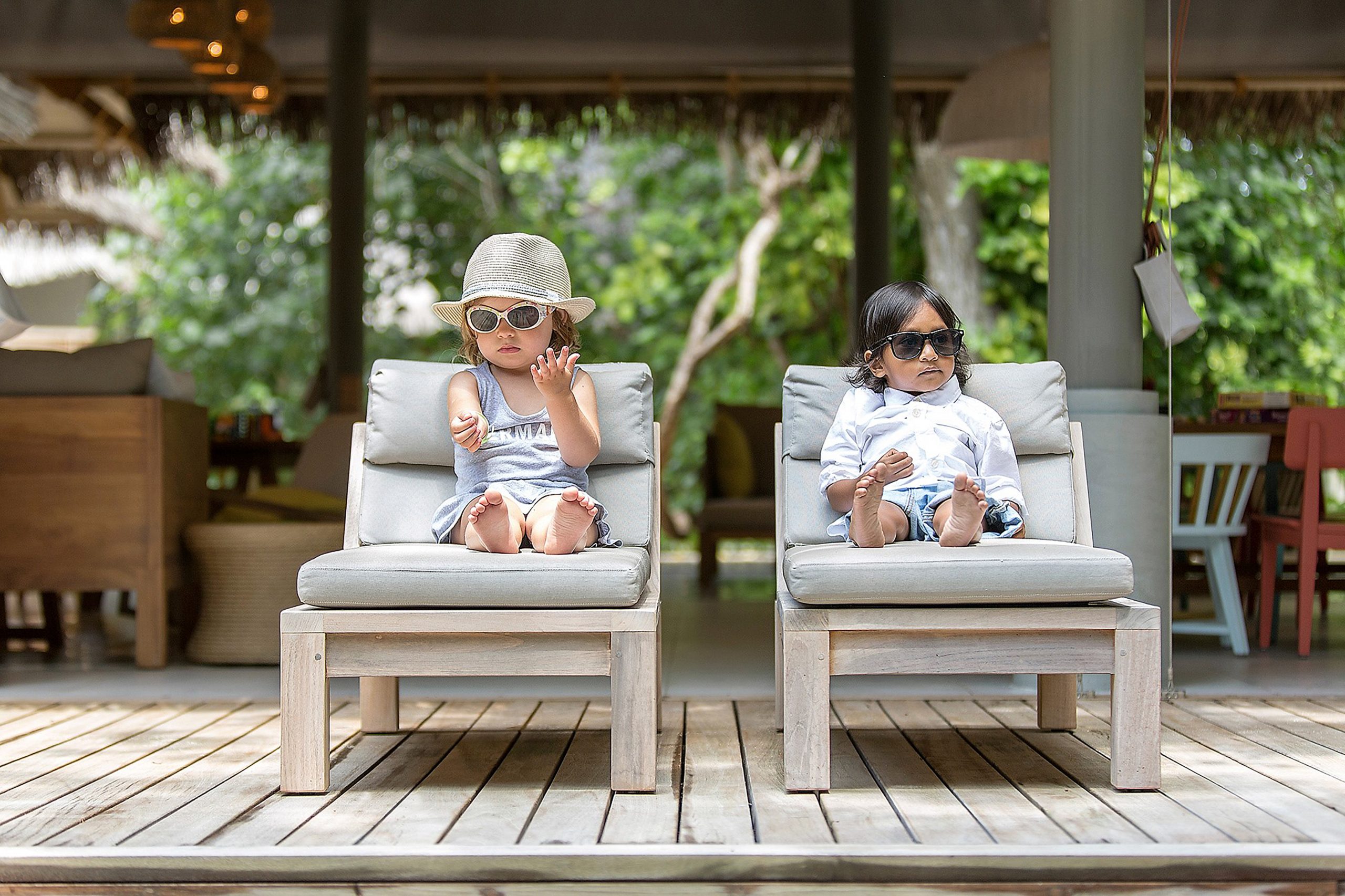 The Parrot Fish Club is a play area and activity hub for children aged 3 to 12 tears. The indoor and outdoor play area inspires little ones' imaginations with an open-air arts & crafts area, a stage, a reading area, a sandpit, a jungle gym, and a kid's swimming pool with mini sun loungers. The curated daily program offers an array of fun and educational activities encouraging outdoor exploration, culinary skills, and exposure to Maldivian culture.
Rejuvenate 
The Maldives is a wellness destination. The archipelago's serene islands and vast seas inspire a sense of tranquility. Vakkaru Maldives encourages guests to rejuvenate with treatments at Merana Spa or time spent at the Wellness Center.
Merana Spa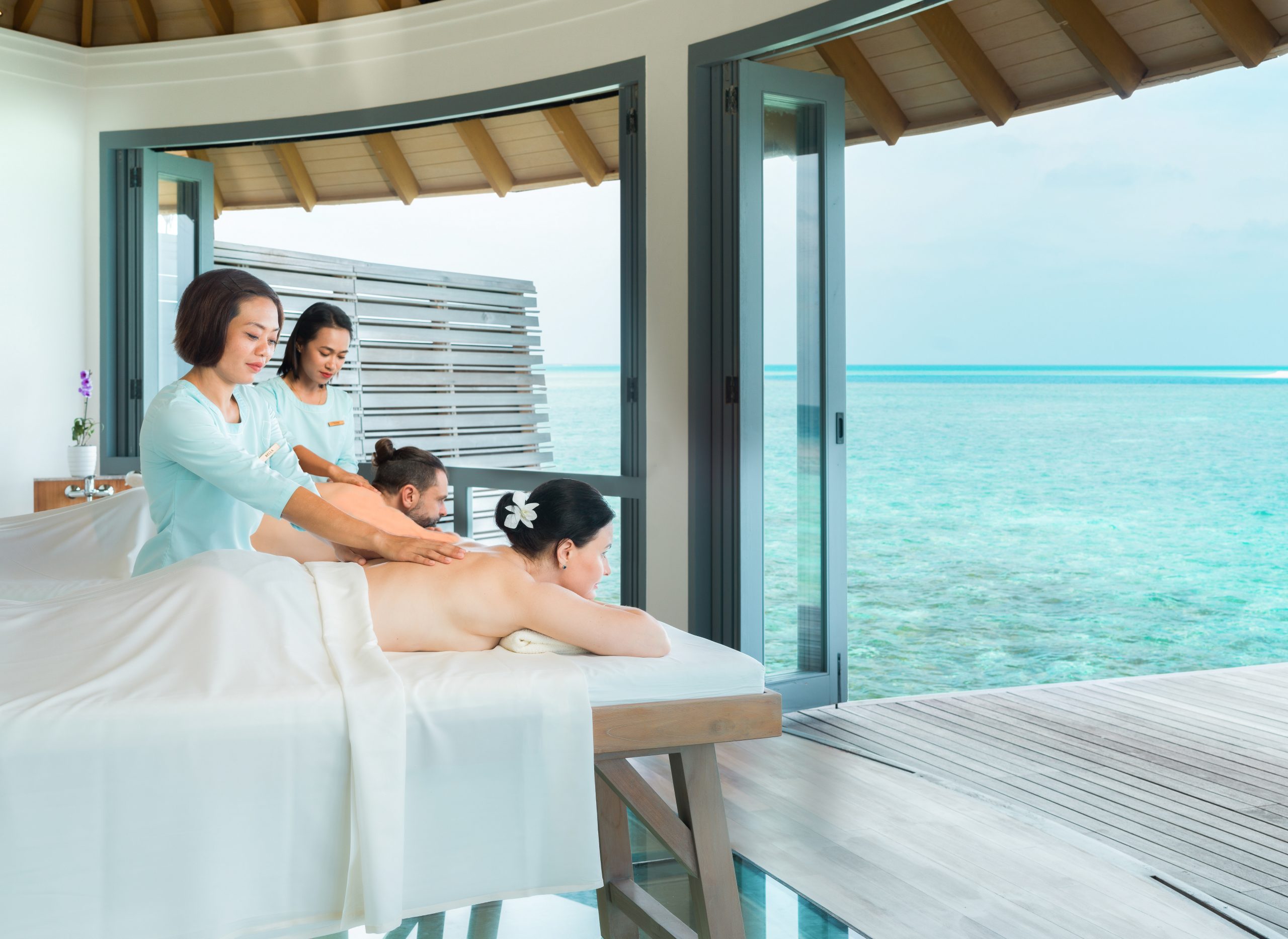 Merana Spa follows a holistic approach to wellness with rejuvenating mind and body treatments. The spa menu includes a diverse variety of massages, facials, and body treatments by expert practitioners. Guests can also book a personal consultation and customized Ayurvedic treatments, or go on a sound healing journey with singing bowls to reach deep relaxation and connect the mind and body.
The Wellness Center
The Wellness Center is a wellness oasis equipped with a warm Jacuzzi, cold plunge pool, sauna, steam room, and changing room overlooking the open ocean. It is open and complimentary to all resort guests over the age of 16.
Vakkaru Maldives is an elegant, secluded sanctuary for loved ones to relish in each other's company while enjoying delectable cuisine, exciting adventures, and rejuvenating wellness treatments. The island's unparalleled natural beauty inspires guests to slow down, live in the present moment, and collect memories to cherish for years to come.