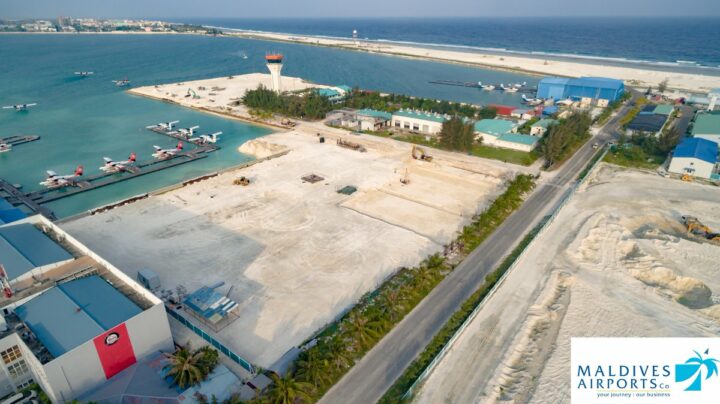 Work commences on VIA's new seaplane terminal project
Velana International Airport (VIA) has commenced work on its US$40 million seaplane terminal project, which is set to double the size of the existing terminal. In addition to the new seaplane terminal building, the airport is also adding a floating dock, MRO facility and other supporting facilities.
The new terminal will occupy 18,000 square metres of reclaimed land and the MRO facility will be built on an additional 14,000 square metre reclaimed land. In total, 3.2 hectares of land will be reclaimed from the East lagoon of the airport island, the Economic Minister revealed at the project's inauguration.
The project "Seaplane Facilities at Velana International Airport Development Project in the Maldives" is being developed by Beijing Urban Construction Group (BUCG). According to a feasibility study by BUCG, seaplane operations will grow by 3.8 percent annually. The study anticipates, by 2035, the number of tourist trips on over water planes will reach 2.1 million passengers per year.
"The Maldives is in possession of the largest operating seaplane terminal – the seaplane experience comes second to none," said Adil Moosa, the Managing Director at Maldives Airports Company Limited.
"Of the various developmental projects running in the international airport island, it will see the passenger capacity increase to approximately seven million passengers per year." Adil Moosa also assured the new cargo terminal works will commence on January 31, while VIP complexes and the fuel farm will start next month.
VIA's new seaplane terminal project is a part of a US$800 million mega-project to expand and upgrade the Maldives main gateway. The overwater facility project constitutes the most important part of upgrading Velana International Airport and is also a key-step in Maldives pillar industry-tourist trade. Velana International: Towards a world-class airport – the cover story of Hotelier Maldives' 24th issue highlights the developments under the mega-project.
Presently, one of the factors of Velana International Airport's network is over 87 Seaplane Platforms served in seaplane operations. The key consideration leading to the expansion is that the Maldivian economy, largely dependent on tourism has to cater to over a million and a half tourists, who come in on international flights at all times of the day.
In addition to the number of tourists, the other significant factor that needs to be considered is that a noteworthy number of tourists travel to premium resorts in the Maldives. For tourists who are staying at premium destinations and often travel by business class or arrive on private jets, it is considered natural to travel to their destination by air-taxi. Hotelier Maldives' special feature, Airports – the arterial network of the Maldivian economy, delves into the need for expansion and development of aerodromes, catering to the growing needs of hoteliers across the country.