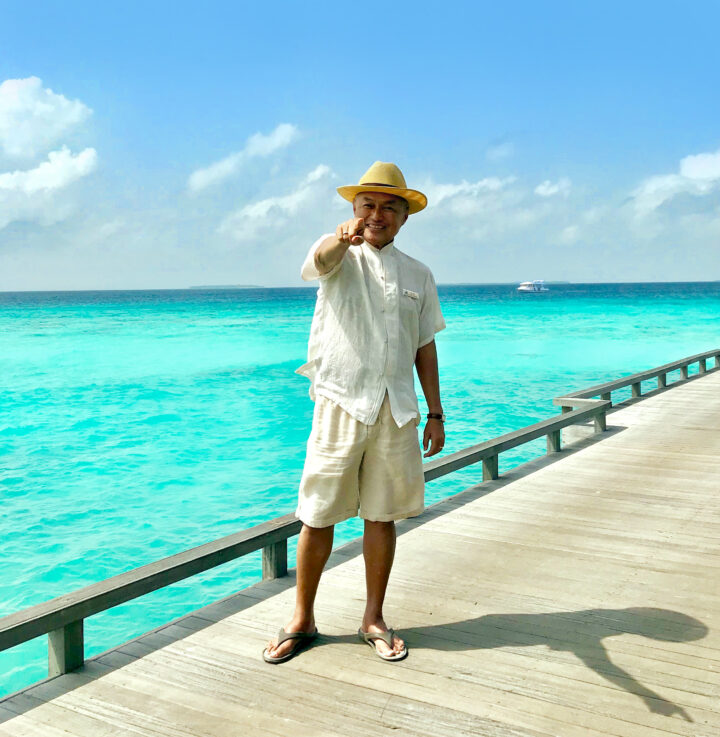 Vlad Reyes; newly appointed General Manager at JA Manafaru
Vlad Reyes, a Chinese Filipino American born in the Philippines spent the majority of his life outside his birth country. He is currently the General Manager of JA Manafaru. Vlad works in Manafaru alongside his wife. His son Arthur lives in New York with his wife and six-month-old son.
Initially choosing to pursue a career in Chemical Engineering, Vlad changed fields during his studies as he noticed the Philippines was busy developing its tourism sector."At the end of my four-year course, I had to undergo a 450-hour practicum in an established 5-star hotel.  I was lucky to have been sent to train at the Manila Hilton International which was well known for training people to become productive members of the industry.  My training brought me to all the different departments of the hotel and gave me a first-hand look at my chosen industry.  I loved it!"After graduation, Vlad joined the Mandarin Oriental Manila as a Front Office Receptionist where he stayed for a year before pursuing his further studies in the US, at the Michigan State University in East Lansing, Michigan, as an MBA student majoring in Hotel, Restaurant & Institutional Management.
Vlad's first opportunity in the industry came from Hilton International, where he subsequently worked for over 35 years. Starting as a management trainee in the F&B department in New York City, he rose through the ranks over the years with countless transfers all around the US and Asia, to the position of General Manager of Hilton Rangali Island in the Maldives.
After his two year stint in Maldives – where he was awarded the Hilton International Asia Pacific Chief Executive Award in 1999, Vlad moved to Malaysia, then China, where he spent fifteen years of his career.
Vlad left Hilton in 2015, and after a short while with Pan Pacific Hotels Group, he retired. His retirement lasted all of three months as he decided that he wanted to go back to the industry and manage a hotel again."My first day with JA Manafaru was in Zurich as part of the Sales Trip to visit the German-speaking operators in Switzerland and Germany," said Vlad. "It's a good thing that I had already spent a weekend in the resort for a look and see; if not, I wouldn't have had the credibility to speak to the tour operators."When asked about his thoughts on coming back to the Maldives, Vlad said, "When I got the call asking whether I would consider coming back to the Maldives, the decision was easy to make as I understood the challenges living in an island which had the reputation of being ultra-luxury and provided heartfelt hospitality.  My only concern was my wife.  In order to maintain her sanity, she had to do something in the resort."
"JA Manafaru has made its reputation for the heartfelt hospitality that all our associates provide to all our guests while they enjoy themselves in the midst of casual luxury.  We plan to continue living up to this reputation and will continue to find newer ways to deliver our own brand of Maldivian hospitality."
JA Manafaru is located 320 km north of Malé in the Haa Alif Atoll and is a 75-minute seaplane transfer from Malé International Airport.