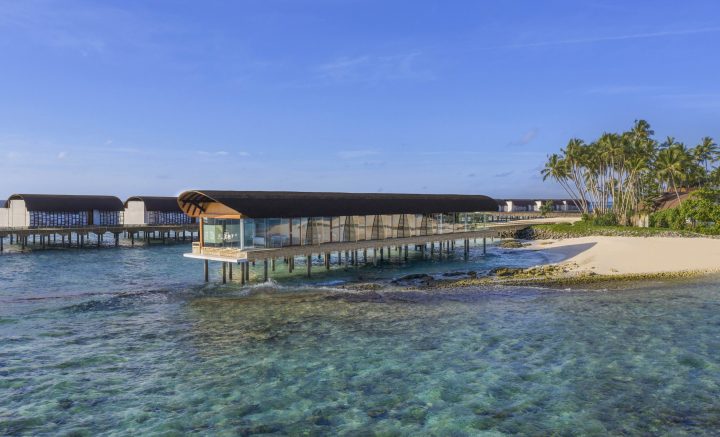 Wellness & Wellbeing at The Westin Maldives Miriandhoo Resort
The global pandemic sparked an awareness of the importance of health and wellbeing which in turn provided a catalyst for tourism providers to look deeper into their wellness offerings and introduce elements that were more than "just" the traditional therapeutic Spa.
A hotel brand that is already ahead of the pack is The Westin Hotels & Resorts, part of the international chain of Marriott International. Their signature branded wellbeing concept is centred around six wellness pillars which are Sleep Well, Eat Well, Move More, Feel Well, Work Well and Play Well.
The concept provides a holistic sense of wellbeing around the clock, an approach that is firmly entrenched in the guest experience created at The Westin Maldives Miriandhoo bringing a different concept to the Maldivian Archipelago.
Known for its crystal clear waters, white sandy beaches and abundance of marine life, it is usually tranquillity, indulgence and relaxation that entices travellers, as opposed to a healthier and more activity based holiday. Throughout the guests stay, the Westin Maldives Miriandhoo effortlessly combines elements of relaxation and indulgence with wellness, healthy eating and movement, to leave them refreshed and rejuvenated in mind and body.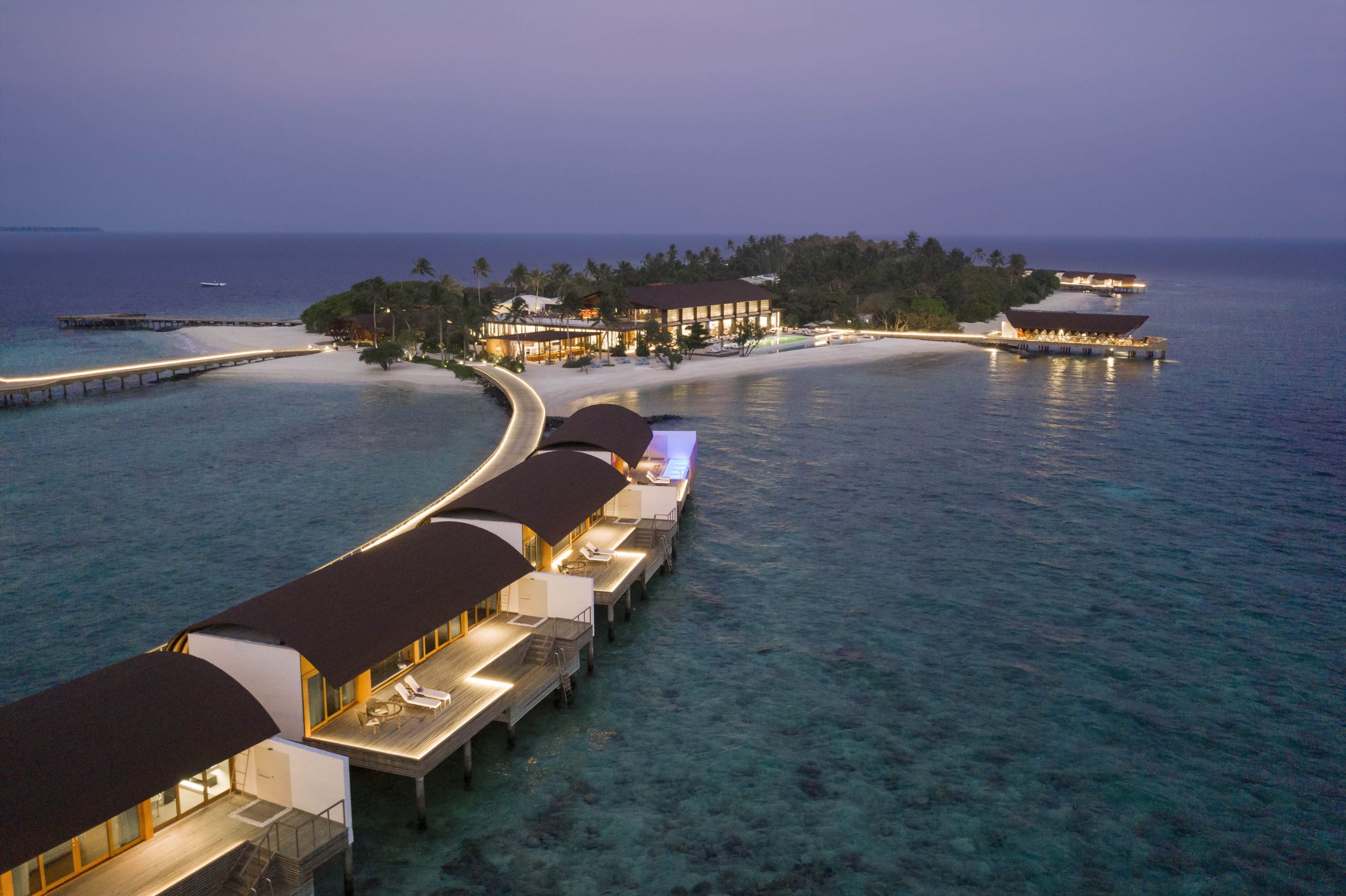 Featured Image: The Westin Maldives Miriandhoo Resort 
The central pillar is Eat Well which is incorporated across the island from flavour infused water stations, to the Popsicle shop. Each villa features a fresh orange press and a mini bar filled with non-alcoholic spritz, zero sugar drinks and organic snacks.
The juice bar provides delicious combinations of fresh juices, smoothies, shakes and shots, designed to energise, boost, cleanse or detox the system. Open throughout the day, the fresh juices are skilfully combined to make an imaginative collection of innocent mocktails and cocktails.
The menus and dining options take healthy eating to a new level, where you can be as clean eating or indulgent as you want. There is something to suit all palates and dietary requirements. Menus feature an "Eat Well" selection for both adults and children, which combines nutritious, balanced, and flavoursome foods with more traditional holiday fare.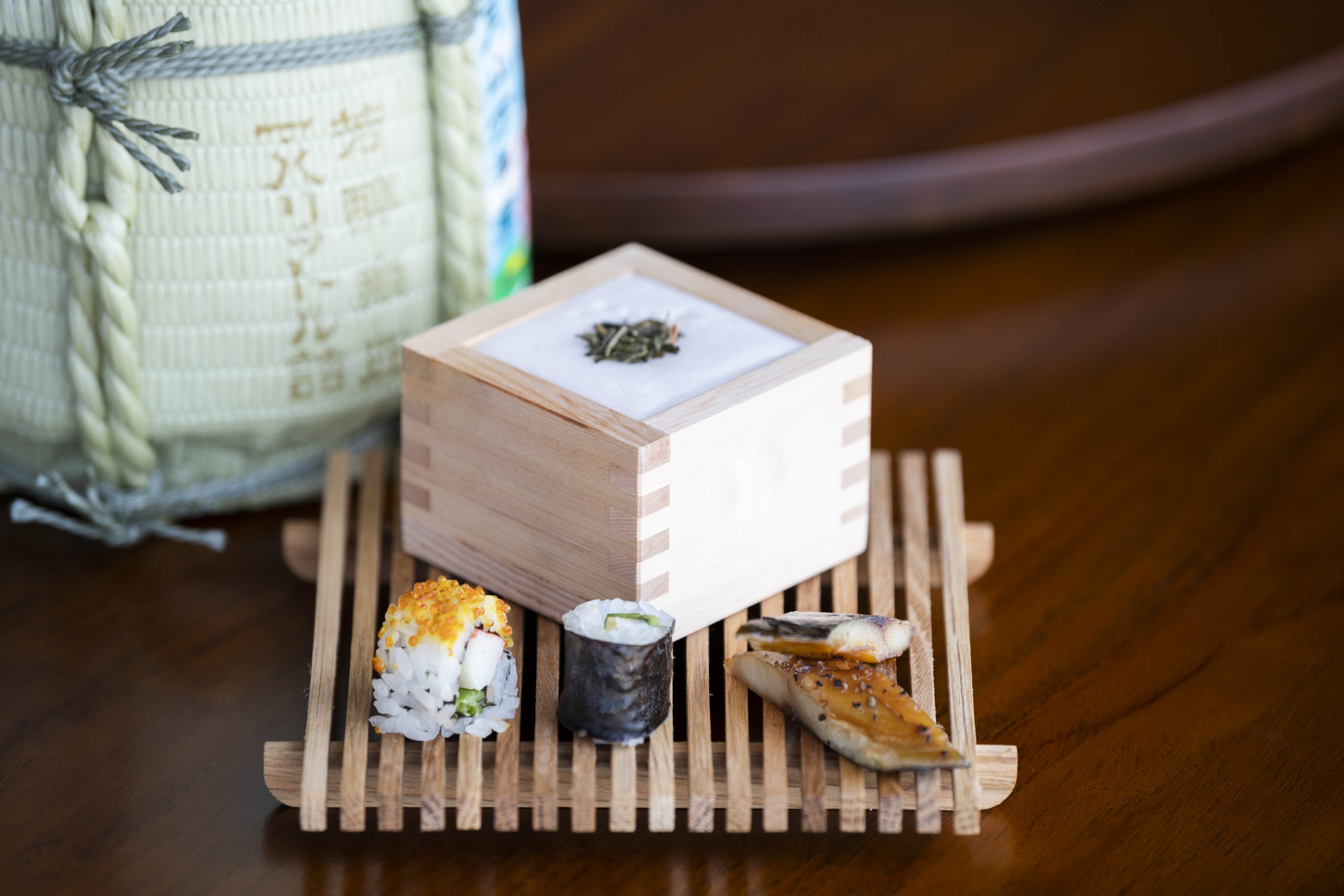 Featured Image: The Westin Maldives Miriandhoo Resort 
Breakfast in the Island Kitchen provides a perfect opportunity to fill your body with nutritious foods that satiate taste buds and boost metabolism. Awaken your taste buds with carefully crafted shots from the Juice Bar, before heading to the expansive buffet where you can select from a range of healthy seeds, nuts and fruits or an equally delicious range of fresh breads, pastries, and cold platters. Choose from matcha muffins and made to order delights such as spirulina pancakes, chai and berry smoothies and poached eggs with avocado.
The island juice master has created a delicious combination of fresh juices, smoothies, shakes and shots, designed to energise, boost, cleanse or detox the system. Select a from green juices, freshly brewed coffee or aromatic teas that include health busting favourites such as Marsala Chai, Green Tea, Oolong and Earl Grey. Whichever you choose, you will be relaxed and energised to make the most of your day.
Guests are motivated to stay active with an extensive collection of signature Move Well activities to  enhance the more expected water based activities. The Resorts AQUA Centre offers PADI dive courses, snorkel excursions, and water sports such as kayaking. An easy to access house reef and large main pool, provides plenty of options for those with a love of water.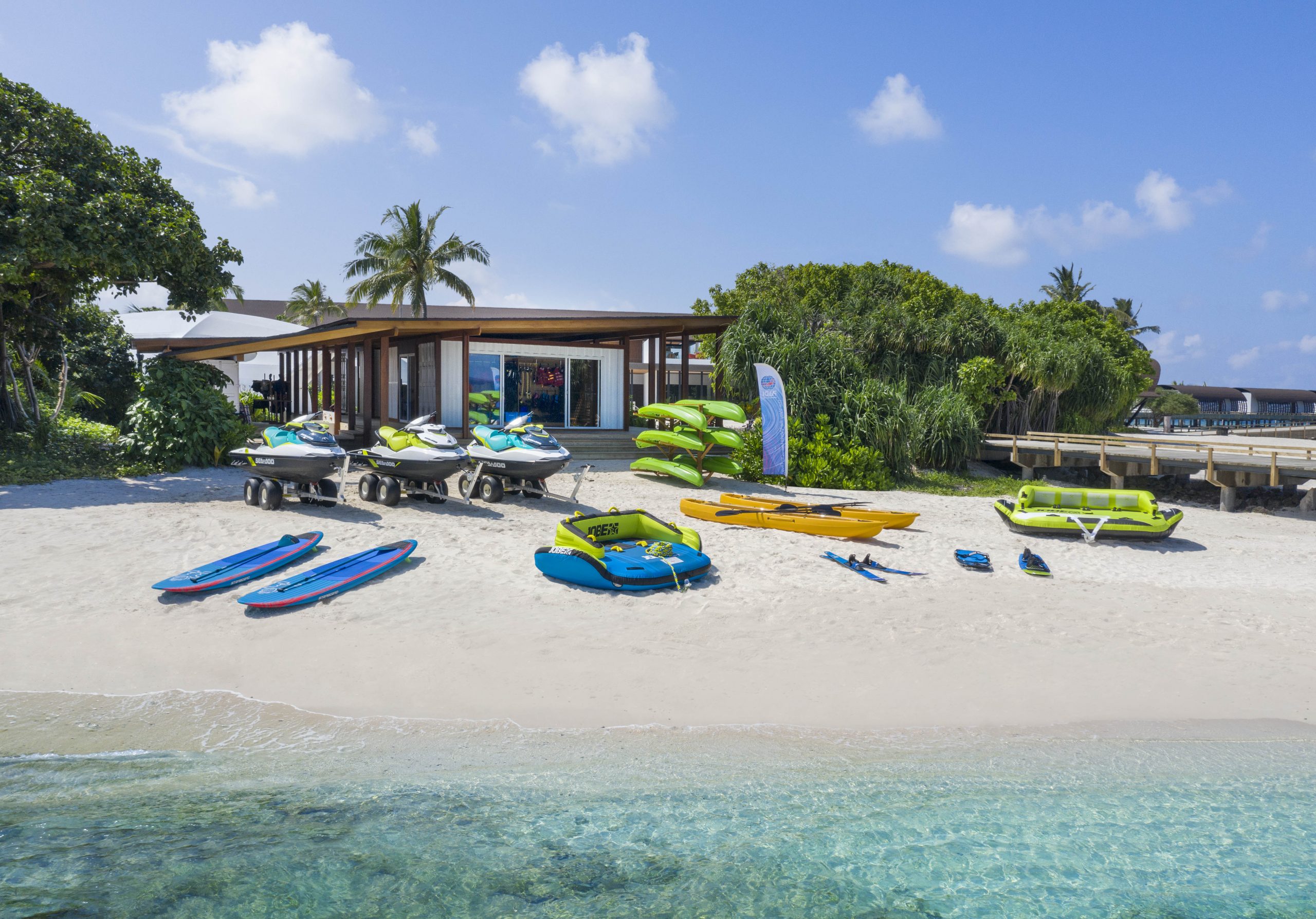 Featured Image: Dive Centre, The Westin Maldives Miriandhoo Resort 
For those who prefer more land-based options, there is the 24/7 WestinWORKOUT® Fitness Studio where guests have access to state-of-the-art equipment including a selection of TRX functional training equipment. Those who want to stretch their legs away from the confines of a treadmill, can participate in the "Run Westin" program, when members of the management team guide guests around the sand paths, beach and wooden decks for early morning runs against the beauty of a Maldivian sunrise.
All rooms embrace the "Sleep Well" pillar, with the iconic Westin Heavenly bed, a unique design to revitalise the body and mind with deep restorative sleep. Guests receive a Sleep Well menu that features twelve recommendations for a restful night, which includes use of a Sleep Well Lavender Balm, taking a Heavenly Bath, and complimented by a curated selection of sleep-enhancing superfoods to repair and rejuvenate the body.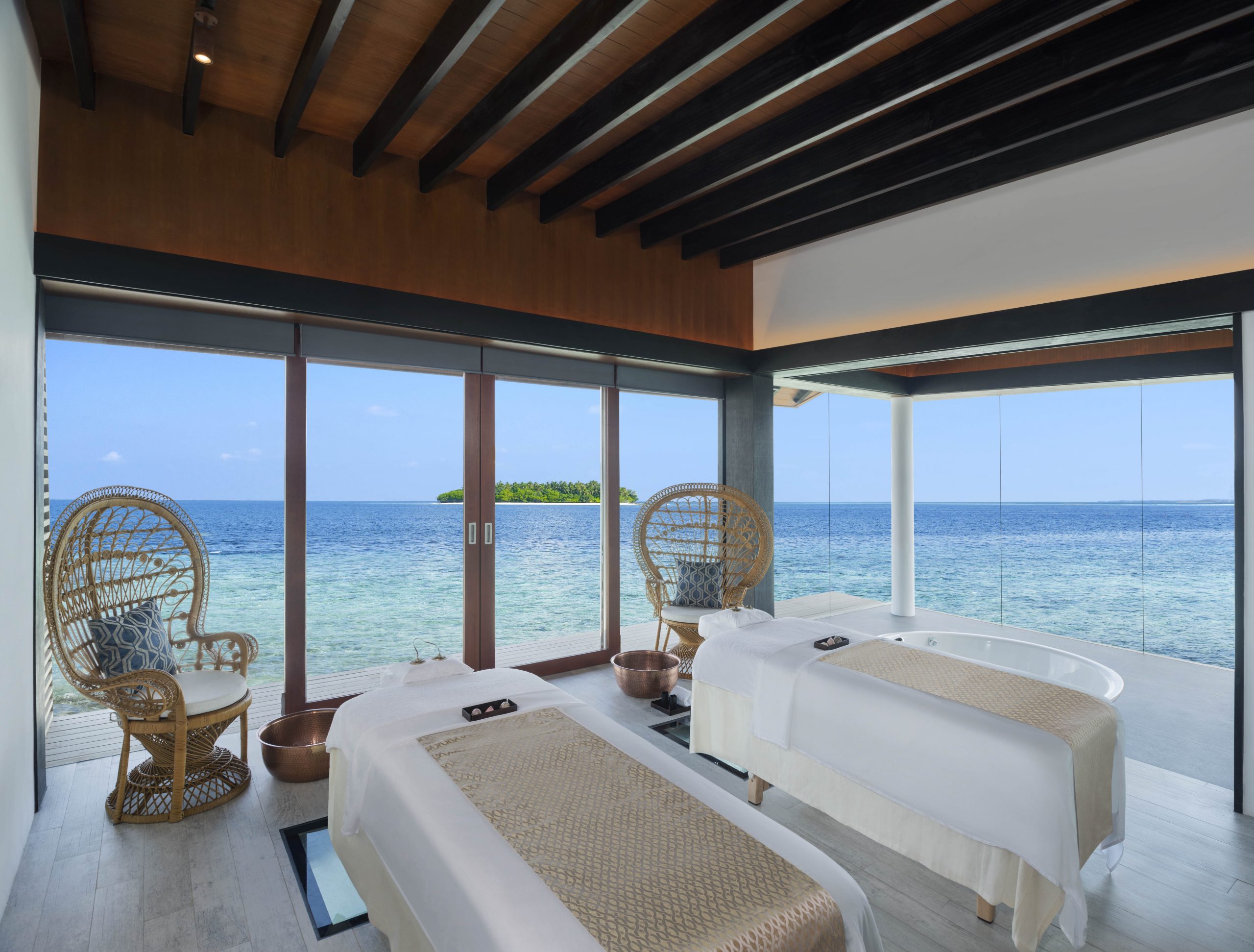 Featured Image: Heavenly Spa, The Westin Maldives Miriandhoo Resort 
Feel Well is embodied at the Heavenly Spa creating the perfect haven of calm and serenity to engage all the seven senses, allowing you to replenish both the mind and body. Soothing body treatments are complemented by restorative yoga and meditation sessions for a personal sensory experience. Sauna and steam rooms are available in the Fitness Studio, and the resort has several seating areas allowing plenty of options for relaxation by gazing across the endless expanse of blue whilst listening to the restorative lap of the sea.
With a heightened demand for remote working, guests can benefit from a Work Well space. All rooms boast a large functional desk area which can be cleverly partitioned off to provide a quiet and private workspace. Excellent Wi-Fi connectivity can be found throughout the resort, allowing guests to work anywhere. There are even two dedicated computer stations in the library area for those who didn't pack their laptop!
Play Well – Both adults and children are well catered for. The multi-purpose recreation court provides space for tennis, football, basketball and curated activities. A large outside chess set borders the well-equipped kids club. Designed like a fish the area provides a pool and a variety of supervised activities for children between the ages of 4 and 12. All children get activity packs on arrival to keep them engaged throughout their stay. For the less active, or those who want a break from the heat, there is an airy indoor games area with pool table, table football, board games, and books.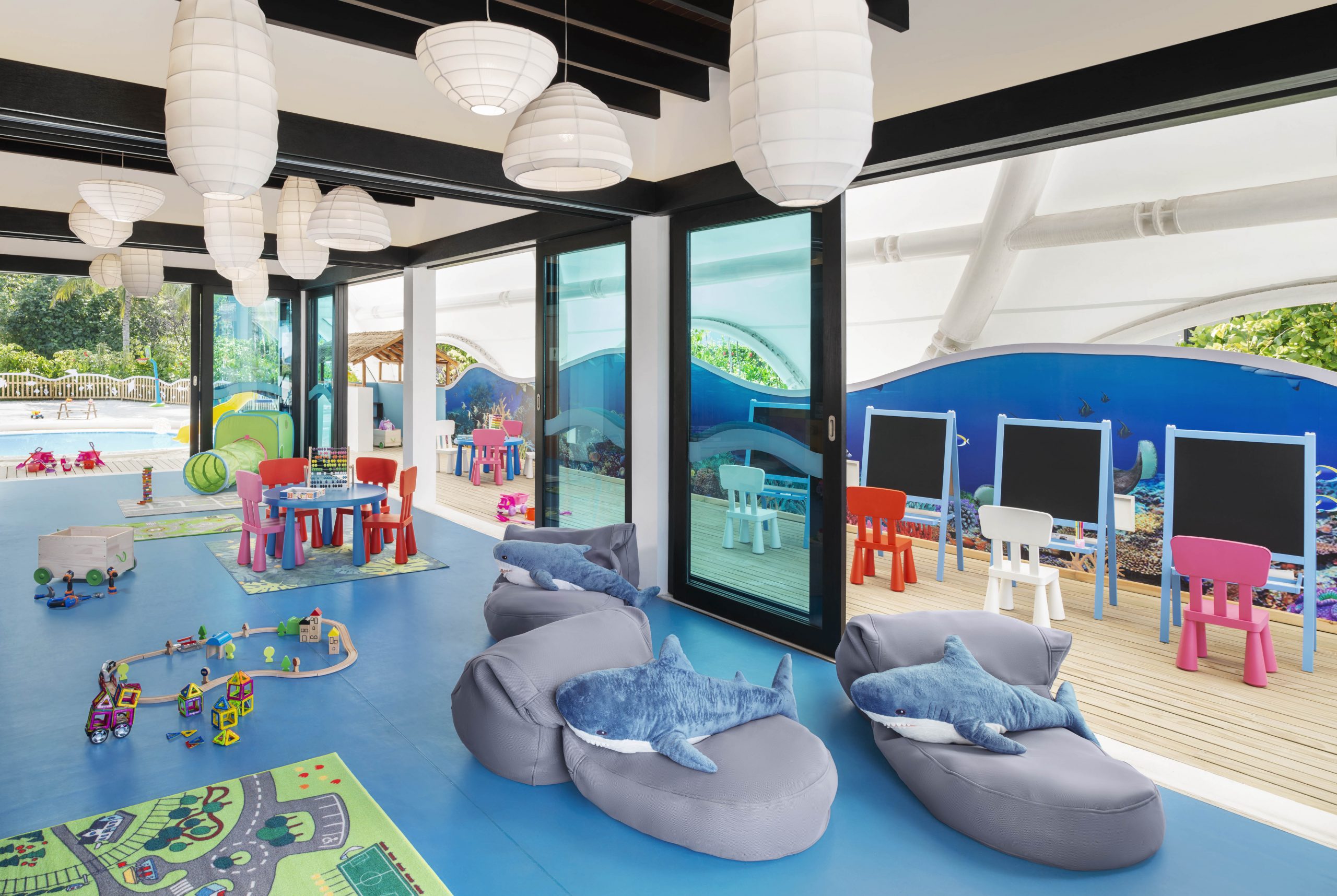 Featured Image: The Kids Club, The Westin Maldives Miriandhoo Resort
The emergence of Wellness based resorts in the Maldives was highlighted during the recent GM forum, where industry experts shared their views on the importance of developing more purpose driven activities that focus on mindset, wellbeing, and therapies, as well as the luxury, relaxed idyllic setting. The Westin Maldives Miriandhoo Resort offers a perfect location to experience the best of both.