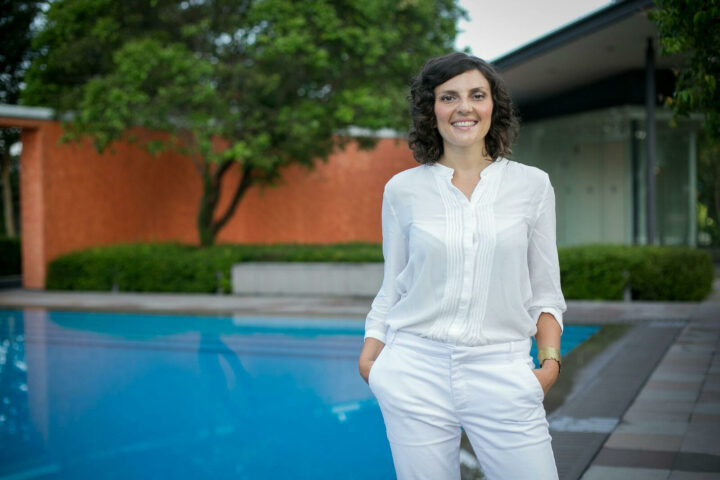 Silvia Collepardi – Director of Sales & Marketing, Outrigger Konotta
HM: Your educational background is in tourism, even your bachelor's degree to some extent. What was the pull (of tourism)? When did you get interested? Was there ever a point when you thought that 'this is what I'm going to do with the rest of my life?'
SC: I am from a little town in Italy and since I was a kid I was dreaming of traveling around the world and discover new places as Columbus. My first English teacher captured my interest in learning foreign languages and from there Tourism followed. When I started university I thought I was going to work in Italy as a tour guide but then I ended up as an intern in the sales & marketing department of a small luxury Italian hotel chain and I fell in love with the hospitality industry. So far I am still in love with it.
HM: Can you tell me a bit about your first experience as a working woman? Was it very different from how you imagined it to be when you were in university? What was the environment like, was it nurturing for a female worker? 
SC: It was very tough for me and extremely challenging. I wanted to be a sales manager, have my database of accounts, close sales and travel around the world but I was extremely shy and a disaster with admin work. I had to work extremely hard on my personality to gain self-confidence, create my space in a challenging and fast paced environment that was different from University. I was in a team of 6, all women, and specifically 3 of them have been my mentors and helped to grow stronger and develop the qualities I needed to be where I am now. Something that I never failed to have is grit. That helped me not to give up.
HM: What lessons did you draw from your first experience?
SC: There are a few:
It doesn't matter how hard it might be, as far as you feel to be in the right place and you are learning, you keep going.
Listen carefully if you want to be a good sales person.
Never miss an opportunity.
HM: You've been in sales and marketing almost from the very beginning and today you're director of sales at Konotta. How would you describe this journey? What qualities should a woman have if they aspire to a position such as yours?
SC: As mentioned before for me was really complicated because I had to work on my personality a lot. I was extremely shy and not self-confident at all, two traits that for sure you need as a sales person.
I would put being trustworthy as one of the major quality you need when doing business.
Business partners need to have trust in you because you want to build long lasting relationships.
Be outspoken. For me is really important to be straightforward, sincere and share my opinions.
HM:  You've worked in different cultures over the years, what does it take to be truly cosmopolitan?
SC: Flexibility and an open mind. That is all you need.
HM:  How challenging or easy is it as a woman to work in a one-island one-resort environment like Maldives, compared to other places you've worked at?
SC:  For me the challenging part of working in the Maldives is that your work environment is also where you live so it is difficult to switch off. This is a challenge for women and men alike. As a woman, I don't find the job easier or more difficult than other environments. The essence of what I do, doesn't change and I have to deliver despite the fact I live on a small island.
HM: What do you make of the hospitality sector today in terms of opportunities for women?
SC: I think there a lot of opportunities for women and in different areas of hospitality. It is up to us if we want to take them or not. I would love to see more women in GMs and Executive Chefs roles.