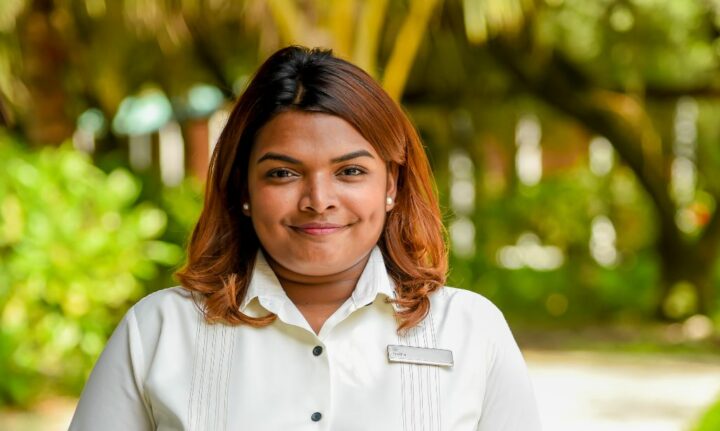 Women in Hospitality: Fathimath Nafha, Duty Manager, Sheraton Maldives Full Moon Resort & Spa
With hard work and determination, Fathimath Nafha, the Duty Manager at Sheraton Maldives Full Moon Resort & Spa has reached the management level in the hospitality in little under five years. Being a woman in hospitality in the Maldives still comes with its own challenges in a largely male-dominated industry.
Yet, Nafha has proven that her ambitious drive cannot be shaken with preconceived ideas or a competitive environment. At a young age, she is shining as a competent hotelier in the largest hospitality company in the world; Mariott International. She attributes her success to the genuine love for the hospitality industry. The following interview sums up her experience in the industry so far.
Hotelier Maldives: Can you share with us the beginning of your career in hospitality?
Fathimath Nafha: As I have always wanted to travel around the world, I admire and read about services provided by the tourism industry. In the Maldives, our lives depend mostly on this and it plays a vital role in our lives. So I had an aspiration of fulfilling my dreams in this career.
My first job was at Micros Fidelio Maldives Pte Ltd (now known as Oracle) from 2010 to 2012 as an administrative assistant. MICROS offers a range of software, hardware, and related services, together managing hotels, food & beverage facilities, and retailers. While working there it gave me the determination and motivated me to grab the opportunities ahead of me in order for me to grow in this field while tapping my full potential.
Due to my zeal and unrelenting desire to hone my skills and see myself grow in this Industry has led me to land this job which has enabled me to embark on a career in Hospitality Industry in the largest hospitality company in the world, Marriott International.
HM: Can you recall some highlights from your career?
FN: Once I got the opportunity to work at Sheraton Maldives, I was very excited and eagerly waiting for my training. After all the training were done I was very self-assured and set my mind that I will work hard so that people can rely on my work and wanted to be a person with whom my colleagues can depend on as well as my management can trust.The most amazing feeling is when guests acknowledge and recommend my service through internal guest surveys and in trip advisor. These positive feedbacks from my guests really encourages me and helps me to stay focused throughout my career.
The most enjoyable time of my career so far was when I was working as VIP and Club Services Manager. I had to manage a venue with complete front office services and food & beverage service. I have gained a lot of knowledge and skills; working under pressure, time management and emotional intelligence dealing with different personalities.
I was able to work to my full potential because I had the most supportive, hardworking and amazing team.
HM: How would you describe your career at Sheraton Maldives Full Moon Resort & Spa?
FN: I joined Sheraton Maldives in 2013 as a Guest Services Agent, after one and half years I was promoted to Guest Services Supervisor. Within a one-year period of time, I was promoted to VIP and Club Services Manager. For this position, I worked for one year and three months. Currently, I am happily working as a duty manager.It's been five amazing years since I embarked on my journey in Sheraton Maldives. We are focused on one target, one mission, trying to reach our yearly goals and we all work as a FAMILY. It has been an absolute pleasure working here.
Through this opportunity, I give my heartfelt gratitude to my team members, coworkers, and the management for trusting me, and for helping to shape my career and professional life and showed me how to transform my mistakes into skills. I really appreciate everything this company has taught me.
HM: Is it challenging to be a woman in hospitality?
FN: In the Maldives, the tourism industry is stereotyped and is a male-dominated field. Women still have to face traditional and cultural mindsets, Women in leadership roles are still considered as a foreign concept. Many women and their family hesitates to send their daughters to pursue employment in isolated islands and still parents have this fear in entrusting women the authority to embark on a career in such a setting. I look forward to more solidarity and respect among women who are, and wants to work in this field. Also, Families need to trust and be understanding of women's decisions to fulfil their lifelong goals.
HM: What should a young woman entering the field of hospitality know about the industry in the Maldives?
FN: The hospitality industry is uniquely positioned to positively impact global youth well-being. Doing so, however, means that we must influence our youth and work with civil society and multinational companies as strategic partners in creating sustainable opportunities for economic growth and youth empowerment.It is fun to take risks and explore your inner talent and skills. My wish is to see many talented and hard-working women in this field
HM: What is the formula for success in this industry?
FN: Working in this field requires personal commitment. There are plenty of opportunities for growth. It is a way of life to accept how you would want to be treated. My theory is that it all depends on determination and strong willpower. This field is an inspiring, challenging, all-encompassing profession that requires charisma and a positive approach towards people and working environment.
HM: What are your career goals?
FN: I want to reach the fullest that I can reach in this industry. I am ready to give all my time and commitment. I want to explore more upcoming brands within the company or maybe other worldwide recognised companies.