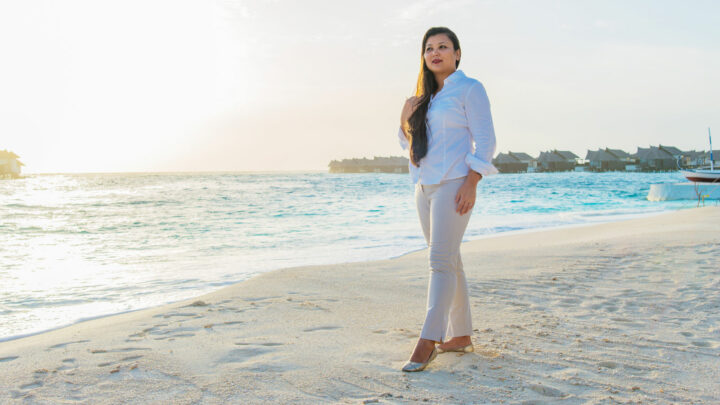 Women in Hospitality: Simmi Soodan
Simmi Soodan is the Director of Sales at Jumeirah Vittaveli. Hailing from Jammu and Kashmir in India, Simmi has always been passionate about the hospitality industry. Simmi completed her studies at the Hospitality Management Institute in Hyderabad, a well-reputed institute in India and popular worldwide. Having gotten accepted to both medical school and the hotel management institute at a young age, Simmi weighed her options carefully before deciding on going with the latter. She has always been passionate about travelling, learning and experiencing different cultures, etc.  Here, we speak to Simmi about her career in the hospitality industry, and working in the Maldives.
Tell me a little bit about how your career kicked off?
During my third year at the Institute for Hospitality Management in Hyderabad, I was recruited by Park Hotels as a management trainee in operations. Park Group is the first collection of boutique hotels in India. I was the only person selected from my institute and that meant a great deal to me. I worked there for 1 and a half years, and moved to Park New Delhi. A couple of years at the Park Group and I heard about the Taj Hotels in Pune (Western part of India) looking for a Sales Executive. I applied and got the position. I worked with the Taj Group for a few years, and first moved to Maldives for the pre-opening of Vivanta Coral Reef. I stayed at Taj Maldives for three years as Sales Manager before joining the Jumeirah brand.
How have your previous experiences and posts come into play here, in this current position you hold?
Through my previous work, I learned everything in Sales from Junior level up to Senior responsibilities. So I have a very strong basis and that has helped me to implement new strategies at Jumeirah Maldives. My time working at the Taj Group helped me build a stable foundation and trained me for my future endeavors, and as such, switching to an international brand like Jumeirah has helped me grow tremendously. Working in the Maldives, though, I learned a lot of discipline, and time management. Because the islands are geographically separated, I had to manage my time between travelling from the resort to my office here in Male', setting up meetings, while still meeting my deadlines. It has been a wonderful learning experience, and Jumeirah is very sensitive to their staff. There is every opportunity to grow in the company. I started as Associate Sales Director and today I am the Head of Sales at Jumeirah Vittaveli.
Tell me a little bit about your current position at work?
I am responsible for ensuring that the resort holds a high position in the market. I have to be able to cultivate my team because I know my role here, and how I deal with them and what they learn from me speaks for their futures. I am very careful to work alongside my team, to have a laugh with them when needed and to guide them in their work. We engage in a lot of learning and development sessions where they learn about team work and work culture. It is about developing someone's future and also developing people who can be retained in the Jumeirah Group.
In the sales department we have 6 members, including me, out of which four are women. It is a good balance. Our longest standing staff, a Maldivian, started off as an intern and is now on the verge of becoming Sales Manager. I consider this a big achievement. What is even more special is that he is the only Maldivian in the sales department.
The percentage of women working in the industry is few compared to that of men, but do you see a change in the future?
Women in Maldives today are more empowered. The global woman is very dynamic, powerful, and independent. I have seen a lot of growth in my 8 years in the Maldives, and feel lucky to work with some of these ambitious women. The dynamics are changing slowly, but even today 80 per cent of my colleagues are male. It is a slow change, but we are getting there, slowly, but surely.
Jumeirah has a team of strong women, my immediate team consists of three women and two men, and I am proud to say I have such a strong team of committed women to work alongside with.
What are the common denominators in these strong women? Do you think it is possible to balance both a career and a family?
I think it depends on each individual. Gone are the days when you had to sacrifice personal life to have a career. Smart women today can manage both. We are a strong, open minded bunch.  I understand that in the Maldives women and men have to sacrifice careers or personal lives purely for logistical and geographical reasons, but I would strongly stress the fact that it is up to each individual to decide if they want just one, or both. There is no need to choose just one, it is very possible to have both, a career and a family.
Men and women today are evolving to a more modern thinking. Women are no longer confined to doing house chores while men go to work – times have changed. People are changing, and responsibilities in and out of the house fall equally on both sexes.What are the biggest challenges you faced in coming to where you are today?
I wouldn't exactly call them challenges, because I enjoyed every phase of my career. For the simple reason that I learnt, and still learn something new every day. My work has been very interesting, I get to meet a lot of new people, I get to pitch ideas, work alongside strong minded colleagues.
I always say if you are passionate about something, you need to work towards achieving it, give it your 100 per cent. It is important to be a committed, responsible and hardworking person. But the most important fact is that you need to enjoy what you are doing.
What are the highlights of your career?
I am glad you asked me this. The Jumeirah Group has a customer relationship management system (CRM) to track sales activities on a weekly and monthly basis. We all have set targets for each resort. When I first joined the group, Jumeirah Vittaveli was always behind our sister properties and wasn't even really on the radar. The day I became the Head of Sales, I made it my goal to put Jumeirah Vittaveli at the top of the list. So we worked hard, we attended trainings, and today, I can proudly say that, for the past few months, Jumeirah Vittaveli has stood number 1 in the whole Jumeirah Group when it comes to weekly & monthly sales activities tracked in our CRM. It is a big achievement for us as a team because we have a limited number of staff, yet we all worked together to come out on top, and we did.
Also, taking over both properties (Jumeirah Vittaveli and Jumeirah Dhevanafushi both used to be under the same Sales team – this changed in April 2015 when the properties were de-clustered and I chose to remain Head of Sales for Jumeirah Vittaveli) that were doing low on occupancy, we managed to overcome that and we raised occupancy from 75 to 80 per cent, and this counts as one of the biggest achievements in my career.
Lastly, I am proud that I have managed to keep 100 per cent retention of my team. That is to say that no one has resigned within the last half year.
What would be your advise to young women who are passionate about working in the hospitality industry?
The hospitality industry looks glossy and glamorous – and for the most part it is. You get to travel the world and meet interesting people. You need not ever feel bored working in this industry. But what a lot of people don't realise is, and this is my advise, that it requires a lot of hard work and dedication, a lot of sleepless nights, burning a lot of midnight lamps. But at the end of the day, you are rewarded for your hard work. The satisfaction is worth it.
This industry is very demanding, in both internal and external interaction. I strongly believe in being a confident, happy woman. You should always be eager to learn, develop yourself, and a team player. You can never climb the ladder if you don't believe in team work.
For women in HOD level I would say that they are at a position where they are able to leave an impression on their colleagues. A position where what they say can either help them make or break it in the industry. I would say that maintaining a proper code of conduct is essential. I would also mention that it is very important to focus on the growth of your team because you are nothing without your team. You can only grow if your team is growing.
Finally, what are your personal thoughts on working for the Jumeirah Group, a well renowned international brand?
It is an absolute privilege to work for this brand. The Jumeirah brand is very high-end but at the same time grounded and down to earth. We are customer focused, and sensitive to our partners and colleagues. I have loved working with this brand for the past 5 years.