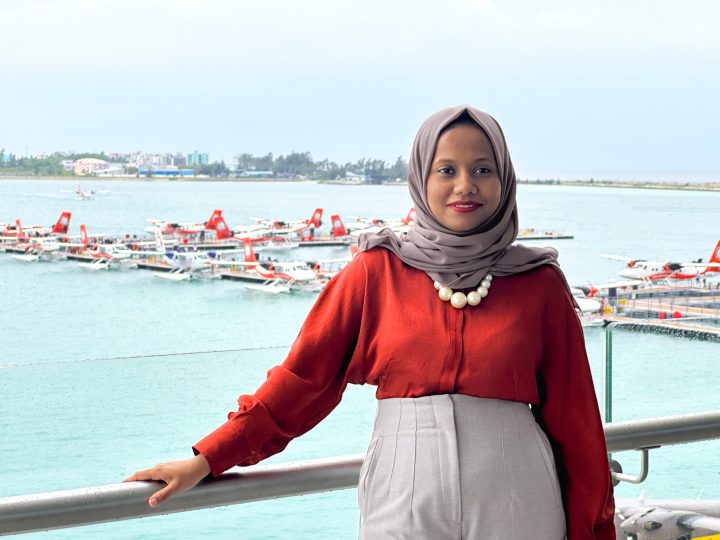 Women in Hospitality: Aishath Alaa Abdul Hannan
Aishath Alaa Abdul Hannan is the Deputy Manager, Corporate Strategy & Business Development at Trans Maldivian Airways. Alaa is a proponent of leading women in the Maldivian aviation industry. Alaa joined the aviation industry 9 years ago as a Reservation & Ticketing Assistant and after observing the airline's operations, she decided to pursue her career in aviation. Prior to working in TMA, she was the Assistant Manager, Scheduling & Capacity at Villa Air. From its humble beginnings in 1993 with only two aircraft, Trans Maldivian Airways has grown rapidly over the years with over 500,000 passengers being transferred per annum. As of today, it is the largest seaplane fleet in the world.
In this exclusive interview, Hotelier Maldives speaks to Alaa about her work and her experience as a woman in hospitality.
HM: Give us a brief introduction of yourself
Aishath Alaa: My name is Aishath Alaa Abdul Hannan; most commonly known as Alaa. I have been working in the Aviation Industry for the past 9 years. Currently, I am the Deputy Manager, Corporate Strategy & Business Development at Trans Maldivian Airways. Leading the Sales & Marketing team in the company, my role is also to assist the Head of Corporate Strategy & Business Development. I have a strong sense of empathy, which I attribute to having a large extended family when I was growing up. It has taught me a lot about working with others and accepting various viewpoints starting at a very young age.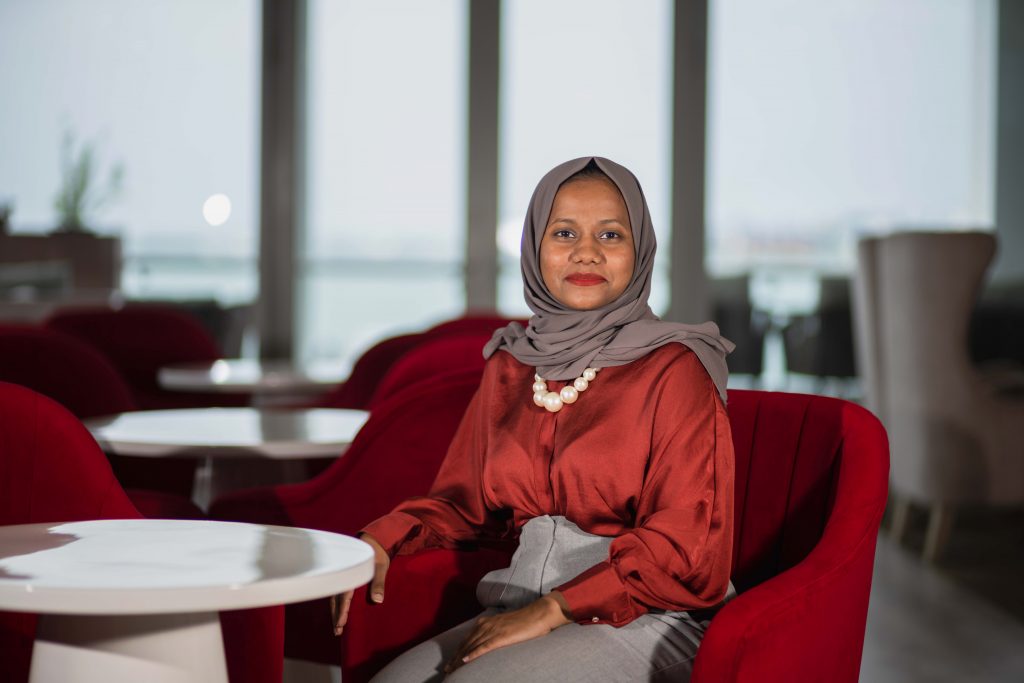 Featured Image: Aishath Alaa Abdul Hannan, Deputy Manager, Corporate Strategy & Business Development at TMA
HM: How did your career progress to your current role as Deputy Manager, Corporate Strategy & Business Development at Trans Maldivian Airways?
AA: Initially, I joined the aviation industry because I was interested in traveling. I started my career as a Reservation & Ticketing Assistant. As a person who is keen to learn, I explored different areas of operation within the airline I joined. I had the chance to work in reservations, scheduling, dispatch, and on-day operations. Since it was a small organization, we were also the focal points for managing client relations and ensuring service delivery.
Prior to joining my current role at TMA, I held the post, of Assistant Manager, Scheduling & Capacity in Villa Air.
HM:  What is the most rewarding and challenging aspect of your job?
AA: The most rewarding aspect is ending the day with content clients while working as a team. Our team here at TMA, is given the crucial responsibility of welcoming mutual guests of our partner resorts as one of the first contact points of a guest's journey as well as the last goodbye of their dream vacation. Maintaining the same standard of service to over 80 resorts is often the most challenging aspect of our work.
HM: Could you share with us your experience working with Trans Maldivian Airways?
AA: To join such a huge team and operation, having one of the major milestones in TMA history with the seaplane terminal move lined up, I was nervous at first but my HOD really helped me ease into my role and supported me to excel in the projects that we were assigned. The team here has been a true delight to work with.
A company with 30 years of experience, there is so much knowledge that is exchanged among the team members day in and out. The individuals here are truly experts in their respective fields. Even with so much experience, the most refreshing thing here at TMA is we never stop asking ourselves what we can do to be better at what we do. This comes from our C.E.O which we all follow throughout the company.
What drew you into the aviation industry?
AA: When I initially joined Villa Air, I wanted to work in an airline because I loved traveling. The thought of pursuing a career in aviation hit me when I saw the workings of an airline in action. That is when I decided that this is what I would like to do.
HM: Are there many opportunities for women at TMA?
AA: Yes. We have so many areas in which we are currently seeing more and more females joining the workforce proving that the field is not restricted to gender. We have females as Safety Inspectors, Pilots, Crew Schedulers, Dispatchers, Load Controllers, Schedulers, Aircraft Technicians, and Human Resources Executives.
HM: What do you think helped you the most to make a career as a woman? What's the biggest factor that has helped you be successful?
AA: I believe that the thing that has helped me the most is the constant will to keep learning while always looking for ways to add value to the team. Patience and perseverance are key characteristics that will help both in your career and in life. Different people will view success in different ways, for me, true success is to be able to love what you do every single day.
HM: What do you like to do when you are not working?
AA: I like spending time with my loved ones. The majority of my time is dedicated to working, the time I spend with my family is what I look forward to the most when I am off work.
HM: What advice would you give to the next generation of female leaders?
AA: Always believe in yourself. View every single challenge you face as another opportunity to learn. Focus on your path and patiently move towards your goal. The sky is the limit.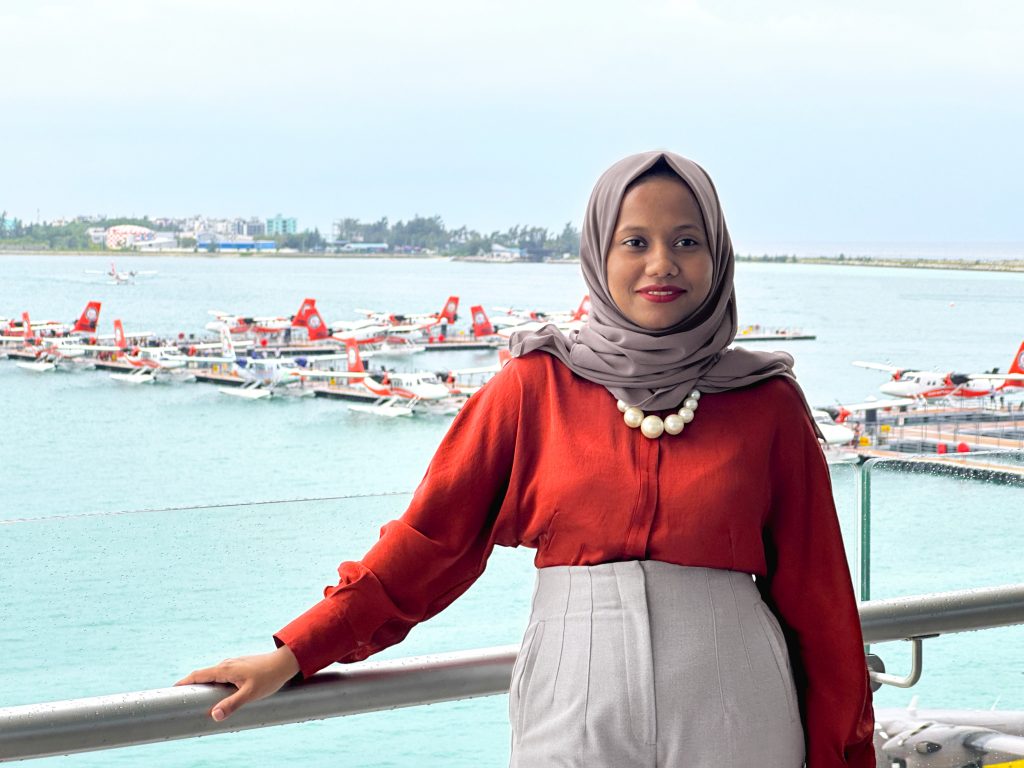 Featured Image: Aishath Alaa Abdul Hannan, Deputy Manager, Corporate Strategy & Business Development at Trans Maldivian Airways
Photo Courtesy: Ma'aan Abdulla, Orca Media Group