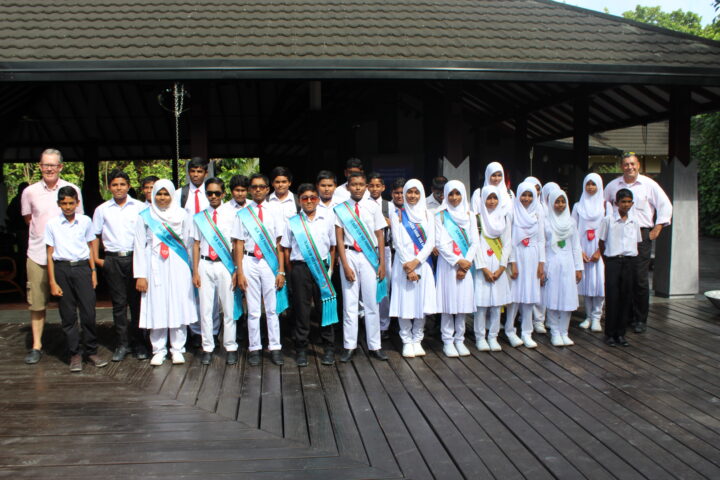 Adaaran Select Meedhupparu marks World Environment Day with awareness session
Adaaran Select Meedhupparu, an Aitken Spence Hotel's resort in the Maldives hosted an interactive awareness session on eco-consciousness and plight of the planet for over 100 participants last week, in lieu of World Environment Day, on 5 June 2018.
A resort that has sustainability and ecological protection at its core, over the years Adaaran Select Meedhupparu has contributed greatly to the awareness creation and protection of the environs surrounding the island of Raa Atoll, Maldives.The workshop was conducted by Saving Our Planet Organization Co-founder Charles Appleby. Those who participated in the workshop were students and teachers of Maduvvari School and Hotel's staff and guests.  Some of the key learnings from this workshop covered topics on climate change and its effects that negatively impact the islands of Maldives.While speaking on the rising sea-levels as a result of increasing atmospheric temperatures, Appleby noted: "In 2016, per capita for CO2 emissions in the Maldives was 2.88 metric tons, which was an increase of 0.54 metric tons from 1997, growing at an average annual rate of 9.78%. With such rapid changes, the time to take a stand to correct the errs of our past is now."He also stated that  awareness and education is crucial to changing the mindset of people and that public engagement and collective action is vital to mitigate further damage. Appleby commended Adaaran Select Meedhupparu and other Adaaran properties for their continued efforts towards sustainability and eco-friendly practices.The Adaaran properties are guided by a strong policy slogan "leave nothing but your footprint" that stems from the Group-wide policies and standards for minimising carbon footprint. In upholding this,  Adaaran properties focus on issues such as reducing, recycling and reusing solid waste; reducing the use of harmful chemicals; conserving energy and water, and improving indoor air quality, all of which have an immediate impact on the environment and the communities where the hotels operate. The Adaaran properties are also Travelife Gold certified which is a further testament to strengthening the Company's sustainable practices.
Adaaran Select Meedhupparu located in Raa atoll which is the largest resort property of the Group with 238 villas, surrounded by powder-soft beaches and sublime turquoise lagoons. It is an award-winning resort that invites guests to surrender to their senses and bask in the majesty of the tropical island surroundings. The island of Meedhupparu is also home to Adaaran Prestige Water Villas, a five-star resort comprising of 20 luxury water villas.
For more information please visit www.adaaran.com/selectmeedhupparu