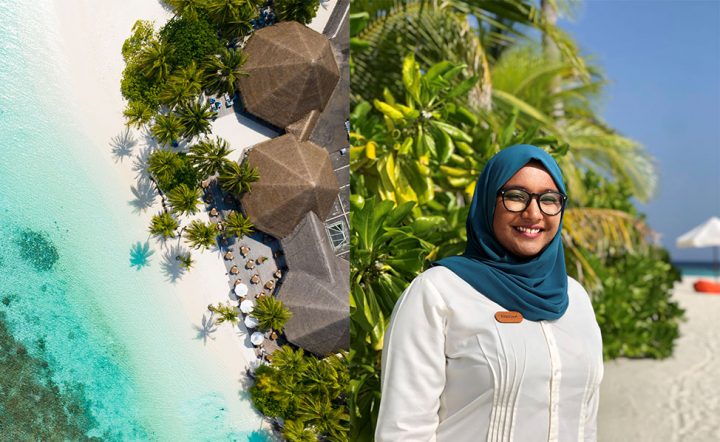 Women in Hospitality: Aminath Maeysha, Sales Manager at Mirihi Island resort
As the recently appointed Sales Manager at Mirihi, Aminath Maeysha is a great example of how hotels can achieve great things when they invest in their staff. Having worked with Crown & Champa Resorts for eight years across four different properties in the Maldives, the former Front Office Manager has a wealth of experience in the hospitality industry and is currently loving her work at Mirihi in the South Ari atoll.
Since childhood, Maeysha always dreamed of working at a resort. This became a reality after studying in Male for eleven years, when she was invited to an interview at Meeru Island Resort in 2011. "It all happened so fast and there was not much time to think before I arrived at the island. I was welcomed to the team so supportively that I instantly felt empowered," she said.
Beginning her career as a receptionist, she was quickly promoted to guest services. The company saw potential in Maeysha and sponsored her Diploma in Hospitality Management at the Maldives National University.

"During my two-year sponsorship programme, I worked in the kitchens and entered one of the biggest culinary competitions in the region called Hotel Asia. I won the gold medal against incredibly talented chefs. In addition, I was deemed a promising young chef, which was a proud moment for me and my family. It was a real passion; culinary gave me extra skills to aid my career development but I still felt that there was something missing. I wanted to work front of house."
That chance came after completing her studies, when she was appointed Assistant Front Office Manager at Champa Central Hotel in Male before moving to Innahura Maldives in Lhaviyani atoll in November 2019 for its preopening.  Here, she covered the logistics of seaplane and boat transportation and managed the reception. A year later, she moved to Mirihi, where today as a sales manager, Maeysha finds sales exciting, working with existing and new partners, analysing their performance and planning new sales strategies along with the rest of the Team. "Keeping constant contact with all partners helps to understand what we can expect for our business, so sales calls are on my daily schedule. A huge part of this is revenue and sales analysis."
Working in such a strong leading position as a Front Office Manager at Innahura was a proud moment for Maeysha and her family. She states how challenging it was, being the only local female in the management team. "But the support, I got from the team was so incredible and kept me moving forward. This is a strong motivator for me and the main reason that I can be successful. In the front office, I lead by example and take initiative. Nowadays with an advanced generation to manage, guiding them and becoming successful is one of the most rewarding aspects of the role. The new generation is clued-up on the latest trends and we can learn lots from them."
"My father always taught me to be a strong woman. I have proven that there is really nothing that a woman cannot do. Yet uncertainty and hesitation from leaders are very much visible when it comes to certain jobs given to women," says Maeysha, noting that she lost a lot of opportunities at an early age of her career. "However, determination and my commitment to the job helped me overcome the challenges in the industry. The external influence while living on an island is most challenging when working in a resort but it also depends on you. As we grow, we learn to overcome these challenges with a positive mindset and continue to inspire more women to join the industry."
"Throughout my career, I have had many influential industry mentors who have supported me and contributed to my success. A huge part of my career growth and success goes with CCR management and owners for believing in me and providing me with opportunities to grow in the industry, regardless of being a local woman, as back then, some companies did not believe that a local woman could hold a long-term position in the industry."
Her words of advice to aspiring young female leaders: It is important to remember that there is no fast track to becoming a leader. Whether you have a degree or no degree at all, it takes substantial time to become a true leader and develop through the process of becoming one. Step by step, through hard work and dedication you will achieve your goals. To be a great leader one should constantly evolve and observe the team's skills. We need to give personal attention to everyone and monitor their strengths and weaknesses, according to this, we can customize the leadership style. It is important to listen to the team's ideas, encourage them and give suggestions.


About Mirihi
As one of the smallest island resorts in South Ari Atoll, Mirihi is surrounded by pristine natural beauty. From palm-fringed beaches with powdery sand encircled by a spectacular house reef with sea turtles, reef sharks, eagle rays and hundreds of varieties of rainbow-hued fish and a shipwreck. Mirihi offers delightful cuisine with exquisite international flavours and authentic Maldivian tastes. But most of all, it has wonderful hospitality and personalised service from the well-trained team who create an unforgettable Maldivian getaway for each guest.