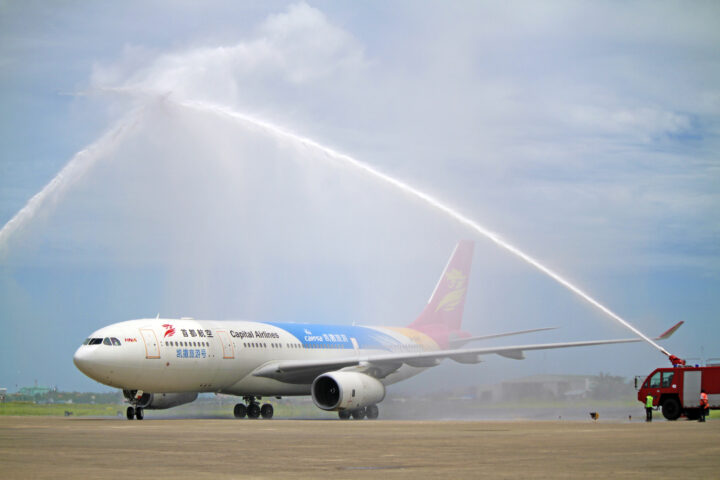 Beijing Capital Airlines now flying to Maldives three times a week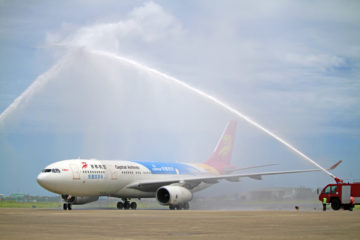 Beijing Capital Airlines, a subsidiary carrier of Hainan Airlines, has begun operating flights between Beijing and Male'. The Beijing-based carrier completed its maiden voyage this week, landing at Ibrahim Nasir International Airport on October 27th. Upon arrival, the flight was greeted with a celebratory water canon salute.
The airline will now operate three flights a week between Beijing and Male', using leased A330-200 aircrafts. Flights will arrive in Male' on Tuesdays, Thursdays and Saturdays.
The new route comes as the carrier continues to increase its international expansion, alongside growing Chinese outbound travel. The route is the airline's second new route to debut this month, following the inaugural flight of the new Zhanjiang-Bangkok route on October 26th.
Voyages Maldives, the exclusive supervision and ticketing agent of Beijing Capital Airlines in the Maldives, explained that the commencement of operations by Beijing Capital Airlines will now replace previous operations by the aviation company's parent carrier, Hainan Airlines.
Currently, Beijing Capital Airlines operates 54 aircraft, comprising 22 Airbus A319s, 31 A320s and one A330.
According to Air Transport World, the carrier is scheduled to take delivery of two more A330s this year and plans to expand its long-haul fleet to more than 30 aircraft in the next five years.
The carrier's parent HNA Group director Li Xiang said the group would adopt "differentiated international expansion strategies" for Capital Airlines and Hainan Airlines as the former mainly targets leisure travelers while the latter focuses mainly on business travellers.