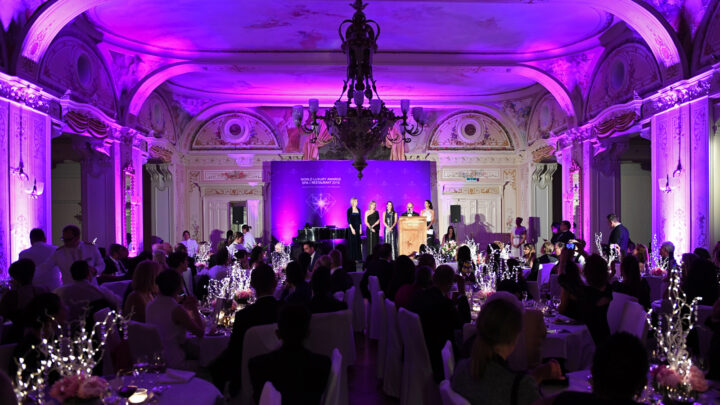 World Luxury Awards Celebrate Inaugural Spa and Restaurant Gala Ceremony
On 18 June 2016, the World Luxury Spa Awards and World Luxury Restaurant Awards celebrated their inaugural gala ceremony, hosted by the Grand Hotel Kronenhof in Pontresina, Switzerland. The hotel and its impeccable natural surroundings complemented the evening's affairs as guests from 38 countries arrived to a red carpet welcome to be recognised on stage for their world class service achievements.
The World Luxury Spa Awards and World Luxury Restaurant Awards are part of the World Luxury Hotel Awards which this year celebrates its tenth anniversary. Setting the basis for service industry standards around the world, the company prides itself on providing true recognition to luxury spas and restaurants in their relevant categories during its annual voting phase. Votes are garnered through various marketing channels from guests, showcasing yet again the true value of service excellence. In the 2016 awards season, more than 110,000 votes were cast by discerning guests for their respective participant.Spas and Restaurants from all over the world were present and media coverage at the event included one on one interviews once each attendee was rewarded with their trophy. Cultural performances by the Alphorn Players and Leo Wundergut & the Jetset-Singers complemented the sumptuous 6-course dinner prepared by the Grand Hotel Kronenhof's Executive Chef, Fabrizio Piantanida, which was hosted in the hotel's signature Grand Restaurant. "What a night", "Magical, wow", "James Bond", "Once in a lifetime" were just a few terms cited by guests at this glamorous event.
"The participants of this awards program share the belief that excellence is not something you are born with, it is something you are born for," explains Anton Perold, Managing Director for the World Luxury Awards, "we congratulate all the winners and their respective teams on their fantastic achievement. Special congratulations go out to our Overall Winners, Sayanna Wellness by EPIC SANA Algarve in Portugal, and Jahn Restaurant at Conrad Koh Samui in Thailand. We are pleased to announce that the JW Marriott in Hanoi, Vietnam, has been selected as host property for our 2017 ceremony and we look forward to welcoming all our participants on 22 July 2017."