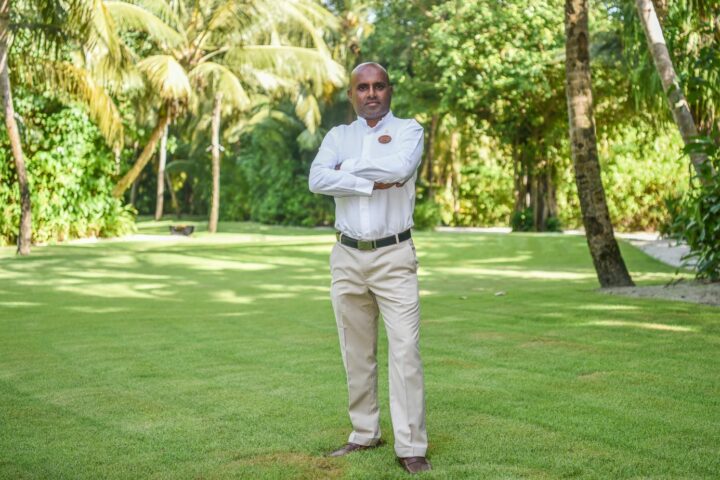 Yasir Sulaiman, Manager – Concierge, One&Only Reethi Rah
Serene One&Only Reethi Rah is recognised as a favourite hot-spot for the most prestigious class of world travellers. To give a memorable stay and a perfect experience for them to reminisce on return, One&Only's Concierge team ensures they are taken well care of during their stay.
Yasir Sulaiman, Manager – Concierge expresses his experiences, opinions and visions on the hospitality industry. As the focal contact, Yasir and his team give exclusive services to their esteemed guests. Being well-versed in guest tastes and preferences they are present in all guest functions, events and excursions to meet and greet them.
This is a part of the process of acquiring feedbacks for service enhancement. Continuous feedback loops are uploaded in the private database allowing to provide even more personalised service for the next stay. This process is very much appreciated by their guests who are well-travelled experts.
On arrival, guests are given a detailed orientation of the villa, different outlets, facilities and services in an introductory tour. The Concierge team is easily reachable directly on their mobiles for any request throughout the stay. Guest requests are taken care with finesse in a timely manner to avoid any dissatisfaction. Keeping in mind to give them enough space, the guest is assisted in organizing their stay; mostly in planning daily activities.
Of late, local talents are taking the helm of various departments and executive levels of high-end, high calibre resorts. This demonstrates an evolving momentum as the outcome of the efforts by talent developers in the industry, to strengthen local talent. Yasir described this as a very refreshing trend. He also expressed that it is a vivid signal for those who aim to progress in the field.
A day in the work-life of a Concierge begins at the crack of dawn. As there are early morning departures. It is customary at One&Only that all the executives and managers adieu the guests on their leaving. Just like they are welcomed by the whole team on their arrival to the beautiful island; even past midnight arrivals.
The routine then continues with daily meetings and briefing where all the guest movements are discussed. Alongside communicating special proceedings of the day, the schedule is planned for the following day. Though it sounds very structured Yasir stated it is a luxury anyone in hospitality industry seldom get. He further explained that one moment he might be in the office and the next might be jumping on a buggy to meet a guest about a bevvy of things, and in a somewhat paradoxical sense. Thus, he said these are exactly what makes doing his job so fulfilling and exciting.
Yasir ends his day by inquiring the guests on their stay, seeking their feedback for further service enhancement. Though on rare occasions may not get a favourable response, usually the day ends with a positive note.
Been in the industry for so long, Yasir has encountered several remarkable incidents. He then shared the most memorable experience in his career by far. During the last Valentine's Day, his guest gave him complete autonomy as how to choreograph the entire evening for him and his wife. With the help of the very talented and inspiring team at One&Only, their love story was recreated. An Eiffel Tower replica was built, which was their wedding venue, along with an identical cake, drinks and serenaded them with the same songs played on their wedding.
The couple's home in London was also replicated and built to give them a homey feel and the bar of their first date was also simulated in the venue. The finale was the special dining experience in the purpose-built treehouse where they watched the video messages from their family members all over the globe. For Yasir, the sheer joy the guests embraced when they saw the entire arrangement was the most rewarding experience in his career.
For him, the most memorable experience in terms of recognition is the award as Best Butler in 2014 by Linara Travel Maldives Award, among a host of other very experienced Butlers.
Yasir aspires to be in a position, taking new challenges while creating and nurturing winning teams. To take on more management responsibilities, possibly in an extended role. He is passionate about coaching and guiding budding, energetic talents in the industry; particularly seeking to be a Butler or Concierge. Looking into the future, Yasir is excited about being engaged in a mentorship role.
Youth with passion, drive and curiosity have immense opportunities in the Maldives hospitality industry. "Dharivaru" (Apprentice) Programme is a platform for youth interested in the industry with the opportunity to work in an immersive year-long program
"Start somewhere, but be smart about the foundation on which you start building your career because being nimble is the steppingstone for a richer, more fulfilled career," Yasir adds.