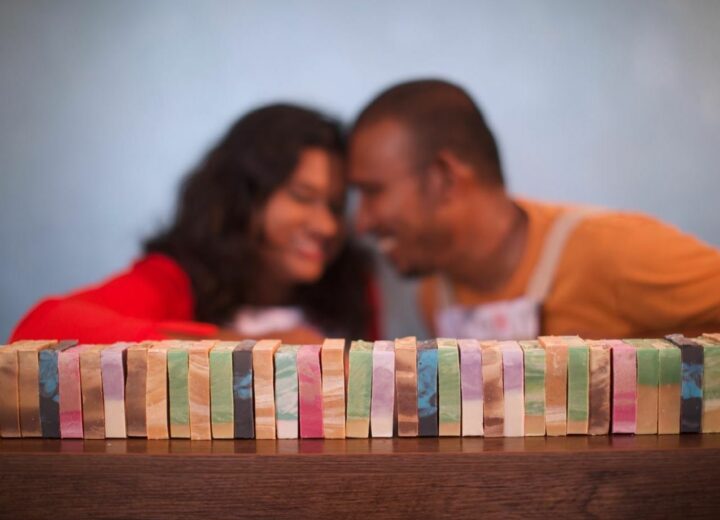 The Maldivian soap story – art, science and love
The Chase
The husband and wife duo, Azu and Hussain had a simple dream; to create body and bath products infused with art using a selection of sustainable ingredients which has an affinity to their home, the Maldives.
The chase of discovery and perfecting the right blend and infusions of a hand-made cold-processed soap bars began in 2017. The duo thoroughly researched, sourced and tested a wide range of ingredients, and some of these initial experiments had to be refined.
The exploratory path was challenging as well as fun for this spirited and aspiring duo. The negatives were always combatted with a positive outcome and the founding belief of producing a soap bar with no plastic, using sustainable ingredients which soon became a reality when they identified their edge and fool-proofed the process. Thus, Ogaa was born in 2019.
The Duo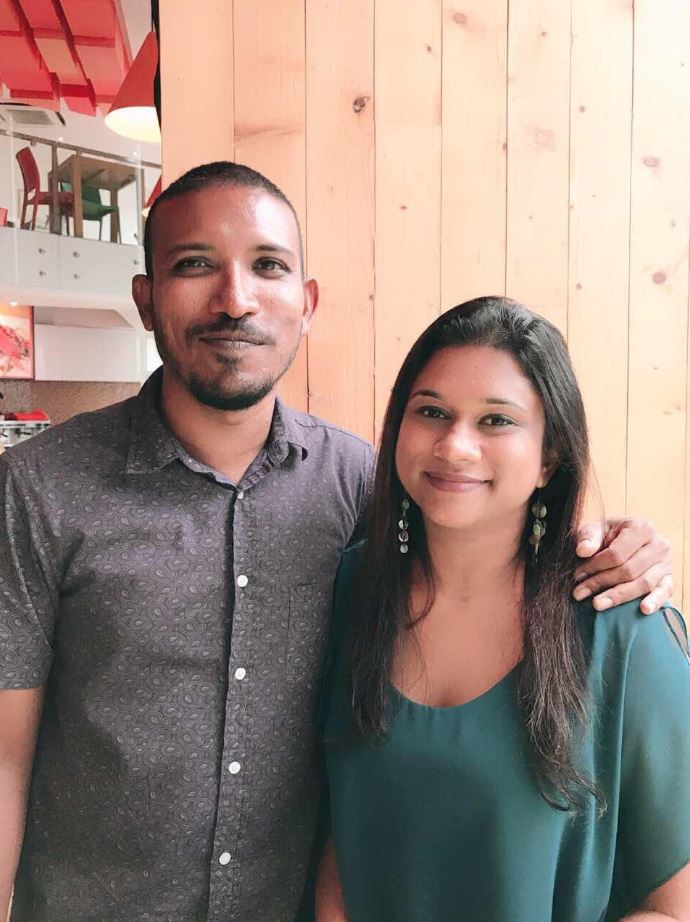 Azu's journey of creating and experimenting with arts and crafts began as a child. She loved different types and forms of arts, even though she did not know at such a young age that one day she will find a way to share her creativity with a wider audience in a wholesome and caring way.
Hussain grew up in a household of artists. As a teenager, he started working with his friends in a graphic designing firm. He believes this is where his interest in creating art was discovered. His calm and composed nature brings practical functionality and balance to Ogaa.
The Ogaa Philosophy
"Ogaa" meaning care in Dhivehi, seeks to nurture artisanal value by eliminating the use of harmful ingredients, offering well-formulated handcrafted bath and body products. Their philosophy transcends a unique blend of Maldivian art infused with nature.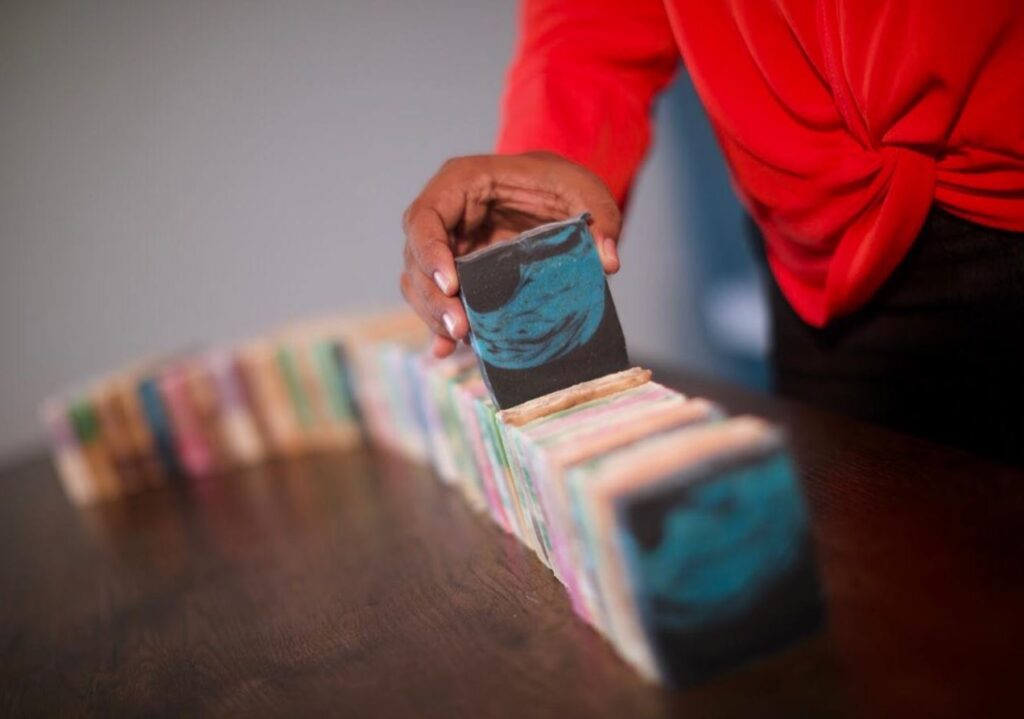 Aesthetics and individualism
Ogaa's artistic inspiration stems from the unique forms of how the atolls and islands are formed in the Maldives, how the corals are sculptured in our reefs, the decorative multicoloured fishes, the symmetry of coconut palm leaves and the variety of vegetation of the islands. Each bar is poured and cut by hand. Thus, making it unique in shape and colours, maintaining an individual appeal and celebrating these differences.
Ingredients and transparency
At Ogaa, they believe in minimalistic and consumable ingredients, hence each product contains no more than twelve ingredients. Each ingredient has been chosen carefully to deliver a well-balanced and nurturing performance to the skin. The palm oil used in Ogaa's soaps is sourced from The Roundtable on Sustainable Palm Oil (RSPO) certified suppliers. Ogaa has also attained the ISO 9001:2015 certification in 2019. All soaps and other products of Ogaa are Sodium Lauryl Sulphate (SLS) and Paraben-free.
Ogaa continues to research as they strongly believe that this is the only way to improve and offer a wide range of exciting and high performing products, that will stay true to the Ogaa philosophy.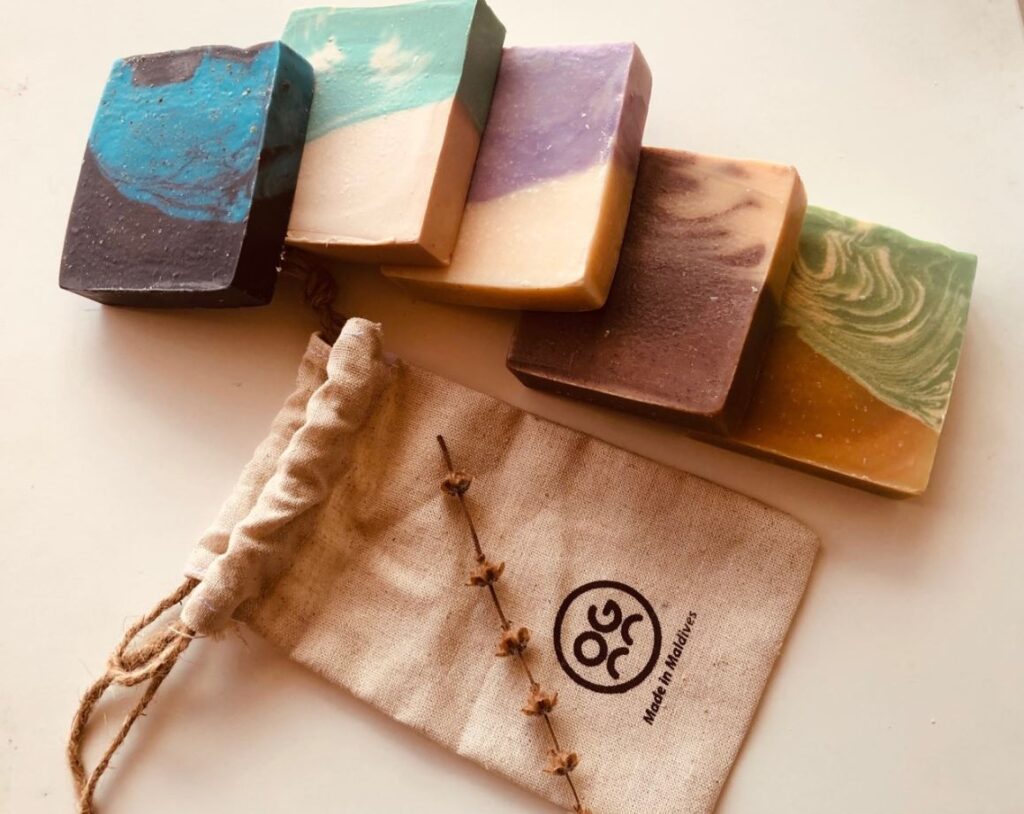 The path and the process
Ogaa uses the ancient method of cold processing, this enables each ingredient of the Ogaa's handmade soaps to harness the maximum benefit from every single ingredient. This also means that all soaps are 100% biodegradable and there is no wastage. Each bar is poured carefully blending art and science, adding each ingredient until saponification occurs. Each batch of soap made by Ogaa is cured for at least four to six weeks. Ogaa soaps contain 80.8 Total Fatty Matter (TFM), which is one of the most important characteristics describing the quality of soap.
Veshi Collection
The Veshi Collection of Ogaa was unveiled in April 2019. "Veshi" in Dhivehi means environment. This collection is a combination of five unique blends of exotic and native fruits from the Maldives and herbs together with a personal selection of sustainable essential oils and additives, some of which are ethically sourced from other countries.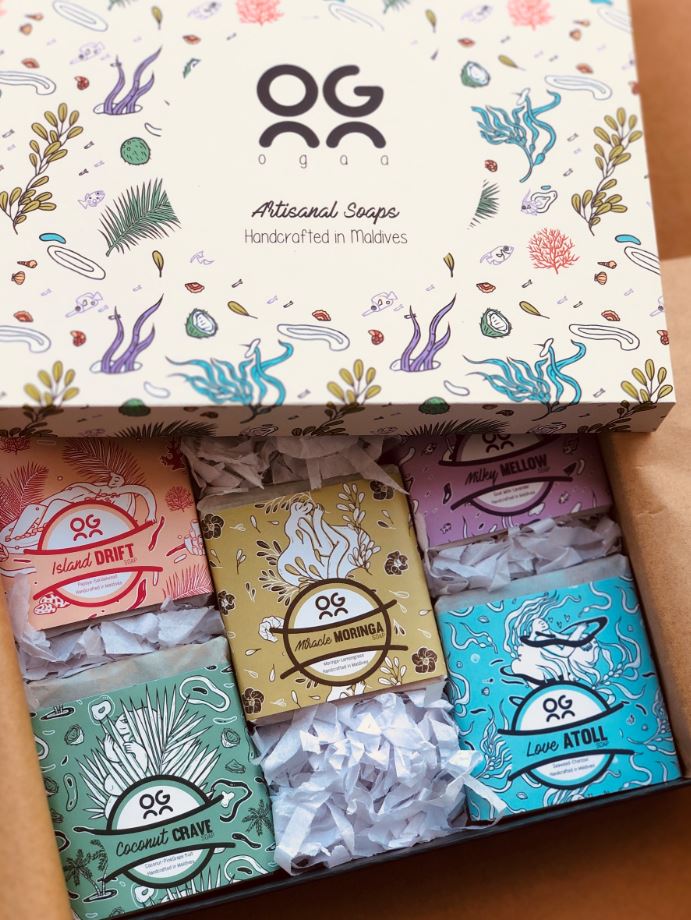 Since the unveiling of the Veshi Collection, the response and interest from locals and the resorts have been very encouraging.
"A peek into the collection: all our soaps are ultra-gentle and free from SLS & Paraben"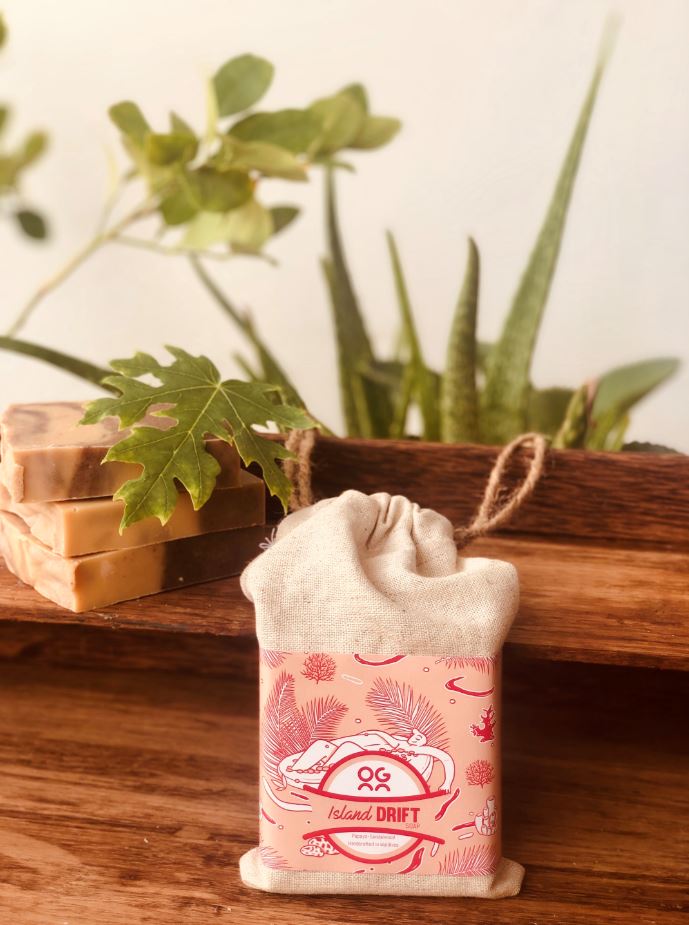 Island Drift: Homegrown Maldivian papaya blended red sandalwood helps to gently exfoliate and rejuvenate your skin. The rose geranium essential oil promotes healthy skin for a youthful glow. This soap is 100% vegan.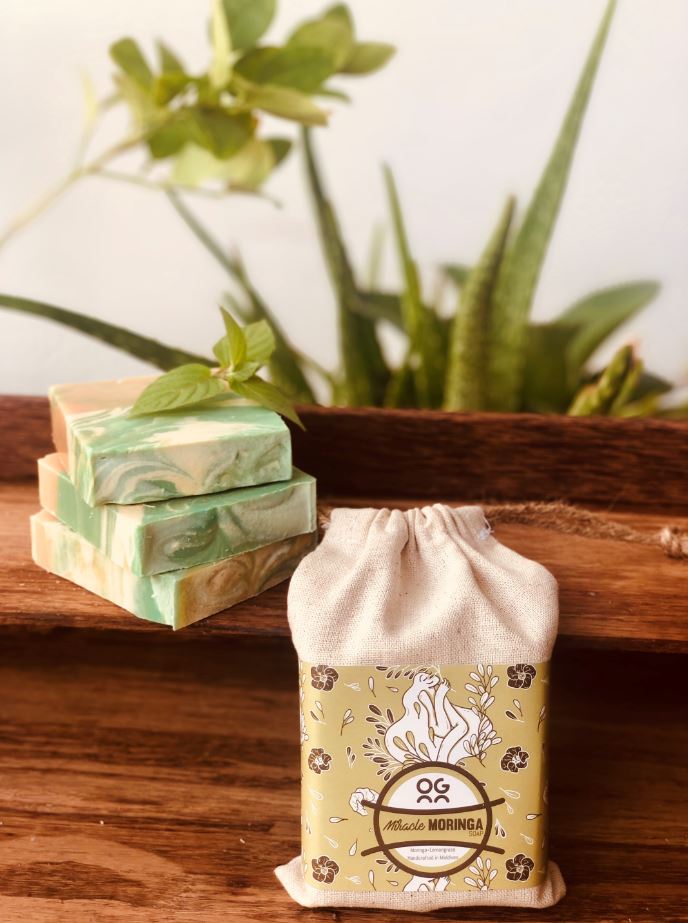 Miracle Moringa: The anti-inflammatory and antiseptic properties of Maldivian moringa oleifera in combination with lemongrass essential oil will help protect and condition your skin. This soap is 100% vegan.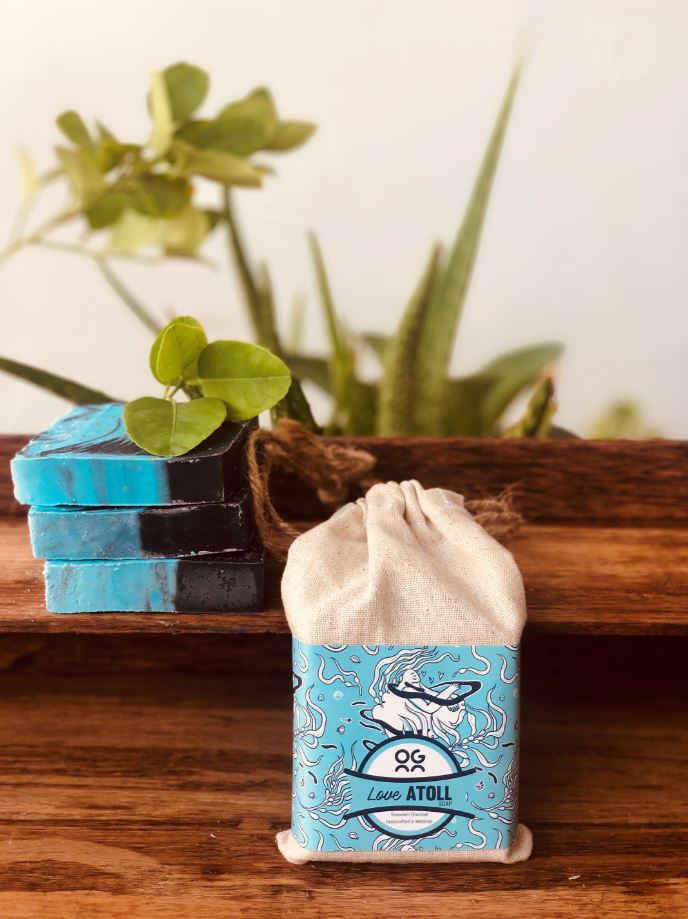 Love Atoll: A combination of charcoal mineral-rich kelp (seaweed) deeply cleanses your skin keeping it soft and hydrated, while peppermint essential oils leave your skin cool and invigorated. This soap is 100% vegan.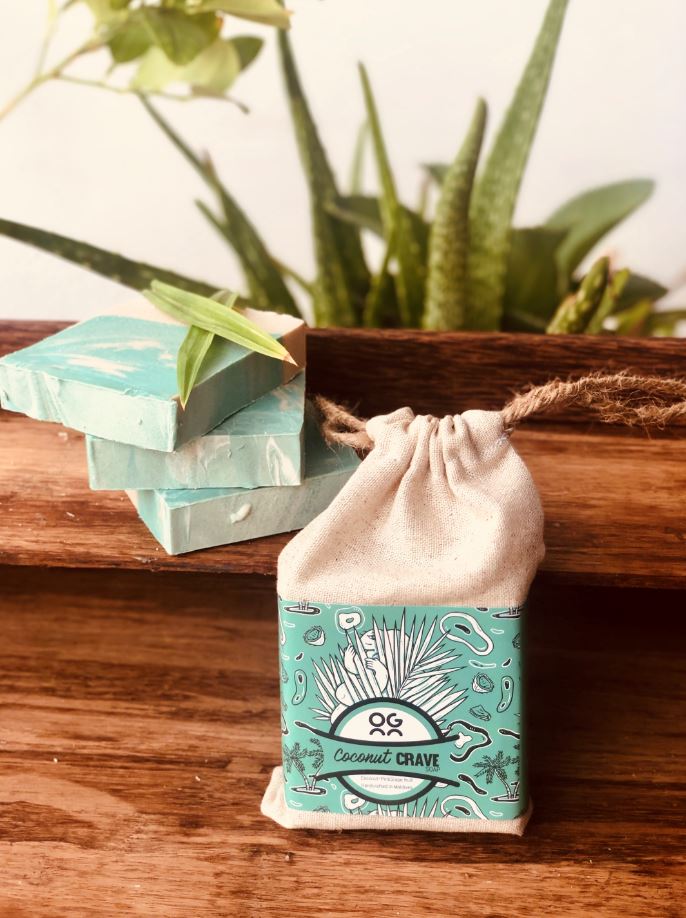 Coconut Crave: Creamy Maldivian coconut milk with antioxidant-rich pink grapefruit essential oil to care and nourish your skin for overall uplifting sensation. This soap is 100% vegan.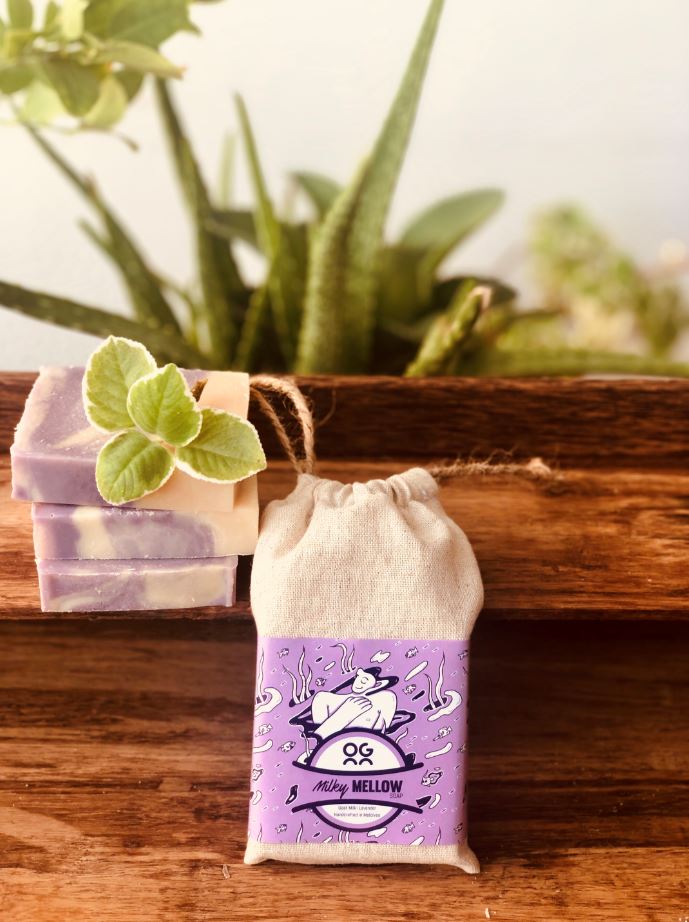 Milky Mellow: Goat milk packed with nutrients and vitamins hydrate even the most sensitive skin, while lavender essential oil soothes your senses leaving you calm and serene.
Soap Bespoke
Ogaa is committed to giving you the extra bubbles and can tailor soaps according to specific requirements without compromising on the quality and the ingredients used; should this be for corporate gifts or your in-house soap brand.
A love bigger
Growing up on a small-low lying island nation like the Maldives, the duo was conscious in their own little ways to respect and love the environment.
"As a young brand, we face multiple challenges in many aspects of the business. However, we have complete faith in our founding beliefs and our love for what we believe is bigger," said Azu and Hussain. "There are times when we have to trust our instinct and make decisions, and many of them are based on our core values and philosophy."
Azu and Hussain's courage to follow a simple dream is marking a new chapter in the history of soap making in the Maldives. The Founders of Ogaa invites you to follow them ogaa.mv for all upcoming and exciting updates.
Ogaa™ is owned by Artistree.