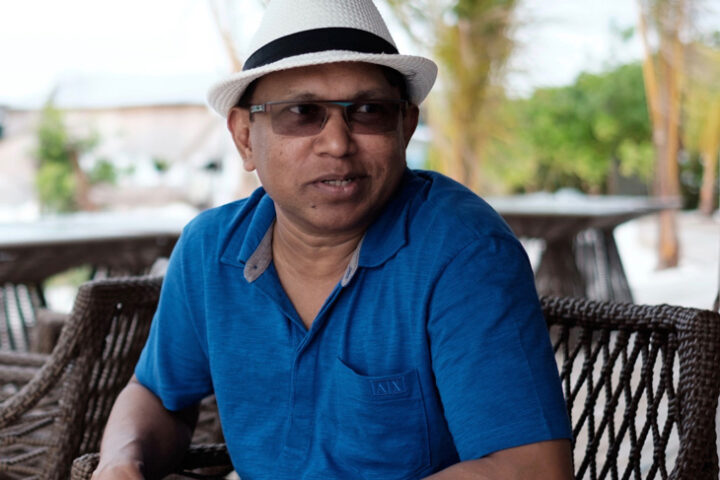 Exclusive: Hussain Hilmy, Chairman, Castaway Hotels & Escapes
The founder of Castaway Hotels & Escapes, Hussain Hilmy, is a veteran in the Maldives tourism industry. He remains a director of Coco Collection and Sunland Hotels and Resorts, where he was closely involved in the development of several leading resorts in the country including the trailblazing eco resort Coco Palm Duni Kolhu. As Chairman of Castaway, he says he found a way to once again deeply enjoy and engage with the processes of marketing the destination through innovation and creativity, bringing authentic experiences of the destination to the traveler in search of romance, privacy and unperturbed nature. He also wanted to find a way to engage with his children through the new venture and today both his son and daughter are involved in the development of the brand that already seems such a natural for the Maldives. With the operationalization of Rihiveli in Male' atoll and the launch of Drift Theulu Veliga in December last year, both his aims seem to be coming close to realization. Speaking exclusively to Hotelier Maldives, Hilmy said that the newly opened Drift offers a completely different style of holiday getaway compares to the other resorts he has worked on. Excerpts;Can you tell us a little bit about Drift?
Drift initially started out as a project I wanted to experiment with. I wanted this island to reflect on the whole 'Robinson Crusoe' experience, of being castaway, making do with driftwood and washed up materials.
These days, at the resorts, we are missing a lot of the natural beauty. The focus has turned a bit more towards the artificial, modern luxuries rather than the natural beauty of the island. So I decided to keep Drift as natural and untouched as possible. I advised my team to not include any plunge pools or bathtubs here. There is a beautiful lagoon around the island. Crystal clear! The island already had a lot of greenery on it, but we still planted more trees and shrubs. I wanted to keep it very private, very cozy and very romantic.
As for the interior decoration of the whole island, my team and I, we decided to keep it minimal too, in a very rustic and romantic way. No modern, abstract or designed furniture. We kept it basic; we kept it simple using wicker and wood.You have been involved in the development of many resorts in the Maldives. How has your previous experience helped you in the development and launch of Drift?
A small island like Drift, with only 30 rooms, is easy to maintain. Of course, we have to have electricity, water, and all the basics on the island to run it smoothly. But based on my experience, building a proper connection with the guests, making sure their stay with us is the perfect one is more important. Because we have few rooms, we can personally cater to their wishes to make it special for them. We already have guests who have booked with us to come back again at the end of the year.
I have learnt that developing a resort is not merely fitting the rooms with the latest, most luxurious amenities. The fact of the matter is building a luxury resort with all the high class facilities is only the beginning. There has to be ways to bring in guests and keep a balanced account sheet. This is hard work. One cannot simply sit down and wait for all this to happen. These things take time and energy. A lot of hard work goes into this
What is the primary market for Drift Thelu Veliga Retreat?
We have a lot of Europeans visiting us, actually. We mostly target for honeymooners, couples, and people looking for a quiet holiday. The island is quiet, but we offer snorkeling excursions, as the island has some fantastic spots located nearby for the mantas, whale sharks etc.
We have our very own spa, where the therapy rooms are built on the lagoon, facing the uninterrupted view of the lagoon. Our spa offers a wonderful range of massages and treatments for couples as well as singles. So far it's been an incredible journey, we already have couples booking their second stay with us.
How do you feel about the future of tourism in the Maldives?
I am very optimistic about the future. Personally, I think better days are yet to come. But there are bound to be dips, of course, so people can't be thinking in double digits all the time. Right now, we need to be a little bit more careful, there are a lot of economic changes happening around the world. But yes, I would definitely say that better days are yet to come.