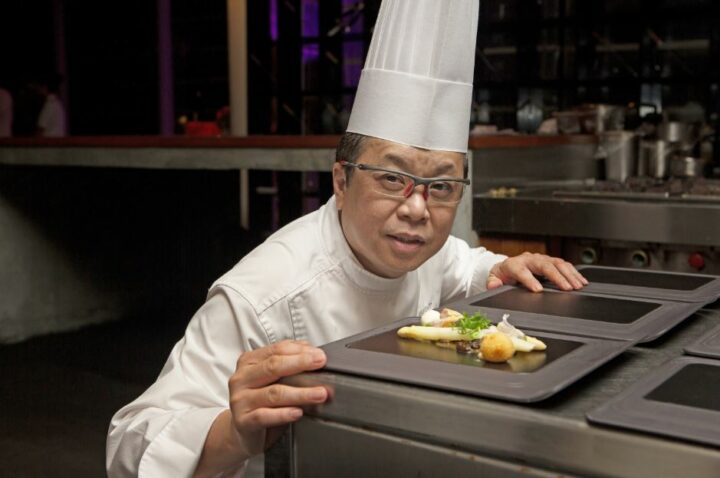 Chef Vincent Tan – The "Iron Chef" from Malaysia
A native of Malaysia, the Executive Chef of Holiday Inn Resort Kandooma Maldives – Vincent Tan's culinary journey spans thirty remarkable years with a string of triumphant accolades and awe-inspiring experiences. Having served his cooking to dignitaries and Heads of States such as Prince Andrew of the United Kingdom and Madeline Albright, the former Secretary of State of the United States, Vincent Tan is one of the most celebrated chefs in Asia.
After achieving the first 'Iron Chef of Vietnam' title from a cooking show broadcasted nationwide in Vietnam, he emerged as the driving force behind the winning teams of several culinary challenges. Since joining Holiday Inn Resort Kandooma Maldives, Vincent has led his team to win the Best Establishment Award – the Alan Palmer Challenge Trophy twice at the Hotel Asia Exhibition and International Culinary Challenge held in the Maldives.As an Approved Member of "A" Grade Global Jury and Observer by the World Association of Chef Society (WACS), Vincent has been judging and participating in culinary competitions and international promotions. His passion for cooking is infectious, to say the least, and is dedicated to fostering the standards of the culinary industry in the Maldives to a higher level.Hotelier Maldives had the privilege to interview the brilliant chef.
Hotelier Maldives: What sparked your interest in cooking? And how did you enter into the culinary industry?
Vincent Tan: I just love to eat and from a very young age of eight, my mom allowed me to assist her in the kitchen, and I just enjoyed it very much. My mom is the one who encouraged me to be a chef and I am very grateful to her for that.
I started my career in the hotel industry as a trainee in the kitchen and worked my way up to becoming an Executive Chef. I learned through experience by working with many top Chefs in the hotels that I worked with. And in between, I took a culinary course at a culinary school in Malaysia.
HM: How are culinary arts perceived in your home country? 
VT: Known as a multi-racial country, Malaysia not only holds unique cultures, customs, and traditions but also has a range of distinctive local food that is part of the gastronomic experience. Malaysian and international tourists perceive Malaysia as having interesting varieties of food, snacks and ethnic cuisines which are worth being explored. Various efforts are implemented by the government in promoting and marketing these products to international tourists.I would say that the Chef's profession is in its Golden era now, where a lot of chefs are being treated like celebrities and not like those days where chefs were not so respected by the public. This is also due to the many cooking shows on television and this has created a lot of positive publicity for the Culinary Arts in many countries, including Malaysia as well.There are many young kids that have a good perception of being a Chef in Malaysia and parents are also encouraging their children to join Culinary Arts Schools. That's the reason why you may find a lot of very good Culinary Arts & Pastry Schools flourishing in the country.
HM: As an Executive Chef, you have mastered the art of cooking. Do you have any favourites you consider to be your signature dishes?
VT: I would say three dishes come to mind – all of which are inspired from my childhood and my travels; The Penang Prawn Noodle Soup, the Hainanese Chicken Rice and the Barely-Cooked Beef (Nikkei Cuisine – Peruvian cuisine with a Japanese influence). All three are served at Holiday Inn Resort Kandooma Maldives.
HM: Under your guidance and supervision, Holiday Inn Resort Kandooma has won several awards from different competitions. How would you describe the experience? 
VT: I am thrilled with the recognition my team and the resort have received over the past few years. It is a testament to the hard work, dedication and team spirit that is prevalent all of which is nurtured by the incredible support that we receive from the management who recognises our passion and creativity.Winning the awards has been an incredible experience, but it also instils the motivation to go the extra mile to "wow" the guests – there is no greater pride for my team and myself, than receiving praise from our satisfied guests.HM: What excites you more? Customer appreciation or winning awards?VT: This is a hard question because I personally feel that they both carry equal weight. Appreciation from customers means that we have elevated their experience and we have been part of their special journey, but with awards, its recognition by our respected peers in the culinary field.
HM: How would you describe your time at Holiday Inn Resort Kandooma, compared to your previous appointments? And what has been your best experience so far working in your field?
VT: I have been part of the amazing team at Holiday Inn Resort Kandooma Maldives for four years now. It's been an incredible journey for me working with the management, especially a General Manager that encourages you to be creative and understands our passion. My GM has always encouraged me to travel because he understands that it is through travel I draw inspiration. Prior to Kandooma, I was in Vietnam with another IHG property.When it comes to the best experience; most definitely working with trainees, having the opportunity to be part of their culinary journey, seeing them succeed and knowing that I played a small part in elevating their professional experience. There's no greater pride than seeing your trainees become successful.Here in the Maldives, the best experience for me has to be the consistent recognition my team has received at the Hotel Asia Culinary Challenges.
HM: What is your take on reinventing cuisines and flavours? And how do you feel about the tastes from the Maldives? Do you have any local favourites?
VT: The culinary world currently is evolving as the world gets smaller. Travellers are smarter and worldlier in their experiences and constantly seek diverse experiences. It's all about reinterpretation, reinvention whilst understanding and balancing the dynamic flavours at play. However, it is also important to pay homage to traditional favourites and not go too wild. So, yes for sure on the importance of reinventing cuisines and flavours.
And when it comes to local favourites, Rihaakuru – it's quite similar to the Shrimp paste that you find in Malaysia, so it again evokes childhood memories. It is so versatile and can be eaten with anything. And, of course, Garudhiya – it's so simple, light and refreshing, not to mention healthy. I can eat this every day.
Anything special that you are looking forward to in the coming years?
VT: I look forward to continuing my travels, seeking new flavours and continuing what I love to do in the kitchen. I also look forward to continuing to give back to the culinary world with my trainees.
I also do cooking tours with my friends in the culinary world, especially amongst Asia, where we give culinary demonstrations whereby all proceeds are donated to worthwhile causes. We have