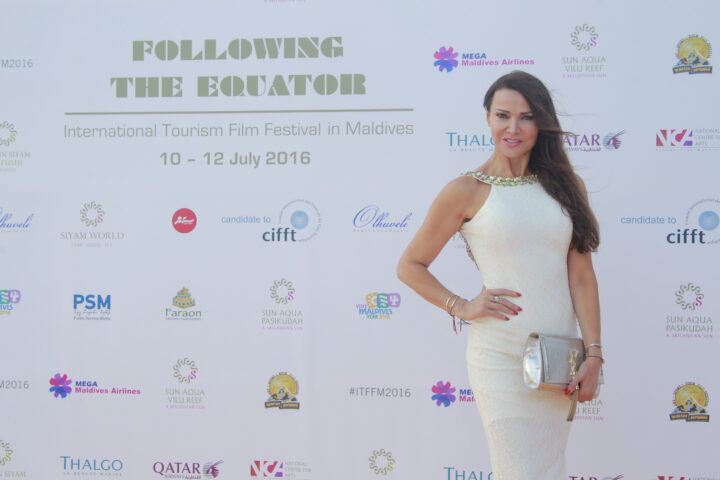 'Following the Equator': Maldives' first international tourism film festival launched
The International Tourism Film Festival Maldives (ITFFM) was inaugurated yesterday at the Sun Siyam Iru Fushi Maldives resort.
The opening ceremony of the 'Following the Equator' festival was attended by international film makers, celebrities, and industry professionals.
The evening started with a cocktail reception and live music at the beach, followed by a buffet dinner.
During the dinner, some 14 nominated movies out of over 200 submissions were shown, featuring short movies and video clips from Russia, Turkey, Denmark, Croatia, Kirghizstan, Germany, and Poland.
The panel of judges include Ahmed Siyam Mohamed (Managing Director and Chairman of Sun Siyam Group), Irinia Arkhipova ('FARRON' Historic Films Studio – Founder and CEO of the International Tourism Film Festival ' Golden Peak'), Aishath Rafiyya ( Leader of Regional Alliance for Fostering Youth), Evgenia Boyankova, (Group Director of Business Development at Sun Siyam Group), Ahmed Nazim (Executive Coordinator at National Centre of Arts, Maldives), Suhini Rathnayake (Sun Siyam Group), Aminath Zaina (Event Coordinator at Maldives Marketing and Public Relations Corporation), Sergey Emerov (Member of International Journalists Association) Hugo Filipe Marcos Ferreira (Festival Director of Art & Tur,) and Alexander V Kammel (Director The International Committee of Tourism Film Festival CIFFT).
The three- day festival will feature open forums and presentations, video presentations, cultural performances as well as special activities for the attendees. The awarding ceremony will be held on the closing night of the competition.
"Tourism Film Festival in Maldives is a manifest to the world of travellers – we are the centre of tourism: enjoying the Maldives you can visually travel the whole world, from the very beautiful point of it," said Evgenia Boyankova, Group Director of Business Development, Sun Siyam Group.
Endorsed by MMPRC, the ITFFM 'Following the Equator' was organised by The Sun Siyam Group in collaboration with CIFFT (Comité International des Festivals du Film Touristique).
CIFFT are a Festival Committee, with 15 Tourism Film Festival Members around the globe. Endorsed by the World Tourism Organisation (UNWTO), European Travel Commission (ETC), Pacific Asia Travel Association (PATA), Central America Tourism Organization (CATA) and Caribbean Tourism Organization (CTO), their purpose is to maintain and encourage the consciousness of audio-visual work in the international tourism industry.
Image courtesy of Ahmed Razeen – Original Studios Pvt Ltd