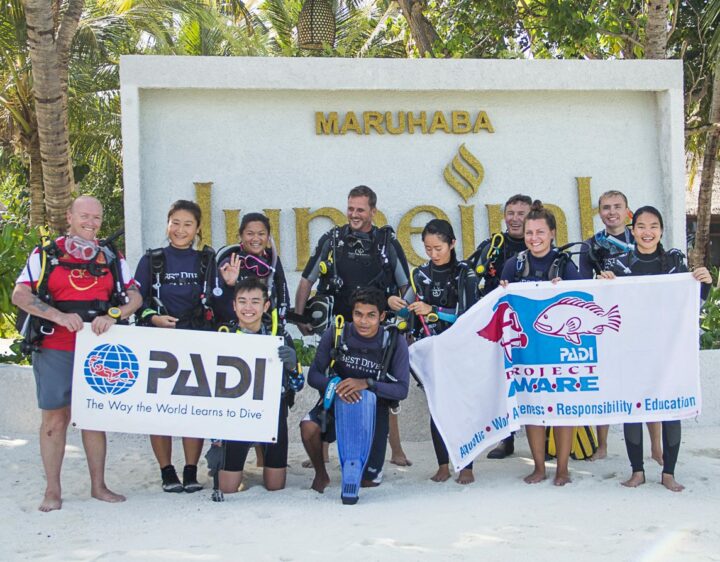 Dive Against Debris at Jumeirah Vittaveli
As part of an ongoing commitment to support and maintain the local marine environment, Best Dives Maldives in collaboration with Jumeirah Vittaveli have taken their fight against ocean trash to the next level through the "Adopt a Dive Site™" campaign – an introduction of monthly clean up dives around the island of Vittaveli.
On the 17th December, a team of both guests and colleagues headed out in the afternoon to #DiveAgainstDebris on our house-reef. The debris they found was a mixture of different items, but largely made up of plastic food wrappers and fishing line (approximately 5kg in total) – but it was a good sign that not too much rubbish was found!
The teams covered a relatively large area on the sunrise side in front of Talise Spa, where four separate dive teams were allocated to clean up across different depths: 5 meters, 10 meters, 15 meters and 20 meters.
Over 50 minutes, these teams competed to find the most rubbish, and even managed to find a toothbrush complete with a packet of toothpaste underwater!
Everyone was happy with what they managed to bring up and by removing this debris helping to relieve man-made pressure on marine animals, and contributing to safeguard the future of these animals through removing objects they may otherwise see as a food/habitat source.
The resort is already looking forward to the next Dive Against Debris event in January 2017 and hope to see guests participate. This campaign is part of the larger 'Dive Against Debris' movement – a flagship feature of Project AWARE™, an ecofriendly initiative created by the Professional Association of Diving Instructors (PADI) to increase environmental awareness through diver education.
The hope behind the work of PADI and Project AWARE™ is to get as many people as possible from all around the world contributing to a cleaner, healthier environment through SCUBA diving.
The resort's commitment with PADI and Project AWARE™ means that at least once a month they visit their local reefs, remove any marine debris they find and collect data on the type and amount of debris found.
This data is then fed into a worldwide database that provides valuable information regarding debris movement and quantities all around the world. Led by the Best Dives team, Jumeirah Vittaveli is proud to be able to offer this monthly activity to all in-house certified divers at no extra charge.
The resort noted that they believe by training and involving more people in debris removal techniques and strategies, they can help to promote and develop a healthier marine environment for all.