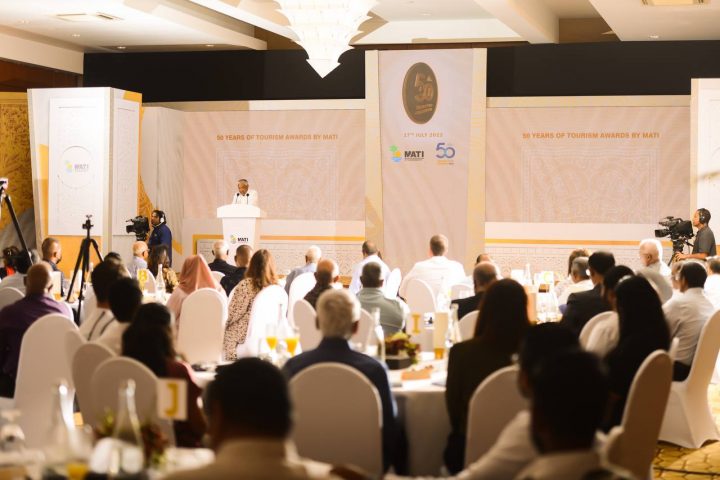 50 Years of Tourism Celebrated with MATI Awards
The Maldives Association of Tourism Industry (MATI) has concluded the "50 Years of Tourism Awards by MATI" on 17th July at Kurumba Maldives with chief guest HEP Ibrahim Mohamed Solih. The event honored organizations and individuals that have contributed to the Tourism Industry of Maldives for the past 50 years.
The 50 Years of Tourism Awards by MATI saw 57 awards presented to contributors and 4 awards presented to the pioneers of tourism industry, Mr. Mohamed Umar Maniku, Mr. Hussain Afeef, Hon. Ahmed Naseem and Mr. George Corbin. The accolades were designated by a committee of industry professionals and veterans that comprehensively vetted and evaluated all nominations received.
The Chairman of MATI, Mr. Mohamed Umar Maniku delivered the welcome remarks, following a speech by HEP Ibrahim Mohamed Solih and the Vice Chairman of MATI, Mr. Hussain Afeef delivered the closing statement. The event concluded with a networking and dinner reception.
The ceremony further highlighted the celebrations of Golden Jubilee of Tourism in Maldives initiated by MATI for the year 2022. An array of activities are scheduled including "The Chevening / MATI Scholarships", launch of "Maldivian Resort Architecture – 50 years of island resorts" authored by Mr. Mauroof Jameel, and "50 years of Tourism in Maldives – the Pioneers, People and Policies that shaped the Industry" authored by Dr. Simad Saeed. MATI has also partnered with Parley Maldives to strengthen existing conservation efforts in Maldives.