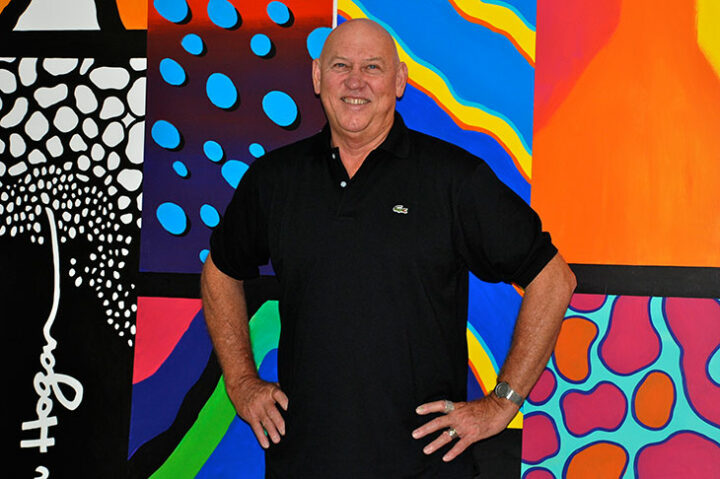 Christopher Hogan: Offering a taste of creativity for your holidays
Christopher Hogan, one of the world's leading marine abstract artists, currently works at One&Only Reethi Rah. Chris and his wife, a retired engineer, who is also an artist, spend their days painting, and teaching guests about abstract art.
Having grown up in northern
Australia, Chris spoke of how he and his brother would always go snorkelling at the Great Barrier Reef on holidays with the family. Reminiscing, Chris said with a smile: "Well, now it's like I'm painting memories of my childhood. "
"I was always interested in art, because my dad was a sign painter," he explained. "You know, like Fish 'n' Chips, and Hamburgers, banks and insurance companies." Chris went on to explain that he joined his father in their family business at the age of 14, leaving school at a very young age to pursue his dream of being an artist.
Chris gained his BA in visual art and fine art, majoring in sculpting. Chris also merchandises his sculpture at the resort: an array of geometrically designed coffee mugs, plates and keepsakes. His beach wear collection, also displayed at the resort, is very eye catching. A lot of print, inspired by the small corals and anemones were visible on swim suits, and beach bags. Chris doesn't label himself as just a painter, "I am an entrepreneur and a teacher as well," he said.
Explaining why he chose abstract art, he said, "People always look but they do not see, they do not take the time out to fully see what is right in front of them most of the time." He goes on to say, "I was always interested in patterns."
Creating his own style of painting, Chris said," There are already far too many 'well-behaved' paintings out there. Whenever one of my paintings are 'behaving badly' I turn the canvas to the wall and leave them there for a few days, before gaining some inspiration to paint again. I give them some time-out, to help them figure out what they want to become, or look like, as the end-product."Chris still goes in the water to gain inspiration. One of his passions is snorkelling and diving. A man of the sea, every time he goes in the water, he comes out with more images, more patterns, and more inspiration for beautiful, vibrant paintings.
Speaking about how guests at the resort take the challenge of painting, and their interest in it, Chris said that guests are free to walk into his open air studio at any hour between 10 am to 5 pm in the afternoon. "If people have other activities planned, we are very flexible with timings, and paintings. If a guest wants, we usually start a painting; they do half and come back again the next day to complete it."
Chris is also very keen on allowing children to develop their own artistic expression. "It is important for them to be able to portray their own thoughts and views through art. So I always allow the children to put their own ideas onto canvas. It is amazing but for the most part, I find that these artistic children still teach me, a man with two art degrees, so much about abstract art."
Speaking about his accomplishments, Chris says, "The fact that I have touched so many lives of children, adults, teenagers, it is the best feeling in the world."
As luck would have had it, Chris invited me to paint with him in the class that afternoon. I did not give it much thought before agreeing with a very enthusiastic 'Yes.'
I was offered a small blank canvas, color and paint brushes. Chris showed me a selection of photographs of fish, with beautiful colors and pattern. Putting a small cardboard cut frame over the pattern on one of the fish, he explained that we would be painting the pattern as a form of abstract art.
"We have to let go of our inhibitions, to really get 'into' the painting," Chris said. "We have a lot of fun, that is what we are all about," he said with a chuckle.
And so I began. I picked an easy design while my travel companion chose a more complicated design. Hers came out perfectly, with a lot of purples, blues and blacks. Mine represented the islands and the ocean. After a lot of laughing, teasing and painting, we were both done within two hours. Unsure, we looked at each other's painting to realise that we had actually done a pretty good job.
Seeing as neither of us had so much as touched a paintbrush since our school days, our paintings came out very nicely (if I do say so myself!) Chris had the ability and the method to encourage his students, to assure them that "There is no right or wrong way of painting," – a saying I loved.