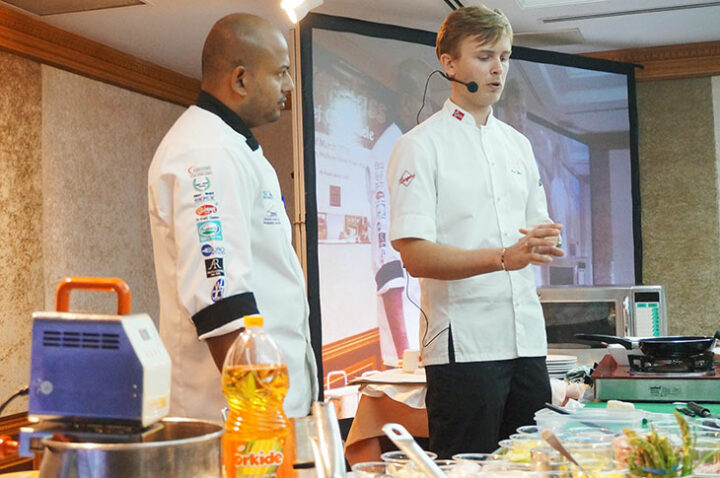 BBM and Hotel Asia hosts culinary masterclass with Chef Geir Skeie
A culinary masterclass with renowned Norweigian chef Geir Skeie took place at the Hulhule Island Hotel on Thursday, March 17 ahead of this year's Hotel Asia Exhibition and Culinary Challenge.
Hosted by Best Buy Maldives and Maldives Exhibition and Conference Services (MECS), more than 150 participants attended the masterclass.
"Our organisation is passionate about imparting knowledge to the culinary team of Maldives. It's not easy to host forums like this. It takes hard work to bring international master chefs here," said Mohamed Mazloom, CEO of BBM.
More masterclasses with world renowned chefs will be held in the coming months, he added.
Husnie Rauf, general manager of MECS, said: "The masterclass was organised to provide knowledge about the culinary industry and to launch the Bocuse d'Or Maldives chapter. It is a knowledge sharing session to prepare chefs for the upcoming competition in September, and to groom them to increase their standards."
While standards in the Maldives are already high, Rauf suggested that the annual Hotel Asia Exhibition – "the premier culinary event in the Maldives" – has set the bar very high at world-class levels.
"It is a highly anticipated event," said Rauf.
Prior to the masterclass, a briefing session was held for participants on the masterclass and the Bocuse d'Or competition. The session was headed by veteran Swiss chef and Project Director for the Culinary Challenge, Alan Palmer, President of Bocuse d'Or – Sri Lanka, Rohan Fernandopulle, and Geir Skeie, winner of Bocuse d'Or 2009.
Fernandopulle gave a brief introduction of the Bocuse d'Or, and explained how the Sri Lankan chapter of the competition was formed. It was followed by a video presentation of Bocuse d'Or, the unofficial world championship in cooking, held in Lyon, France.
The chefs also spoke about the introduction of the culinary competition Bocuse d'Or in the Maldives.
On the introduction of a Bocus d'Or chapter in the Maldives Alan Palmer said: "It's not for us to decide. We are trying to set things in motion. A committee has to be formed and someone has to take the lead."Before he began the masterclass, Geir Skeie gave a presentation explaining how he trained for Bocuse d'Or, and subsequently won the championship. Skeie said that he has been cooking since he was 7 years old. He knew he wanted to win Bocuse d'Or when he was 13 and saw the winner of the competition in 1993, a Norwegian chef, on TV. Skeie has been working towards that goal since that day.
"You might think that this is something totally unreal for a small country like the Maldives. My island has about 300,000 inhabitants. There aren't any high end hotels or Michelin starred restaurants there but we had the dream to compete and Norway has the most wins from Bocuse d'Or, after France," he said.
Skeie showed the participants how to prepare fish and meat at the right temperature, and how to create textures and flavour concentration using jellies and purees made from agar. He also demonstrated how to create interesting garnishes with edible flowers as well as techniques of cutting vegetables to show creativity when presenting the dishes.
Palmer and Skeie also explained the judging criteria in international competitions, such as hygiene, technique, presentation and balancing of flavour, highlighting that taste accounts for the majority of points in culinary competitions.
"It was very interesting. One of the reasons why we came is because our team members are very interested in the competition," one of the participants said.
"So I think it was a good opportunity to meet some of the other chefs and to have the privilege to see chef Geir in action."
Olivier Portret, executive chief at the Atmosphere Kanifushi Resort, said: "It was interesting to learn about the new trends in the industry and what to expect from the competition. Chef Geir gave some helpful tips and advice. I've brought two of my staff with me and they will brief the team about what they learned here. We are also participating in the Hotel Asia Culinary Challenge this year.  I hope we will win."
Skie was also pleased with his masterclass: "I'm very happy and proud that so many people came all the way on speedboats and seaplanes to participate in my masterclass."The Maldives' largest annual food and hospitality event, Hotel Asia Exhibition and International Culinary Challenge 2016, will be held from 4th  to 7th of September at Dharubaaruge' Exhibition Hall in Male' city.
According to Rauf, more than 500 participants have already signed up for this year's Hotel Asia Culinary Challenge.
"We are targeting at least 70 resorts this year but we are faced with some logistical issues, when it comes to resorts that are at far locations. Exhibitor space is also a big factor so we are planning to have it outdoors as well. The exhibition and the Culinary Challenge has grown by five-fold since we started. It's a good head-ache to have actually," he said.
"I was here for the first Hotel Asia exhibition, and we had about 40 entrants. It used to be that Sri Lankan, Indian and Bangladeshi chefs won the top three places, but now it's changing. We are seeing a lot of Maldivian chefs winning in many categories so it's good," said Alan Palmer.
"Look at chef Geir, he's a simple guy from a small country but look at him now. He's achieved his goal."
Palmer added that in this profession there's a salary scare: "For more than 50 years, chefs have been at the lower end of the salary spectrum, the hospitality industry in general in fact, but I know many chefs who earn more than general managers because of their status. When people are eating at the restaurant they are confident that the food is going to be good and hygienically prepared. So the chef is an important person."
Palmer stressed the importance of chefs understanding people management and hygiene as well:  "One incident of food poisoning is disastrous for your business."
"I've been very much involved in the development of chefs, especially young chefs. I've opened hotel schools in three countries. It's not about the money. We are not paid to come here. We have the passion. We are doing everything we can from our side to help the younger people develop their skills."