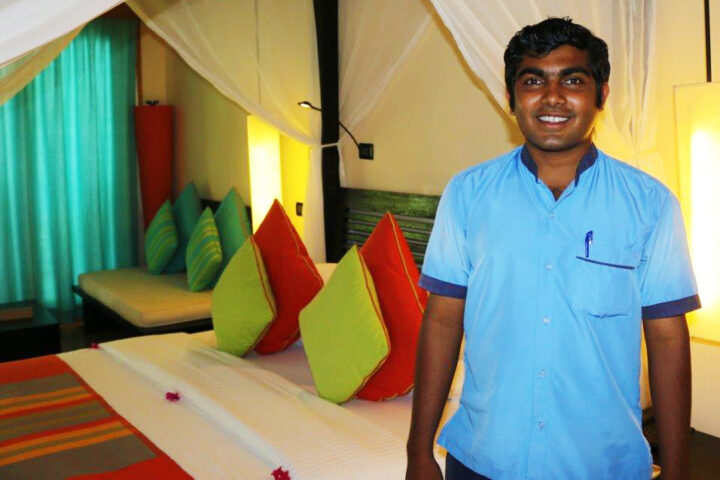 A Day in the Life Of: Abdulla Sajan, Housekeeping Supervisor at Herathera Island Resort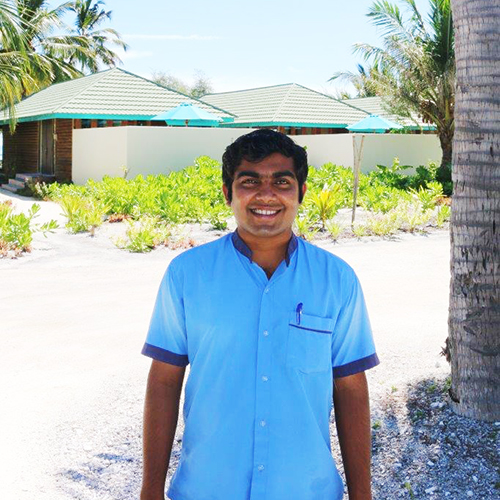 Our 'A Day in the Life Of' series takes a look at how a typical working day might unfold for employees in the hospitality industry. This week we catch up with Abdulla Sajan from Maradhoo, Addu atoll, who is currently working as a housekeeping supervisor at Herathera Island Resort. Sajan has been with Herathera for almost two years, with 1 year, 1 month under the island's current management. Having initially joined the resort as a grounds-keeping administrator, he became a room attendant in April last year and was promoted the following December. This month, he won the resort's in-house Canareef Star of the Month award. Here he describes a typical day and explains why receiving a complaint isn't always such a bad thing.
06:30 I wake up early on working days, shower and head straight to breakfast with my colleagues at the staff cafeteria.
07:30 An hour later and I'm in the housekeeping office preparing and checking the daily task sheet.
08:00 At 8, the whole team gathers for the morning briefing. Here we discuss what needs to be done that day and everything will revolve around arrivals, departures and the current occupancy rate in the resort. If there have been any complaints the day before, we discuss how we can avoid these from happening again and what we are going to do to make the guest feel happy again. We also assign tasks to the room attendants and make sure that everyone knows what they're supposed to be doing.
08:30 After the half-hour briefing, we make our way to the guest area. We prepare rooms for that day's arrivals and check on occupied rooms. It's my responsibility to liaise with engineering if I notice any defects or problems with the room, and to ensure that they come and amend the problem. If we have a honeymoon arrival, we prepare a beautiful bed for them, with a heart and flowers. This can take a lot of time, but it looks very impressive when it's done! Sometimes, we also get special requests from guests (maybe those celebrating an anniversary) and we'll do something special for them too, for example making swans from the towels. The trickiest part of housekeeping is the timing and if we only have a short timeframe in between arrivals and departures, it can be tough to make up the rooms in time. If we're short of time, I'll also help the room attendants with the preparations.
12:00 All the room preparations usually take until midday, at which time I take my break. If we're not too busy, then I get to have a pretty long break.
17:00 In the evening, I head back to the housekeeping office to check attendance records and to prepare the next day's plan. This all depends on the number of guests arriving the following day and we'll usually receive these figures from front office by this time. Along with the housekeeping manager and assistant manager, I prepare the schedule.
19:00 After an early dinner, I head out to the guest area to supervise the evening turndown service. This is a slightly less extensive service than offered in the morning and it's my job to check the standards and ensure the room attendants are not in need of anything. We sometimes also have midnight arrivals, and if that's the case, we make sure that all the necessary amenities are placed in the rooms, such as pot noodles and snacks.
21:30 We usually manage to finish by 9.30pm and then it's back to the staff accommodation to chill out. Since my home island is nearby, I manage to make it home about once a week – which is a real bonus of working here as I get to see my family often.
Sajan says: "My favourite part of working as a housekeeping supervisor is dealing with complaints. I find it really satisfying when I can resolve a problem and the guests appreciate what I've done. Sometimes, it can actually make guests very happy. That's why my goal is to make it to housekeeping manager one day! For those interested in joining the housekeeping department, I would tell them that this is a fun job – it can be hard work, but if you are willing and you want to do it, then it's not difficult. You don't really need experience – I didn't have any when I became a room attendant – all you need is the right attitude!"