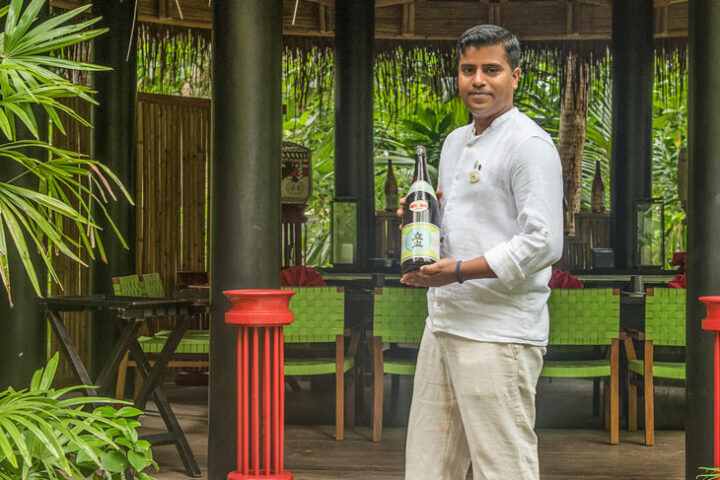 A Day in the Life Of: Bala Kuppuraj, Sake Master at PER AQUUM Niyama
For this edition of 'A day in The Life of', Hotelier Maldives sits down with sake master and chief sommelier at PER AQUUM Niyama Maldives, Balasubramani Kuppuraj, or Bala, as he is more fondly known. Bala hails from Madurai, India, and has always taken a special interest in beverages. After completing a bachelor's degree in hotel management, Bala completed up to level three certification from the Wine and Spirit Education Trust, sitting examinations in Malaysia, Thailand and the Maldives. Bala will be starting level four of this course next April. Serving as the sake master at the resort, Bala confirmed that what started out as 'just another job', turned out to be his passion in life. With the resort having won the 2015 MATATO Travel Award for Best F&B Resort earlier this year, he gets to live his passion every day.
Before Bala sits down with me for a chat, I am invited to Nest restaurant to view a sake tasting he has organised for his guests. I arrive at the restaurant to see bottles of sakes set up –surrounded by typical Japanese tokkuri (ceramic flasks), and some ceramic cups. Soft Japanese music plays in the background, and Bala begins his presentation. "Sake is a Japanese rice wine but has a higher ABV percentage than its European equivalents," he says. "This drink is traditionally served in a 180ml tokkuri and cup", he explains, "and can be served either hot or cold."
Sake is made by fermenting rice for long periods of time and at the end of the fermentation process, each one is given a different polishing grade. The rice, Bala explains, isn't the rice used for cooking but is a very particular grain, cultivated for producing sake. "The higher the polishing grade, the finer the sake," he says. "The first one you are tasting has a 57 per cent polishing grade, and is a drier sake," he explains to the guests. The next one he presents to the guests has a 65 per cent polishing grade, which the guests seem to quite enjoy.
Bala goes on to explain each different sake to his guests before offering them a cup. As I listen to his presentation, I am impressed by his knowledge and experience of these particular beverages. Having travelled from country to country learning about and experiencing the world's greatest beverages, Bala has a lot to offer, in terms of information and expertise to his guests.
After a very impressive sake tasting, Bala sits down with me for a chat, and describes what a typical day looks like for him at the resort.
08:00 – I start getting ready for the day. If I have enough time, I grab a quick breakfast, and if not, I grab a coffee to get my day started.
09:45 – I pop into my office, to check my emails, see if I have any special or VIP requests that I have to attend to during the day. I organise my schedule for the day before heading out.
10:00 – I go to the storage unit every morning to make sure all the wines and sakes are in stock. I check to see if we need to order anything, and prepare orders as per the special email requests I have received earlier.
10:30 – I take another coffee break!
11:00 – I join the restaurant managers meeting, where the managers brief each other on updates, guests' special requests, and discuss the events of the day ahead.12:00 – We all head out for lunch.
12:30 – I return back to the guest restaurants, Blue or Dune usually, where I can interact with the guests. Lunch time is more relaxed, so I am able to move from restaurant to restaurant during this time.
15:00 – I come back to the office to check my email before going for a short break.
15:30 – I spend my break usually chatting with family, reading wine books, or playing sports. I have subscribed to a lot of websites on wines and spirits so I get regular updates on the latest beverage trends.
17:30 – I go to Nest and Tribal our two most popular restaurants, to set up before dinner. The waiters and I do this together every night. We also host special barbeques and buffets on different nights, so the setting varies from day to day.
18:00 – I brief the waiters at both restaurants on our specialties for the night and what wines to suggest and offer to different guests, and what to pair with different types of food on the menu. If guests ask for a recommendation, the waiters will know what to recommend for them.
18:30 to 22:00 – Dinner is always the busiest hour, because I have to stay at a particular restaurant throughout the night. All throughout the night, I interact with the guests, have conversations with them, and sometimes they tell me if they are interested in a particular drink, or a wine or sake tasting session, and we arrange everything for them.
22:00 – We clean up, pack everything up, put everything back in their place.
22:10 – I head back to the office to check my emails one last time, and to see if I have to do special arrangements for the next day.
22:30 – I always make it a point to meet my two assistants every night. We exchange information about guests who are interested in particular beverages so that we know to go up to these guests and introduce ourselves, and maybe make certain suggestions. I find that guests really appreciate that extra effort we put in, to get to know their preferences, and choices when serving them.
23:30 – I go back to my room, I attempt to watch a movie, or any series, but I am already asleep before I know it!
Bala's passions include travelling, wines, and music. All three come together every year on his birthday, when he treats himself to a trip abroad; somewhere new each year. "I always treat myself to a trip away on my birthday. For wines, I travel around Europe. I have already been to Italy, Switzerland, Germany, and France. Next year, I am hoping to go to Nepal on my birthday," he says with a smile. Speaking about why he loves working at Niyama, Bala says, "The F&B selection at Niyama is nothing like I've ever seen anywhere else. The concepts of the restaurants are amazing, and our general manager is very passionate about motivating the staff, and always interested in finding ways to better keep up with the philosophy of 'daring to be different.'
He continued, "The fact that I am part of a very well educated team who have worked all over the world; it's nice to learn new things from them."