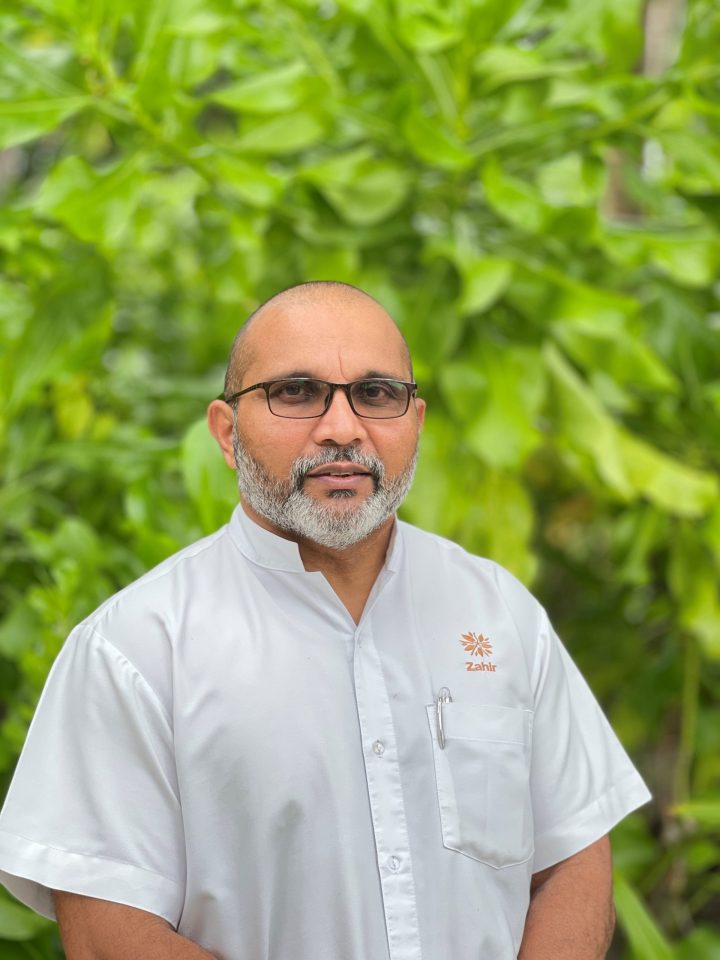 Meet Ahmed Zahir, the New Hotel Manager of Banyan Tree Group's Angsana Velavaru
Maldivian-born Ahmed Zahir was officially appointed as Banyan Tree Group's Angsana Velavaru hotel manager in April 2021, promoted from acting general manager since March 2020. Prior to this he was the executive assistant manager for almost five years at Banyan Tree Vabbinfaru and rooms division manager for Angsana Velavaru from 2009 to 2016. Having joined since 1995, he has 26 years of rich experience with Banyan Tree Group in the Maldives. He briefly diverted to Bangkok where he became director of rooms at Banyan Tree Bangkok for 6 months. His earlier experience saw him in the roles of front office manager, executive housekeeper, executive assistant housekeeper, assistant housekeeper, housekeeping supervisor and laundry supervisor. He has also worked for other locally operated resorts such as Kurumba Maldives, Fihaalhohi and Kanifinolhu.
He told Hotelier Maldives: "I started as a laundry supervisor in 1995 before the official opening of Banyan Tree Vabbinfaru and I worked there for 13 years in numerous capacities before I moved to Angsana Velavaru as a Room Division Manager in 2009. I came back to Banyan Tree Vabbinfaru as the Executive Assistant Manager from October 2016 until February 2020. I have close to 36 years of experience in the tourism industry, out of which 26 years are with Banyan Tree Group.
"It has been an exciting journey for me, but I have worked a long time in housekeeping until my mentor helped me to move to front office manager which gave me new challenges and gave me a new confidence to move forward. I moved to Angsana Velavaru in 2009 for the first time and spent total of seven years before I was promoted to become executive assistant manager of Banyan Tree Vabbinfaru. Last year I was tasked to come back to Angsana Velavaru and look after the property as acting general manager before I was promoted to hotel manager recently.
"I am a Maldivian from Hithadhoo. After my education, I chose the tourism industry as it guaranteed a good income. You can live a decent life; so, I decided to join my friends in the tourism industry.
"I feel very honoured that the owners have put me in charge of their largest properties in the Maldives, so I am incredibly happy."
Of all the things about his work, he believes in building a culture to instil happiness for the associates.
Before he joined Banyan Tree Group, he had worked for other resorts. However, he regards Banyan Tree Group quite different to any other five-star resort in terms of good development opportunities and staff welfare.
"It feels more like a family," he shares. "Banyan Tree Group has wonderful holiday entitlement to allow workers to see their family for several days. You don't feel like you are working. Here, it feels natural to work hard and everybody can sit and chat together and be part of the team. There is inclusiveness between junior associates and higher management. The day I attended the morning briefing for the very first time and sat with all the expatriate department heads was a proud moment for me. I was the only local head of department besides our Deputy General Manager at that time. Most of the resorts still have very few locals HODs, but Banyan Tree Group started developing locals since they opened their first resort in the Maldives. Today we have 85 per cent of local department heads."
"Banyan Tree Group has a management academy which offers various training modules of different levels for associates including GMs and supervisors. It is up to the associates how much they want to grow. With excellent learning opportunities, the academy provides online training courses for all the associates. It has monthly and quarterly training programmes in which associates from various properties can join. There are lots of locals who have been part of these training programmes who are taking leadership roles in various departments. There are previous associates of Banyan Tree Group who are currently leading some of the resorts in the Maldives so this is a really good thing – with our Group as a global hospitality leader."
His words of wisdom, advice for young hoteliers: "With hard work and dedication you can achieve anything in life, you just have to work hard and be focused on your goal. Always be honest to yourself and the people around you. In life there will always be highs and lows but staying positive even in the most difficult time is the key because after every storm is sunshine. Don't try and take the easy way because if you obtain something easily, easily you will lose it too. If you want to stay in the business, you must make sure you get proper training and you work hard for it."
"I enjoyed every moment of my training. Every opportunity that comes my way I grab it and try to learn from it. When I joined, I did not set out to be a hotel manager, I just wanted to have a good monthly earning and a decent life. Then when I started to get the opportunity to participate in various training programmes I started to think, this is a great chance to develop."
"Essential skills that resort managers should have are operational and financial knowledge first and foremost, followed by interpersonal skills. You must also be motivational, encouraging and inspiring. You must be a detail-orientated decision maker as many a times you are called to make judgment that isn't popular. Above all, to be a good leader, you need to let the staff know you are there to help them at any given time. You have to talk to them, so they feel safe and secure. We work as one big family here, 50 per cent have worked for me before so I know their strengths and weaknesses. The team are fully motivated for the last one and a half years, even amidst Covid-19 when it was difficult to reopen to tourists. Our people continue to work hard and keep the hotel in a good shape, as if it is their own."
Outside of work, Ahmed likes to play sport and he used to captain a home volleyball team and captained the first inter-volleyball tournament in the resort. He also likes soccer and line fishing.
"The resort was simple years ago, there was no internet, no air conditioning, no public pools and those days tourists could only stay in resorts. With changes over the years, the growth of online travel agencies and the proliferation of lodging alternatives like guest houses have altered the hospitality landscape and brought in a new complexity to the industry. Angsana Velavaru is the first resort to launch the concept of the exclusive In-Ocean Water Villas which is a completely self-sufficient resort within a resort with all the infrastructure to support it. The resort has evolved over the years while maintaining the Angsana brand's DNA. We have a nice public pool where families can enjoy and this year we transitioned to an all-inclusive resort. We have also been the recipient of many top awards. Angsana Velavaru is the epitome of fine-dining offering all-inclusive packages designed to cater to a range of holidaymakers. From lavish spread of Mediterranean, Asian and Maldivian cuisine which the most discerning palate will be pleased. Culinary experiences on the island extend to five outlets. This includes a new venue that provides locally-inspired al fresco dining experience."
"During the pandemic, the resort remained opened throughout. We always had some villas occupied but the most challenging part was to maintain two sets of operations – at the land villas and In-Ocean villas – through tight manpower resources in view of health regulations and travel restrictions between islands in the Maldives.  Business is slower now so no special events will be planned except for the festive season this year."
Teamwork is crucial to the success of a resort he believes: "I am embarking on a new journey, and I want to establish a team environment. I passionately believe in team spirit, and I want to inspire the people around me to do their best and for them to dream to become another Zahir in a few years and build a good reputation for the business. A simple change in the way we interact can have a huge impact. You cannot achieve without your team. The key to running any hotel successfully is to get staff working together constructively. You must let the staff feel you are right behind them. Given the current pandemic, the health and safety of our guests and associates are of utmost importance and we adhere to our Group's stringent global SafeSanctaury safety and wellbeing protocols.  This will be the key to revive tourism and inject a culture of positivity to build resilience and lead by example."