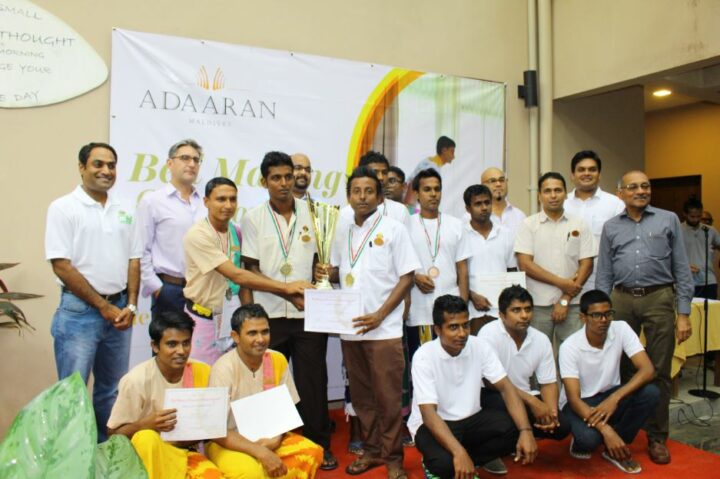 Adaaran Resorts Maldives holds first Bed Decoration Competition
Adaaran Resorts Maldives holds its first Bed Making and Decoration Competition 2017. Hassan Majeed and Ahmed Hafiz of Team One from Adaaran Prestige Vadoo were crowned winners in the finals, which followed training programmes and separate competitions in individual resorts. The winner and runner-up from each resort competed in the finals held in Adaaran Prestige Vadoo.
"The aim of the competition is to engage, appreciate, train and develop the housekeeping staff," says Tharaka Appuhamy, the Corporate Learning & Development Manager at Adaaran Resorts Maldives."Prior to the individual competitions held in each resort, we held training programmes to enhance the capabilities and talents of our housekeeping staff. Their talent is mostly hidden from the public eye and only a few guests experience it, and it was our turn to give them due recognition."The initial competitions were held in four resorts; Adaaran Select Hudhuranfushi, Adaaran Select Meedhupparu, Adaaran Club Rannalhi and Adaaran Prestige Vadoo. A total of 52 staff members took part in the initial competitions. Adaaran Select Meedhupparu was named the 1st runners-up, followed by Adaaran Club Rannalhi taking the spot as the 2nd runners-up."The housekeeping team is vital to every hotel operation, and they are at the forefront of our service to the guests," says Indy Dodanwala, the General Manager of Adaaran Prestige Vadoo, speaking before officially declaring the finals open."A personalised bed decoration by the housekeeping team can make the vacation of a guest, rendering it very memorable, and ensure they come back again."
The competition was adjudicated by Hari Krishnan, the General Secretary of Maldives Housekeeping Forum and Hemantha Ratnayake, Consultant Rooms Division and Learning & Development at Adaaran Resorts Maldives.
"Housekeeping is one department that can touch the sensitivity of guests and reach out to them in a way not possible for other staff," says Hari, who was also the Guests of Honour at the finals, commenting on the role of housekeepers.
"Maldives Housekeeping Forum has been working to assist the and further enhance the roles of housekeeping departments in the country, and one way to improve the housekeeping talent is to hold such competitions." In addition to the winners, the Housekeeping Managers of each participating resort were awarded by MHF with delegate passes to the International Housekeepers Summit 2018.Adaaran Resorts Maldives, which started operations in 1993, currently has 6 properties; offering 620 rooms and employing over a thousand staff. Commenting further of enhancing the role of their staff, Tharaka says the company plans to hold trainings and competitions for each and every department of the hotels."We recently concluded our F&B and kitchen competition titled Dhivehi Rahathah Challenge. Early next year we plan to hold trainings and competitions on beverage making – which will include cocktails, mocktails, and high-tea, and coffee and table top decoration; a competition titled Tell Your Story targeting our front office staff, and a creativity and sustainable-innovation competition targeting our engineering staff," adds Tharaka.
Adaaran Resorts is operated by Aitken Spence Hotels, with a chain of hotels in the Maldives, Sri Lanka, India and Oman. In addition to its six properties in the Maldives, Aitken Spence Hotels operates ten hotels in Sri Lanka, five hotels in Oman, and one hotel in India.
Adaaran Resorts Maldives has six properties under its wing; Adaaran Club Rannalhi, Adaaran Select Hudhuranfushi, Adaaran Select Meedhupparu, Adaaran Prestige Water Villas, Adaaran Prestige Vadoo and Adaaran Prestige Ocean Villas.