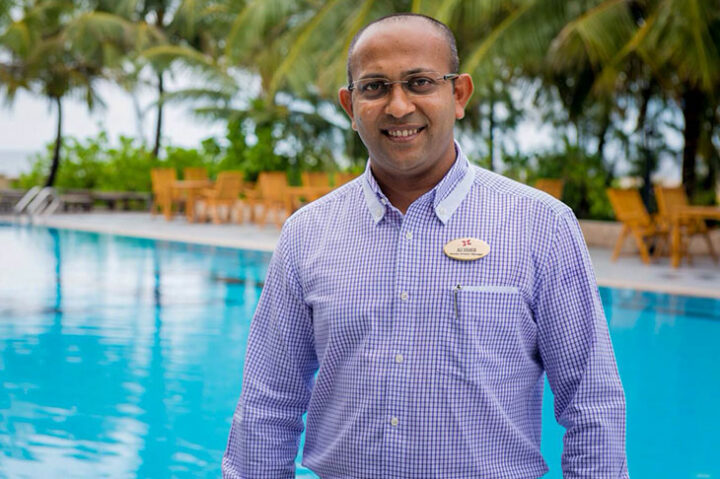 Careers: Ali Shakir, Rooms Division Manager at Hulhule Island Hotel
Ali Shakir's career in the hospitality sector began 19 years ago when he joined Paradise Island Resort right after completing his General Hotel Service course at the Hotel School in Male'. He is currently the rooms division manager at Hulhule Island Hotel (HIH). And before taking on his current position, he has fulfilled many roles including that of a waiter, a restaurant supervisor, senior supervisor, management trainee, assistant human resources manager and human resources manager.
Now an integral part of the top management team of HIH, Ali Shakir is responsible for ensuring smooth operations of Front Office, Housekeeping, Reservations, Revenue Management and Marketing. He is also a part of the many management initiatives that focus on improving work and team related aspects of the hotel. "It is wonderful to be a part of so many initiatives and definitely exciting to be able to make a difference," he says. According to Ali Shakir, the work environment, the organization culture and the tasks that he takes on as a member of the team are some of the most exciting features related to his job at HIH.
Ali Shakir describes his role at HIH as one that has provided him with multiple learning experiences. He has learned to be prepared for unexpected situations, and he believes that things will always fall into place if his does his best. "The hotel industry is ever evolving and never monotonous so one never stops learning," he explains.
Ali Shakir also believes that the greatest achievements of his career are linked to HIH. He particularly notes working with the current general manager of HIH Mr. Utkarsh Faujdar to transform the hotel into one that is internationally recognized. "We have managed to win numerous awards on the international platform of hospitality, which is a great satisfaction. I am glad to have been associated with HIH in this fantastic journey," he says.Since HIH is located on the airport island, the hotel's operations are quite different when compared to the other resorts in the Maldives. According to Ali Shakir, the hotel puts a special emphasis on making sure that guests feel like their stay at HIH is a continuation of their vacation rather than a transit time. To ensure this, HIH presents an extensive array of facilitates and features that include many food and beverage options, leisure activities, swimming pool, gymnasium, spa, diving facilities, water sports and island excursions in addition to the 136 guest rooms of various categories.
Having spent almost two decades in the Maldivian tourism industry, Ali Shakir is of the opinion that the success of the country's hospitality industry is based on the natural beauty, peacefulness and safety of the islands combined with world class accommodation, facilities and services. "It is important to maintain the positives and continue to work on new opportunities," he says. According to him, Maldives being a sought after luxury destination, managing the expectations of luxury tourists is one of the main challenges of his job. Additionally, Ali Shakir notes the diversified and ever changing nature of the market presents some challenges as well.
Ali Shakir believes that the reins to one's future is in one's own hands. "I have a lot more to do and a lot more to learn," he says. According to him, working in the tourism industry is something he thoroughly enjoys, and as for now, he is solely focused on his current job. "The will to win, the desire to succeed, the urge to reach your full potential… these are the keys that will unlock the door to personal excellence," he says.