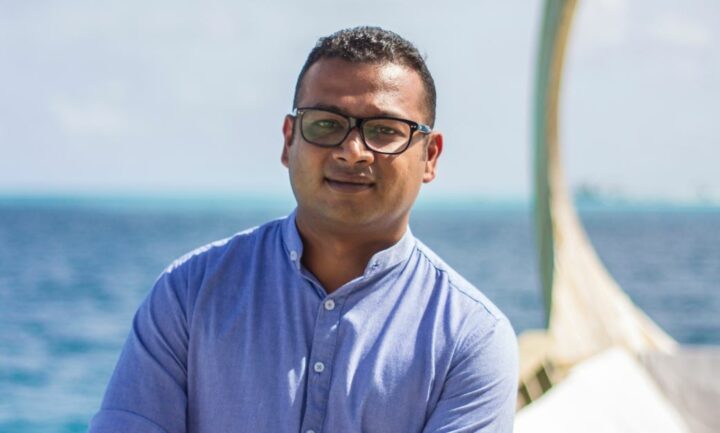 GM's View: Amit Majumder, General Manager, Jumeirah Vittaveli
With a career spanning over 17 years in the hotel industry, we find Amit Majumder at the helm of Jumeirah Vittaveli – an award-winning resort in South Malé Atoll. Amit took over as Resident Manager at Jumeirah Vittaveli in 2012 and was appointed as the General Manager in 2016. Hotelier Maldives sits down with Amit to speak about the soul of Jumeirah Vittaveli, which he believes is the island itself and the fantastic team at play.
Hotelier Maldives: The hotel industry was not your first choice for a career. Can we discuss how you ended up as an hotelier?
Amit Majumder: I am not someone whose childhood dream it was to lead a hotel, rather, I wanted to combine my interest in the financial side of the business with my creative side, so I graduated in economics and sat for the entrance exam for fashion design. My sister and I both passed, so we decided that only one of us should continue into fashion design. I pulled out and the next year sat for the hotel management exam.After college, I wanted to travel and explore the world for a while. And as destiny would have it, I was backpacking and found myself on the same train as some of my colleagues who were going in for an interview.When they were ready to head off to the interview I told them: "Hey, I would have joined you if I had brought any formal clothes." And that's how I found myself at the interview; in borrowed clothes. As luck would have it, I was selected for the interview at The Oberoi Rajvilas, which was how my journey in the hospitality industry started. I would say I learnt more at my first job than during my time in college.
HM: You joined Jumeirah in 2002. How did you end up here on the sandy shores of Jumeirah Vittaveli?
AM: It's been a long journey. After working at The Oberoi, I decided that I should continue to explore the world and work in a different country. Next thing I know, I was in Dubai, on my way to Jumeirah's prestigious flagship property Burj Al Arab Jumeirah. Looking back, it was a fantastic and an amazing experience to walk into the Burj Al Arab. When Madinat Jumeirah opened, I moved there and had a great run. It was in 2007, wanting to take on a new challenge in a different environment when I ended up here in the Maldives—at One&Only Kanuhura (now rebranded to Kanuhura Maldives, under the brand umbrella of Sun Resorts Mauritius).My next step was a move to Singapore with the Mandarin Oriental Group where, after a few years, I was called up by Jumeirah, asking if I was up to coming back to the beach life here in the Maldives. At first, I declined citing family commitments, as you know, Maldives was not an easy destination for a family.Jumeirah made special arrangements and I signed a one-year contract. Five-and-a-half years later, here I am talking to you on the heavenly island of Jumeirah Vittaveli. Jumeirah Vittaveli opened in December 2011, and I joined them in April 2012 as the Resident Manager. It was a very young property when I came here, and we were still finding our footing.
It's been a great journey here at Jumeirah Vittaveli; the magnificent island, the fantastic team, and of course the brand itself has been an incredible combination. Otherwise, hoteliers in the Maldives don't usually stick around in the same place for such a long time. The best part has been the liberties and trust accorded to us and the entire team, especially to bring changes to enhance the guest experience.
HM: As you mentioned, you joined Jumeirah Vittaveli at a very early stage. What were some of the challenges you faced then, and would you say it's smooth sailing now?
AM: There weren't many people from the brand on the resort at the time I came here. It was not only a challenge but an opportunity at the same time: On the one hand, we faced commercial challenges of positioning as any other new property would have, and on the other hand, landscaping was a great challenge which took time.In terms of mega-challenges, there were not many. I would say we were pretty fortunate, compared to some other properties that sprung up at the same time as we did. Today, things are even smoother, as matters have settled down quite a bit. We have a great and fantastically engaging team, which is our pride and joy.And our product is outstanding – something we are truly proud of.
The challenges we face today are mainly related to impact from weather and the environment around us. Being so close to the sea means maintenance can be difficult. We analyze potential threats beforehand, and we find ways to resolve them before they become challenges. I cannot give enough credit to my colleagues, as we're very fortunate to have such an experienced and passionate team.
HM: What is your take on management? And, in your perspective, what is key to be an effective general manager?
AM: Working in a transparent manner, facilitating the flow of information, understanding and working with the team, and also keeping it fun is very important. There are always tough times, but we follow up with a team party to blow off steam. In terms of management, I can be a tough manager sometimes. But that's necessary in order to build a successful property and lead a strong team.Being a general manager has to come with an adequate amount of knowledge of all the different areas involved. Otherwise, you lack the overall perspective of running a hotel or resort. That's very important and it's been a fantastic learning curve for me as well, be it engineering, commercial, horticulture, food and beverage, and other areas.One needs to have ample knowledge of all the fields in play here, so you can build up mutual respect within the team.
HM: What are the pros and cons of operating an international brand here in the Maldives?
AM: Fortunately, we are very close to the main airport, which is a great advantage for us. Our positioning statement is "Everything. Closer." and that's not only related to the physical proximity to the airport but to the host of facilities and services you'll find here; when you come down to Vittaveli, it's a great time for bonding, family time, romance, fun, adventure, etc.
I would not necessarily call the Maldives just a remote destination, but a fantastic destination; there's hardly anything else like this anywhere else in the world. In the way the Maldives has been established as the foremost luxury travel destination; the size, facilities, natural beauty, the close network amongst hoteliers and official institutions, and more, I find that the Maldives is an easier destination than some of the others I've worked at.
As a brand, we are extremely proud to have a property in the Maldives. Also, let's not forget that the Maldives as a destination still has one of the highest ADRs in the world.
HM: What are some of the innovative ideas and solutions you've come up with?
AM: You can't put a finger on something and say this is my thing. So, there's always a team behind any innovative solution we've implemented. We've done so many things that are significant and have enhanced the guest experience, including building the Royal Residence, the signature restaurant Swarna that just celebrated its 2nd anniversary with the launch of the Gold at Swarna menu, etc.Since we opened, we've successfully added two more accommodation categories; one is the Royal Residence and second is the Two-Bedroom Beach Villas with Pool. We're completely refurbishing the Ocean Suites, and we plan to re-launch them as two-bedroom Private Ocean Retreats soon.The Private Ocean Retreats are designed to have everything a guest could wish for right there – a completely private haven where guests can enjoy in-villa dining, in-villa spa treatments or yoga, they will have an enhanced Maxi bar as well as a full outdoor bed for sleeping under the stars and overwater hammocks inviting for relaxed afternoons gazing out onto the lagoon.
The Royal Residence is, of course, our lavish five-bedroom hideaway, designed for families travelling together or guests wishing for complete privacy, including your own private beach, private spa, a restaurant overlooking the lagoon, and accommodation for your staff travelling with you.
This year we've also undertaken a project to refurbish the French overwater restaurant Fenesse, which we will re-launch as an upgraded social hub for guests who wish to spend time together, in a convivial and chilled out atmosphere. Fenesse will still be our romantic overwater dining venue and will serve Mediterranean cuisine, but we are adding Cyan, a Beach Club-style overwater terraced lounge that will serve avant-garde beverage concoctions as well as a selection of oysters, caviar and tapas.The place to be for cigar and shisha aficionados will be Fumée, our dedicated salon for the art of fragrant smoke. Cuvée, the new wine library, will invite guests for private degustation and wine pairing dinners, combining old and new vintages with eclectic dishes from around the world.HM: In your perspective, what is so special about Jumeirah Vittaveli?
AM: I believe that it's the island itself. I believe every island has a soul, and you get in touch with it the minute you step foot here. And this is not just in my own perspective, but I hear it again and again from our guests as well. The combination of the island with our team who breathe life into it makes up the essence of Jumeirah Vittaveli.