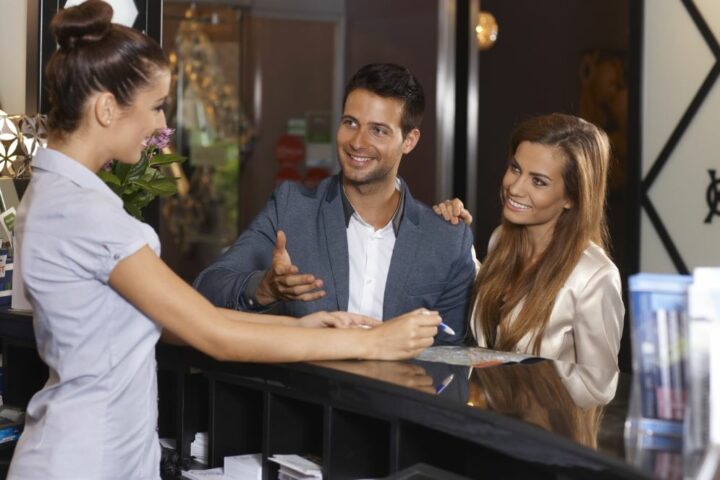 'AI' has no 'EI': Tech alone can't deliver hospitality
Since artificial intelligence has no emotional intelligence, technology alone cannot deliver hospitality. If every hotel brand adopts the same tech solutions and continues to take human engagement out of the cycle of service, hotels will become a commodity. Because I am in the field of hospitality industry training, when I read industry news headlines that in any way relate to my topic areas, I always click on them because I'm hungry to learn more.
In recent years, though, these articles and blog posts seem to inevitably lead back to some new tech-based app or platform. Words like "authenticity," "connection," "excellence," and "anticipatory" especially grab my attention, but then I click to read about some new way to send guests a text message upon arrival, or a CRM that will allow a hotel to give me foam vs. feather pillows or place me in a room close to the elevator as I prefer.
As a frequent traveller, I have often experienced these "solutions" for guest-service excellence. To me, receiving a text message asking if my room is OK—or a pre-arrival "welcome" email telling me what I already saw at the hotel's website—evokes the same emotional reaction I have when receiving "happy birthday" texts and emails from my doctor's office and car dealership: annoyance!
As my frequent readers know, I am definitely not an old-school, "anti-technology" guy whatsoever. Over the years, I have become an early adopter myself, and I see huge opportunities for travel companies to use "high-tech" for "high-touch," rather than as a sneaky way to reduce labour costs. But it seems to me the problem is that the strategic visions of how to deploy these tech solutions are taking the industry in exactly the wrong direction.
I sense there's too much focus on fulfilling the desires of the millennial generation, which is no more than yet another psychographic label given by William Strauss and Neil Howe to a cohort of those born between certain years. I also find it interesting to read their work over the years, but when taken as fact, these labels are dangerous stereotypes.
For example, too many leaders seem to think that "all millennials don't want to talk anymore" and "want to do it all on their phone." When I talk to friends, colleagues, business contacts and family members in this age group, I find that contrary to the stereotype, they actually thrive on human interaction even more than the rest of us. Politeness, kindness and authenticity are core values. When you engage with those in the next generation on the rise, which is most often referred to as "Generation Z," they are even more focused on these values. Beyond that, I sense that across all generations there is a bit of a tech backlash in play these days.
Like the rest of us, these cohorts want information on demand, as we have all grown accustomed to getting here in the "Twenty Teen" decade. Yet like all humans throughout history, millennials and Gen Z are inherently social creatures.
Here are some tips for using high-tech tools for making human connections with all guests, regardless of their age demographics:
Personalise welcome texts with photos, preferably of the same smiling face of the colleague who just checked you in. If not, with a group shot of the front-desk team standing together and all waving a "hello" gesture.
Include updated video email welcome messages from your front-desk colleagues in your pre-arrival emails. Upscale, boutique and luxury hotels have enough of a revenue stream to send each guest a 20- or 30-second personalised message. Midmarket hotels can have a "message of the week of X" for all hotel guests arriving at that time, pointing out some local area tips and suggestions. Group hotels can have a video welcome message that is tailored to major groups.
Send personalised camera phone pics via text and email.
If your hotel is one of the rare ones that have high utilisation of automated check-in, then position a front-desk colleague in a new area at a "desk-less" position as a greeter and to serve more of a concierge-like role.
On a final note, I know that everyone says there is no time at the front desk. Yet by nature, there are always pockets of downtime even on the busiest of days for at least some of the above tasks. Granted, few if any hotels have the staffing to do these tasks for every guest, every shift, every time. However, all hotels can do some of these tasks some of the time. Give it a try today, at least for your "regulars," for VIPs, meeting planners, those with longer stays or top-tier accommodations.
Editor's Note: This article first appeared on hotelnewsnow.com.Doug Kennedy is the President of the Kennedy Training Network, Inc. – a leading provider of hotel sales, guest service, reservations, and front desk training programmes and telephone mystery shopping services for the lodging and hospitality industry. The opinions expressed in this column do not necessarily reflect the opinions of Hotelier Maldives and its affiliated companies. Please feel free to comment or contact an editor with any questions or concerns.