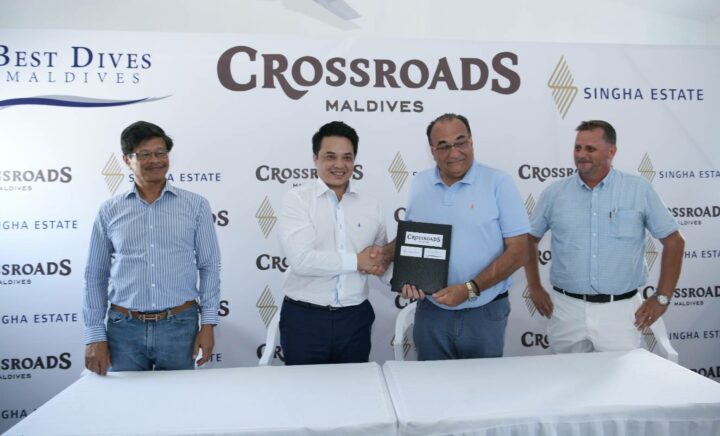 Best Dives Pvt Ltd signs on for Crossroads project
In a function held at Emboodhoo Island, Best Dives Pvt Ltd has been appointed by Singha Estate as dive and water sports provider for the upcoming Crossroads integrated resort project. The services to be provided are SCUBA diving, motorised and non-motorised watersports activities and various excursions that will, as per the press release, showcase the natural beauty of the Maldives both above and underwater.
In addition, Best Dives Pvt Ltd will appoint a dedicated Marine Biologist to spearhead the coral regeneration project to be implemented in the integrated resort.
Speaking at the function, Eric van Melis, General Manager of Best Dives Pvt Ltd said, "When we first heard of the Crossroads project, we thought that this is going to be a remarkable project and the first of its kind in the Maldives and naturally, the first thing that comes to mind is we need to be a part of this."
Thiti Thongbenjamas, Chief Operating Officer of Crossroads said, "Singha Estate and Best Dives have shared values and believe in redefining the Maldives' tourism experience. We believe that we will be able to achieve something that could transform the tourism industry in the Maldives. Once the Crossroads project opens its doors to guests, it will attract a new generation of travellers and a new market segment that will bring in an exciting business opportunity for all of us here in the Maldives."
Founded in 2003 as Bolifushi Dive Centre, Best Dives Pvt Ltd currently operates Dive/Water sports centres and Excursions at five luxury resorts in the Maldives. The company also provide chartered Luxury Yachts guest transfers under its sister company Best Yachts Maldives Pvt Ltd.
Located just fifteen minutes away from Velana International airport, CROSSROADS is a multi-island integrated leisure and recreation destination that will cater to a variety of market spectrums ranging from family to adventurous individuals who are looking for unique experiences that the Maldives has to offer. The project's first phase is set to be completed at the end of this year.