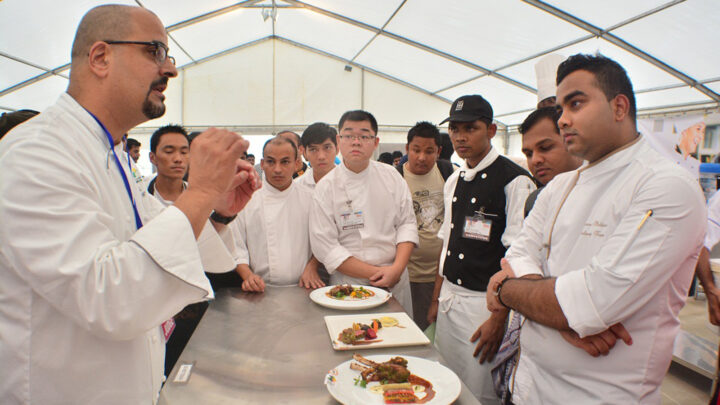 Hotel Asia 2016 to feature star-studded panel of judges
The Food, Beverage and Hospitality industry is gearing up for Maldives' largest and most anticipated event "Hotel Asia 2016". This annual expo will be held from the 5th – 7th of September 2016, with the International Culinary Competition taking place one day prior and going on for four full days. The event will take place at Dharubaaruge, Male.
As in the past, this year's event is once again supported by the Ministry of Tourism of Maldives along with the Sri Lanka – Maldives Bilateral Business Council and the National Chamber of Exporters of Sri Lanka. The Sri Lankan Chambers will be hosting two of the largest pavilions at this year's expo.
Maldives takes pride in having plenty of the world leading luxury resort hotels. The tourism industry looks promising with an already established luxury tourism sector with more upcoming development projects. The thriving budget hotels, guest houses and cruise safari industry makes this a very interesting place to showcase world class equipment and services.
The Hotel Asia International Culinary Challenge is the regions premier culinary competition with the participation of over 450 Chefs from 60 resorts. Due to the popularity and the array of a distinguished qualified judging panel, the organizers have to start the competition one day prior to the expo to accommodate more participants. The competition segment is worked out through a large number of categories which include classics such as Pastas, Hot Cooking – Meat, Poultry and Seafood and Iced Mocktails. One facet that makes the competition distinct from similar events worked out around the world are the novel categories such as Honeymoon Cakes and Tea Challenge.
It is also a tremendous opportunity for resort owners to see what new technology, products and services are available all under one roof in Maldives itself. Recognized as an International Standard Exhibition, Hotel Asia is considered the purchasing forum for resorts and hotels annually. The Maldives invest millions of dollars into food imports and hospitality equipment and the international attraction towards such a rapidly evolving market ensures the most influential exhibitors and visitors participate. Hotel Asia is more than a regional event, it is an international showcase and a global business arena.The star studded panel of judges is another key factor that contributes greatly to the credibility of the event.
The judging panel includes: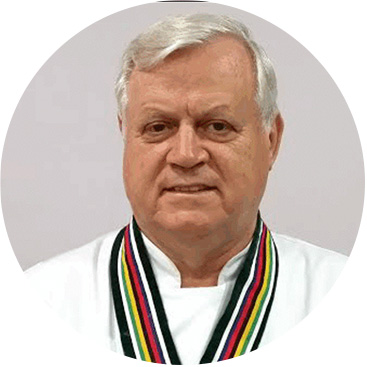 Alan Palmer
Project Director & Chief Judge, Hotel Asia International Culinary Challenge
• Founding Member 1984, Honorary Ambassador Singapore Chefs Association (SCA)
• Honorary Lifetime Member World Association of Chefs Societies (WACS) 1990
• Continental Director Asia World Association of Chefs Societies (WACS). 1988-1996
• Chairman Organising Committee 24th WACS Congress, Singapore 1990
• WACS Certified Global A Judge 2008-2018
• WACS Life time Achievement Award, 30 years support towards Global Chefs (2014)
• Recipient Lifetime Achievement Award, World Gourmet Summit Singapore 2014
• Award for Outstanding Contribution to FHA Culinary Challenge and Salon Culinaire 1984-2014
• Convenor / Director, Trophy of the 3 Presidents (Battle for the Lion), Singapore since 1990
• Chairman Organising Committee Culinary Challenge, Seoul Food & Hotel 2015-2016 Korea
• Organiser and Chief Judge, United Tastes of America Asian Chefs Challenge 2015-2016 (Taipei-Guangzhou-Hong Kong-Seoul-Tokyo)
• Project Director/Chief Judge Hotel Asia International Culinary Challenge Maldives 2002-2016
• Judging Invitations in 2016: Food & Hotel Indonesia Bali, Food & Hotel Asia Singapore, TUCC Bangkok, Food & Hotel Myanmar, Philippines Culinary Cup, Battle of the Chefs Penang, Food & Hotel China Shanghai
• Event Coordinator – Bocuse d'Or Sri Lanka 2016
Otto Weibel
Director / F&B and Culinary Consultant
Renowned in the international scene and in Singapore, Otto was voted Chef Restaurateur of the year by the International Foods Beverage Forum in 1999.  He has been awarded the Swiss Chef of the Year 2001 abroad by Urs Heller of Gault Millau Switzerland.  In the same year, he was also awarded The Lifetime Achievement Award by the World Gourmet Summit.
In 2005 he also received a special recognition award during the 19th Tourism Awards from the Singapore Tourism Board.
In 2008 he received a Personality and Lifetime Award from the International Chef Conference from his native country, Switzerland.
In 2010 he received FTA Hospitality Awards for Excellence as a Humanitarian.
In 2011 he received Epicure Magazine's inaugural Excellence Award.
Otto has contributed greatly to the culinary profession and has built a distinguished culinary reputation for Swissotel the Stamford and Fairmont Singapore.  Otto has led many culinary teams to win awards in Singapore and overseas.  We have seen many of Otto's proteges excel and distinguish themselves in later years.  He is active in promoting the Singapore food scene as well as local chefs.
Otto was very active as President of the Singapore Chef's Association for 15 years. He is now President Mentor to the association and is very much involved as Team Advisor to the Singapore Culinary National Team, which has lead to continuous success in achieving championship in food competitions both locally and internationally. One of his goals is to nurture and promote young Singaporean talent in the culinary profession.
Otto is also in the committee of many service industry related associations like the Confrerie de la Chaine des Rotisseurs, SHATEC Board of Directors and WACS Culinary Committee.
Otto has now a Food Restaurant Consultancy business and is involved in various ongoing projects locally and internationally, and travels the world judging international culinary competitions.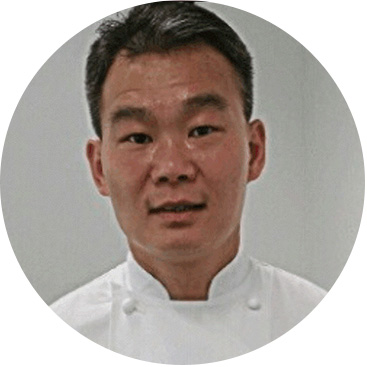 Alvin Goh
Deputy Director, Culinary Arts Institute of Technical Education (ITE), Singapore

Since joining ITE in 2006, Alvin had been instrumental in the setting up of the kitchen facilities and training programmes at the regional campus in ITE College West. The campus boasts of state-of-the-art training kitchens and restaurants for Pastry & Baking, Western cooking, Asian culinary and F&B service.
In 2008, Alvin collaborated with the renowned Institute Paul Bocuse (IPB), Lyon to bring in their culinary program to Singapore. It resulted in the French culinary training for the professional chefs and student chefs in Singapore under the Chef Paul Bocuse flagship.
Since 2009, Alvin had also been involved as Expert in the World Skills competition in Japan, Canada, London, as well as being appointed as Chief Expert for the ASEAN Skills competition, in Malaysia, Thailand, Indonesia and Vietnam.
He is also currently involved in providing Culinary consultancy services for the setting up of training institutions in Nigeria, India and Myanmar.
Alvin is a member of the Bocuse d'Or Singapore Academy, which supports the training and execution of the Bocuse d'Or competition in Singapore for 2016.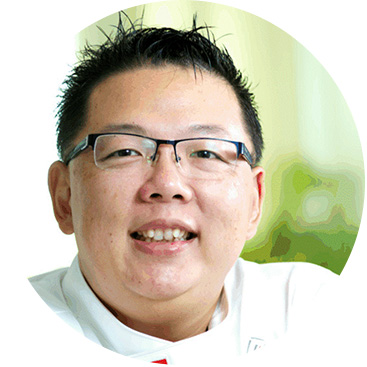 Eric Low
Cookbook Author / Chef-Owner LUSH Epicurean Culinary Consultancy

An accomplished awards winning cookbook author, professional and celebrity chef, Chef Eric Low is the owner of Lush Epicurean, a multi-disciplinary Singapore based culinary consultancy. An alumnus of both SHATEC and the CIA(US),  Chef Eric has more than 25years of professional experience from running kitchens in various HORECA channels to private super yachts based in Monaco as well as developing innovative products and concepts for food and beverage giant Nestle as their R&D Chef.
He has worked in more than 25 countries globally and manages consultancy projects from Singapore to China and Malaysia. Complimenting his illustrious career as a chef including competition awards and medals from Food and Hotel Asia 1994, 1998, Florida Showboats 1999, California Walnuts Recipe Competition Year 2000.
Chef Eric was certified as a WACS Judge in 2010 and has since judged in FHA 2010, 2014 and overseas WACS endorsed competitions like FHM 2013,2015, Bali Salon Culinaire 2014, Philippines Culinary Cup 2014, Hotel Asia Maldives 2013, Food and Hotel Vietnam 2013, 2015, Battle of the Chefs Penang, 2011-2014, Gulfoods Salon Culinaire 2016. Three of his six written cookbooks have made it to the Gourmand International Cookbook Awards Winners listing for 2015 and 2016.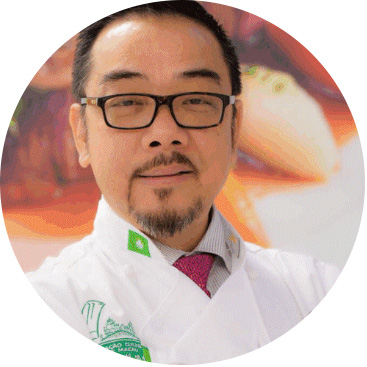 Perry Yuen
City of Dreams Casino and Hard Rock Hotel, Macau
Multi-talented Perry has an impressive background in various aspects of culinary and professional achievements.  Most of his employment has been with 5-star hotels where he worked his way up from a cook to an Executive Chef and now he currently worked as Director of F&B– City of Dreams Casino and Hard Rock Hotel, Macau
He was awarded various certificates, ranging from wine education to food hygiene and he prides himself with the numerous gold medals he won in individual or Team competitions.  He has led the Hong Kong National Team as a Team Captain in several award winning contests, including1993 Basel Culinary Competition, 1995 American Culinary Cooking Classic, 1996 Berlin Culinary Olympic and 1998 FHA Singapore Culinary Competition, and he was the Hong Kong Team Manager in 2010 FHA Singapore Culinary Competition.
With his talent in Ice Sculpting and Carving, Perry has won many International awards such as in the Sapporo International Snow Sculpture Competition, at various American and Canadian snow and ice carving events, at the Mt. Taebak Snow Festival in Korea, also at Harbin China and Moscow Russia.
He working as a TV host/celebrity chef for HK cable TV for 4 years before he move to Macau; He has also joined various associations, such as the Hong Kong Chefs Association where he was President from 2004 to 2007.  Under his advice, The HK Young Chefs Club was established in 2007.  He also Director of Hong Kong Sommeliers Association Greater China (Macau Chapter), in 2015 he also assigned as President of Macau Culinary Association develop the Macau Chef Society; Perry has also served as WACS approved judge at many culinary contests since 1996.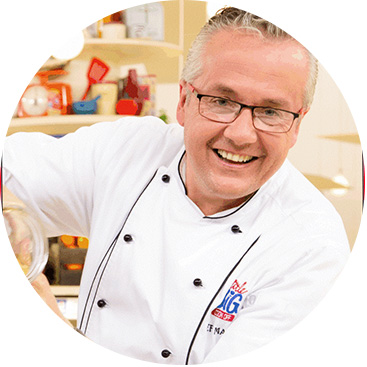 Martin Kobald
Owner, MLK Food & Beverage Consulting
Martin Kobald, Austrian-born Chef extraordinaire began his culinary career in his home country, after completing his training with outstanding achievement.
Kobald honed and developed his food and beverage skills as he worked his way up from Trainee Chef to Chef de Partie, Sous Chef, and finally, Head of Operations at various Austrian hotels and restaurants.
Kobald has participated in a number of local and international competitions. Some of his other sizzling career achievements include leading a South African culinary promotion in Cairo and Taipei, as well as managing the logistics for the South African National Culinary Team, which competed in the worldrenowned ScotHot Competition in the late 1990s. He has held the position as Team Manager for the team which won double gold in the International Hotel & Gastro Competition in Austria in 2005, winning second place overall.
Kobald currently holds the title of Honorary President of the South African Chefs Association (SACA). He also serves as the Global Chairman for the World Chefs Without Borders organisation.
Kobald currently is the Convenor of the Bidvest World Chefs Tour Against Hunger organisation and together with over 260 Chefs from 45 countries raised a staggering R8 million. This achievement allows the organisation to feed over 5 000 children daily for a period of 5 years. The organisation received in the region of R30 million worth of national and international media coverage and still continues to do so.
In addition to this, Kobald has accepted the new title of National Corporate endorsement Executive Chef for Royal Mnandi on a consultancy bases, thus allowing further scope and development of his own personal brand, ChefMLK. He also recently became the brand ambassador and endorsing Executive Chef for Salton, Salton Elite, Russell Hobbs, Wiltshire Knifes and Appliances South Africa.
Added to his culinary stable, was the launch of his own Coffee brand through the Gourmet Roaster "Common Grounds" and a selection of spice rubs "ChefMLk Spices".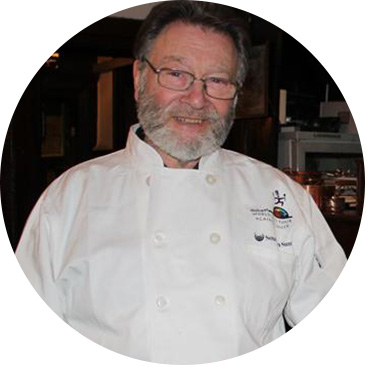 Nobert Girnth
Master Chef
Chef Norbert served his apprenticeship in a two Michelin star restaurant in Germany and worked in Switzerland, France, Jersey, and Morocco.
After two years studying at the Heidelberg Hotel Management School, he runs his own restaurant, "Griechische Weinstube" since 1970 as patron. The restaurant has been owned and operated by his family for the past two hundred years.
He won more than 30 gold culinary medals during a distinguished career bevor retiring from active competitions to take up judging. Chef Norbert has been a member of judging teams in many countries and cities including Manila, Singapore, Bangkok, Dubai, Abu Dhabi, Chicago, Iceland, Basel, Ghent, Strasbourg, Litvania, Kuala Lumpur, Johannesburg, Moscow etc.
He traveled two times around the world as a young chef on a cruiseship. Since that he never stopped Traveling till today.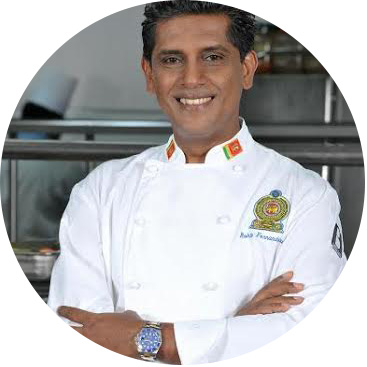 Rohan Fernandopulle
Bocuse d'Or, Sri Lanka
Rohan Fernandopulle, the General Manager of Waters Edge has a long service at the kitchens at Hilton Colombo, before taking duties at this unique venue, – a MICE property with extensive F & B services under the auspices of the Urban Development Authority in Sri Lanka.
Whilst at the Hilton he led the Culinary Team in 2002 to Japan for the MLA Black Box Regional Championship (Live Cooking) achieving 2nd place and Silver Medal and carrying away Gold & Silver medals at the Culinary Olympics. He won the Chef of the Year Presidential Award in Travel & Tourism in 2008 and many medals at the Food & Hotel Asia International Culinary Competitions in Singapore.
Besides being the 1st Sri Lankan Executive Chef of Hilton Colombo, he is also the only Sri Lankan member of the prestigious 'Club Des Chefs Des Chefs' where as a member of this elite group he had the privilege of visiting the White House in July 2013. He is also a member of the famous club, Chaine des Rotisseurs as Chef Rotisseur.
He was appointed as the president of Bocuse d'Or Sri Lanka by the Bocuse d'Or International Committee in France in 2011. Having judged many international culinary events he also served on the panel of judges at the Bocuse d'Or world ­nals in Lyon in January 2013.
Presently Rohan – as the General Manager of Waters Edge has the privilege of being appointed the chef in charge of all o‑cial receptions for His Excellency the President of Sri Lanka and was the 'Culinary coordinator' for the recently concluded Commonwealth Heads of Government Meeting 2013 where he had the honour to prepare banquets for the visiting dignitaries.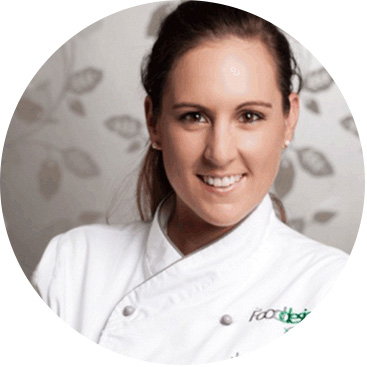 Jodi-Ann Pearton
Founder/Owner, The Food Design Agency
"Throw your soul into your cooking, food is about love, passion, perseverance and appreciation and the more you give the better it gets." – Jodi-Ann Pearton.
Jodi-Ann Pearton graduated from Silwood Kitchen, one of South Africa's oldest culinary training schools in 2005, winning every major award available. To work and achieve is Jodi-Ann's life and this can be deduced from the vast work experience she has built up in her career to date.
Apart from owning her own business Jodi has worked at various leading establishments both in South Africa and overseas, with the 3 star French Laundry in California being a highlight. Participation in culinary competitions has proven that Jodi-Ann clearly has obvious talent, winning every minor and major culinary competition in South Africa as well as international awards. 2005 was the year that saw Jodi-Ann selected to represent Culinary Team South Africa, through a rigorous selection process by the South African Chefs Association. Jodi-Ann's accolades include all 4 categories of South African Chef of the Year competitions, all within a 4-year period; this includes the coveted By Invitation Only competition Africa's most prestigious award and the Sunday Times Chef of the Year.
Jodi-Ann is also passionate about horse riding any free time is spent riding her horse and competing in show jumping and dressage competitions. She also enjoys, among many other sports, mountain biking, golf, hiking and running. Quiet time is usually spent with her husband, great books or eating out at different restaurants, checking out the food trends or going to theater.
2008 was the year Jodi-Ann began The Food Design Agency, which is a successful company specializing in food styling, product development, product testing, high end functions, celebrity cheffing and skills up-liftment, to name a few. 2010 saw the opening of The Cookie Design Emporium, an entrepreneurship project specializing in high quality cookies made with pure passion, the best raw ingredients and the environment in mind. Jodi-Ann has represented the South African Chefs Association as Chairperson of the Gauteng Regional Committee as well as the current position of Competitions Director on the Board of the South African Chefs Association. Other representation includes but is not limited to, The Culinaire of The Chaine de Rottiseur Johannesburg Baillage and Junior Liaison Committee for The World Association of Chefs Societies. To complete the incredibly successful and inspiring achievements, Jodi-Ann writes monthly columns for Hotel & Restaurant Magazine, The World Association of Chefs (WACS) magazine and Chef! Magazine to name a few.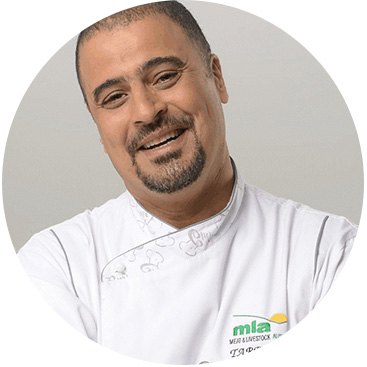 Tarek Ibrahim
Corporate Executive Chef, Meat & Livestock Australia
Award winning and internationally renowned chef Tarek Ibrahim developed his passion and respect for food from a young age.  Recently acclaimed as a Master Chef by the World Association Chefs' Societies; Tarek is also a certified Executive Chef by the American Culinary Federation and Global Judge (WACS) and current star of Fatafeat TV shows '100 Lahma' and 'Min Misr' (From Egypt). Chef Tarek's cooking is influenced and inspired by both eastern and western cultures.
With over 30 years' experience both in the United States of America and the Middle East, Tarek has a wealth of knowledge and experience in all aspects of food.  Opening his first coffee shop and bakery in Minneapolis, Minnesota in 1984 he followed his success by opening five more casual dining restaurants each with a different cuisine.
Following his commercial success, Tarek became a highly respected teacher in culinary art at the Arts Institutes International Minnesota from 1999 to 2005.
Winning several gold and silver medals in highly respected culinary competitions including Taste of Elegance (Central Region), two times Chef Par Excellence Chef Tarek was named the Primer Chef of America not once but twice by the American Dairy Association.
Tarek is currently working as Corporate Executive Chef for Meat and Livestock Australia, providing training sessions to executive chefs and food service professionals on meat handing and cooking methods. Tarek is also one of two trainers to the Egyptian Culinary Olympics Team.
Tarek is married to Sharon and has two young children and holds a commercial pilots license.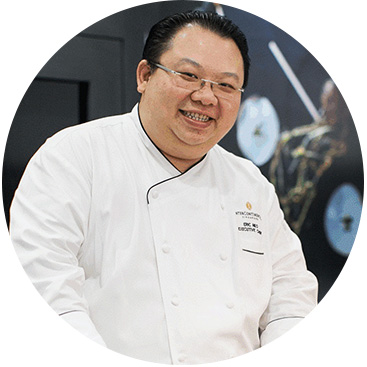 Eric Neo
Executive Chef, Intercontinental Singapore
As Executive Chef of InterContinental Singapore, Eric Neo oversees the hotel's culinary operations and menus of its restaurants and bars, namely Olive Tree, Man Fu Yuan, Lobby Lounge and Victoria Bar, as well as the banqueting department.
Having started out as a chef at the age of 16, Chef Eric brings with him close to 20 years of culinary and catering experience across varied cuisines including Cantonese, Western, Peranakan, Asian, as well as local delights.
He rose through the ranks to become Head Chef of international buffet restaurant Aquamarine in Marina Mandarin before being promoted to the hotel's Executive Sous Chef in 2006. He joined Crowne Plaza Changi Airport as Executive Chef in 2008, where he was an integral part of the pre-opening team responsible for developing menus and implementing operational procedures for the hotel's food and beverage outlets. He was appointed InterContinental Singapore's Executive Chef in October 2011.
His expertise and culinary skills as both chef and leader have earned him extensive recognition in the industry. Among other accolades, he was the team manager of the culinary team representing Singapore at the Pattaya City Culinary Challenge 2011, leading the team to win the gold medal. He was also one of two elected Singapore representatives for the Tiger Brands World Cooks Tour for Hunger in Johannesburg, Cape Town, and Durban, South Africa in 2003, at which he received a commendation for outstanding service. He also appears regularly as a guest chef or judge on popular television food programmes such as "Koji Cooks", Wok Stars On Channel 5 & Neighbourhood Chef on Channel 8.
Eric also plays an active role in the industry. Currently Vice President Of  Singapore Chefs Association, Culinary Committee Of Chaine Des Rotisseurs Singapore, F&B Sector Ambassador – WDA.
Jimmy Chang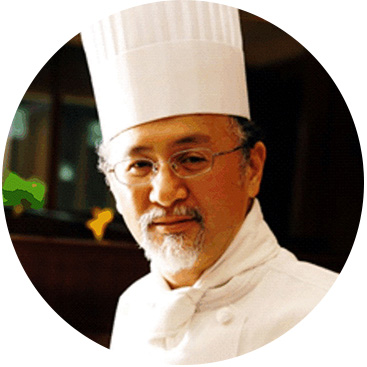 C.E.O., Chez Jimmy Restaurants
Experience:
• Graduate from Hana Cooking College in Tokyo
• Trained in the Hotel Okura and John Kanaya in Tokyo followed by further training in the Hotel Sofitel in Paris
• Executive Chef of Sheraton Hotel Taipei1979-1993
• Following employment in various other hotel in Taipei
Diploma & Awards:
• 2 Gold medals from "Food and Hotel Asia" Singapore1986
• 1 Gold medal for "Golden Chef National Cooking Competition "Taipei1986
• 1 Gold medal, 2 Bronze medal from "Food and Hotel Asia" Singapore1990
• 1 Bronze medal from "Food and Hotel Asia" Singapore1992
• 2 Bronze medal Olymplade der Koche1990
• Justice of Bocuse D'or Concours Mondial de la Cuisine1989
• Director of Les Toques Blanchse Taiwan Chapter
• Member of La Chaine des Rotisseurs
• Licence of Cooking from Japan
Incumbent:
• Director of Chez Jimmy and LES SENS
• President of Taipei Restaurant Association
• 1993 – C.E.O. of Chez Jimmy restaurants
• 2008-2013 – President of Taipei Restaurant Association
• 2013-2015 – International Judge USDA Tastes of America, Taipei, Guangzhou.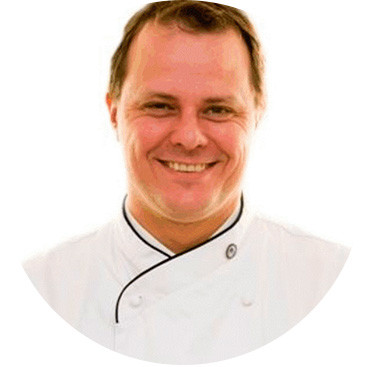 Per Henrik Jonsson
Curriculum Specialist – Hospitality & Culinary
Over the years my experience has evolved from that of an executive chef into a team builder and manager. My roles have been diverse and challenging within several kinds of operations and even starting and operating my own restaurant and catering company.
I have gained experience in leadership and mentorship through being the executive chef at the University of Johannesburg. My role involved leading the operations team and at the same time mentoring students in the culinary arts. Other aspects also included training the service staff and students as well as short training sessions for students in how to manage the stores, laundry, bars, and dishwashing areas in a successful hospitality operation.
Professional Experience:
• Curriculum Specialist – Hospitality & Culinary        Abu Dhabi Vocational Education and Training Institute (ADVETI)    Jan 2015 – Present
Contracted to write and develop a curriculum for the hospitality and culinary education of locals. The program will educate grades 10-12 and training recent high school graduates over a 2-4 year program. The role has continually evolved to now include auditing, assessment, and policy & procedure verification and development.
• Executive Chef, Qunu, Eastern Cape (short contract) 12-15 Dec 2013
Contracted in as executive chef for the state funeral of Nelson Mandela. Manage the production and service for 3500 VIPs and visiting dignitaries.
• Operations Manager (Food & Beverage), School of Tourism & Hospitality
University of Johannesburg, Johannesburg, South Africa
Jan 2013 – Dec 2014
Promoted to oversee the operations environment in totality.  Fully responsible for all staff & full P & L accountability to the director of the school. Formed an integral part of the restructuring team & heavily involved with the development of curriculum & course work.
• Executive Chef, School of Tourism & Hospitality
University of Johannesburg, Johannesburg, South Africa
Nov 2008 – Jan 2013
Recruited to the university, as executive chef to manage the 3 kitchens that serviced 20 venues, on two of the universities largest campuses, catering for around 80,000 guests annually & generating R5 million in revenue in 2009.  Responsible for the operational requirements, & the day to day scheduling of work, & to grow the business.
Other Experience:
• Director – South Africa Chefs Association 2011 – 2014
• Trustee – Tsogo Sun Centre for Culinary Excellence    2012
• World Skills Expert, South Africa – Cooking (Skill 34) 2013
• Member Emirates Culinary Guild    2014
• World Skills Expert, United Arab Emirates – Cooking (Skill 34) 2015Keeping to the promise, Hotel Asia organized a special masterclass in culinary which was held on the 17th of March at  Hulhulé Island Hotel. The Masterclass was conducted by celebrity Chef Geir Skeier, winner of the Bocuse d'Or 2009 & Restaurant Owner. Bocuse d'Or is the unofficial world championship in cooking, which is held every second year in the French city Lyon.
The event was followed by a briefing and knowledge sharing in participating at International Culinary Competitions.
Alan Palmer, who is the Project Director for the Culinary Challenge, stated that holding these special classes more is necessary. He expressed his desire to hold such cooking classes quite regularly for Maldives' chefs in order to dispense useful information and cooking techniques. The next Masterclass is scheduled in the month of August for registered participants of the Hotel Asia Culinary Competition.
The Hotel Asia International Culinary Challenge is divided into 20 categories. Such as, Dress the Cake, Novelty Cake, Honeymoon Cake, Desserts, Bread & Pastry Display, Fruit & Vegetable Carving, Hot Cooking Fish fillet, Hot Cooking Seafood, Hot Cooking Lamb, Hot Cooking Beef, Hot Cooking Poultry, Hot Pasta Appetizer, Cold Pasta Salad, Creative Asian Dish, Maldivian Dish, Young Chef, Team Challenge, The Perfect Steak & Omelette, Team Challenge and Iced Mocktail.
The Main Awards are, Individual Class Winners, Most Outstanding Chef, Most Outstanding Pastry Chef, Top Maldivian Chef, Best Culinary Establishment – "Alan Palmer Challenge Trophy", Food Hygiene Award, Judges Special Award and many more.
Hotel Asia Culinary Challenge is proudly sponsored by our long standing partners BestBuy Maldives (Pvt) Ltd as the Main Sponsor.
Visit www.hotelasia-maldives.com for full details, listings and registration.