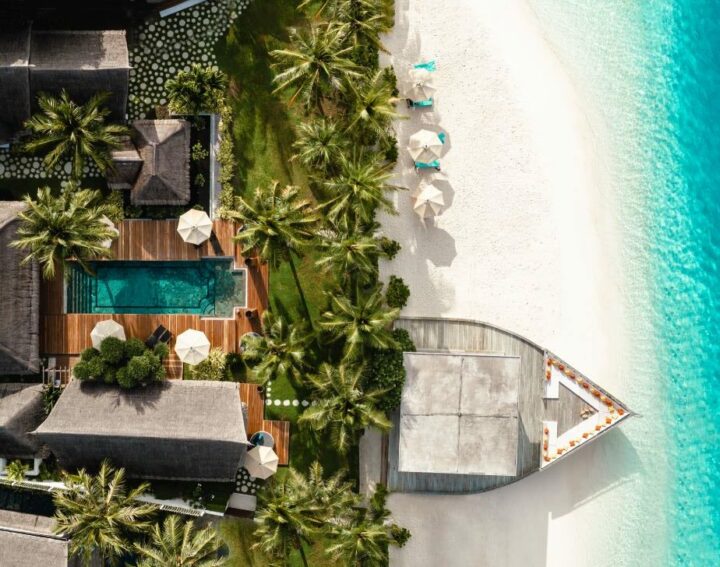 Boutique Dining Splendor at Jumeirah Vittaveli
When luxury travellers get drawn to a destination, the peculiarity of dining options available for their trip is one of the greatest excitement. Food experiences have the immense power to enhance their vacation experience and memories.
Jumeirah Vittaveli has an incredible Food and Beverage Concept, perfectly fine-tuned for its guests. They offer unique boutique experiences across the island, engaging guests and pleasing their curiosity throughout the stay.
With over ten different dining experiences, the resort offers fine dining, casual dining and specialty dining along with wine and whisky tasting. Jumeirah Vittaveli's culinary team carefully puts together the menus and range of food that allows guests to enjoy a lavish dining experience every evening.
For our readers, we have highlighted some of the outstanding boutique dining concepts offered by Jumeirah Vittaveli, Maldives.
Swarna
'Swarna'—Jumeirah Vittaveli's Signature Indian Boutique Restaurant is inspired by the land of ancient civilizations, affluent culture, and the rich heritage of one of the great empires of the world. Swarna's flavours are influenced by India's culinary diversity, extracted from truly authentic recipes.
'Swarna' is a culinary indulgence run by highly talented Indian chefs under leadership of Francis P. Cornelious, Director of Culinary at the resort, based on the essence from traditional, classical and regional Indian cuisines. Dishes are crafted with modern touch and brilliant presentations, delivering a unique amalgamate of collective tastes from India. Taking inspiration from traditional cooking philosophy, with an immense love and passion for cultural tastes of India.
Set alongside the beach, nestled among a carefully manicured Maharaja style garden, Swarna is a reservation only dinner restaurant. With four open air cabanas inspired by Mughal emperor designs, perfectly spaced across the garden for privacy, the ambiance and atmosphere itself makes it one of the most exusive places to dine at Jumeirah Vittaveli. Swarna offers two main set menus, The Journey and Thali Menu.

The Journey Menu, a ten course experience inclusive of ten Signature dishes from Chef Kaushik's inspired Journey through India along with the personal experiences of Jumeirah Director of Culinary, Chef Francis. The dishes of the Journey menu are not region or state specific, rather the chefs pull out the best ingredients and cooking techniques from various parts of India and present the dish in an exceptional way.
Thali Menu is a four course dinner with the 18-dish Thali Platter as the main highlight. A 'Thali' is a complete meal which provides a balanced diet, based on all the important components needed for a healthy body.
The inspiration behind Thali is derived from a single Sanskrit sentence, "Atithi Devo Bhava" meaning guests are God. Traditionally the Thali meals contains many small portions of dishes served in little bowls, placed on a platter along with rice or Indian breads. It is not clear when the tradition of Thali meals began in India, but for over a thousand years, the concept has remained the same. Due to the diverse tastes of India, Thali meals found in almost every state and union territory is different.
The 'Swarna Thali' is a blend of degustation dishes selected from various parts of India, consisting of several vegetables, meats and seafood dishes accompanied by breads, rice and desserts. Swarna presents the Thali on small copper bowls called 'Katori' a very traditional India copper plate.
'Swarna Gold' is their extraordinary menu. An extravagant Indian experience planned perfectly to allow diners a small glimpse into the ample prosperous life of ancient Maharajas and Sultans of India centuries back.
Swarna Gold menu is inspired by the period when the great motherland of India became the land of desire for every great conqueror for many civilizations. Due to the abundance of India's wealth and resources, India was invaded by foreign empires from the west. The Gold menu takes the diners through this era known as the Golden Era.
Every dish served on Swarna Gold menu contains 24K pure gold, strongly believed to have incredible health benefits. The fine ingredients for this two thousand dollar worth particular menu are sourced from the world's top resources including such delicacies as Iranian caviar, known for its delicate taste; black summer truffles, picked for their distinctive aroma; as well as Khasi lamb from Jaipur in Rajasthan. The reservation has to be made at least two weeks in advance.
Every year since its opening, Swarna has been voted 'Best Indian cuisine in Asia' by World's Luxury Restaurant Awards.
UnderChic Whisky Salon
Tucked away underground, secluded from the rest of the Island is the UnderChic Whisky Salon, solely dedicated for whisky lovers. Out of the norm, this secret spot is deliberately hidden, with the access through the main bar, B4R.
UnderChic offers a comprehensive menu of whiskies with over 90 different labels, from Scotland but also from Japan, India, and more. The salon offers exclusive whisky tasting with there sort's specialised in-house sommelier as well as complimentary chocolates all day. In the evenings cheese tasting sessions are open for all in-house guests. During the tasting session, the sommelier will guide through the stories behind the whiskies and the masterly art behind these labels.
Jumeirah Vittaveli's team is currently working on the expansion of the whisky selection by featuring rare whiskies by a private collector which is only available at precise locations globally.
UnderChic is designed to portray a glimpse into the Victorian Era and it's salon culture where the topics of the day are discussed at informal gatherings back in the day. With it's damask peacock blue and metallic gold wallpaper designs, leather upholstered sofas and ottomans along with vintage chests and floor lamps, the decor itself takes you back in time and this could easily be one of the most uniquely designed concept rooms today in Maldives.
Cuvee – Wine Library
Indulge in an evening of sophisticated dining, enriching your palate and enjoying some of the finest selection of wine from across the globe. "Cuvée – The Wine Library" is an overwater wine cellar located within 'Fenesse', a flawlessly designed French fine dining restaurant, set upon the lagoon of Jumeirah Vittaveli.
With scenic glass panels, overlooking the signature panoramic views of Maldives, Cuvée is specifically designed for wine enthusiasts. Cuvée doubles as a space for private functions and degustation dinners, the library features a handpicked collection of wine consisting of over 350 labels of curated wine, tastefully displayed along the cellar, an absolute pick for wine lovers. Jumeirah Vittaveli's in house sommelier has selected these labels from vineyards around the world, including a number of unique bin-end wines. Guests can book exclusive wine tasting sessions with the sommelier during which they will learn not only about the specific wine's taste notes but also the regions they come from and historical anecdotes of wine making, thus fulfilling the Library concept of Cuvée and always leaving the wine cellar enriched not only in tase but also knowledge.
Cuvée offers exclusive menus created by Michelin Star Chef Anthony Demetre and Michelin Star Chef Ollie Dabbous. The Senior Chef de Cuisine Fabrizio has contributed his own take on classic and contemporary French fine dining to create a menu without compare. Specialized wine tasting menus are on offer, featuring a six course fine dining meal. The seafood and meat delicacies are expertly paired with the perfect wine by the resident sommelier.
Dining at Cuvée is a definite must for wine and food lovers visiting Jumeirah Vittaveli. The private dining set-up, elegant lighting and atmosphere, luscious flavours of food is not only ideal for romantic dinners, but for groups interested in having a private chic dinner, indulging in an amazing wine selection all whilst enjoying great conversations.