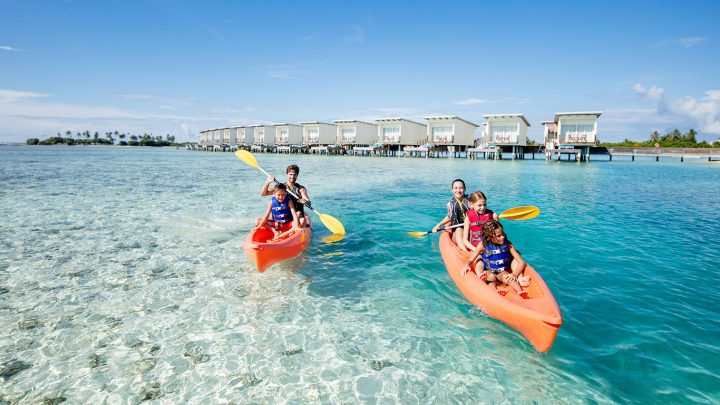 Kandooma Maldives Gets in Festive Spirit
Holiday Inn Resort Kandooma Maldives prepares for an exotic festive season. Gearing up for the Christmas, special accommodation packages will be available with the choice of Half Board, Full Board, and All-inclusive options.
During the festive holidays, a variety of fun-filled activities have been prepared for the young and older guests at Kandooma Fushi. The Kandoo Kids' Club has an array of fun and educational activities prepared for the little ones. The club features its own water playground, indoor craft zones, and more. For Christmas Eve, a gala dinner will be held on 24th December 2022 at Kandooma Café. Choices of seafood, local Maldivian favourites and salads inspired by the flavours of Asia will be available at the dinner. Followed by a sumptuous seafood buffet with international cuisines on Christmas day. On New Year's Eve, a 'Glow it Up' Gala dinner will be held at the poolside of Kandooma Café, with a sumptuous feast, welcoming the new year 2023. After the dinner, a 'Glow it Up DJ Party' will continue into the night. Both the gala dinners have a sapphire blue and white theme. On 7th January 2023, Russian Orthodox Christmas will be celebrated with a beach party complete with a DJ.
"All of our team live on the island, so Christmas and the New Year is welcomed with much enthusiasm.  Everyone really gets into the festive spirit and because of that, the energy on the island is extra special," said Mark Eletr, General Manager, Holiday Inn Resort Kandooma Maldives.
For the first time in Kandooma Maldives, the resort offers guests with the opportunity to give a gift to nature by sponsoring a coral frame. As part of Kandooma's initiative to rejuvenate the reefs, the marine biologists will continue monitoring the coral frames by tracking growth and observing new habitats as they form.
Featured Image: Holiday Inn Kandooma Maldives