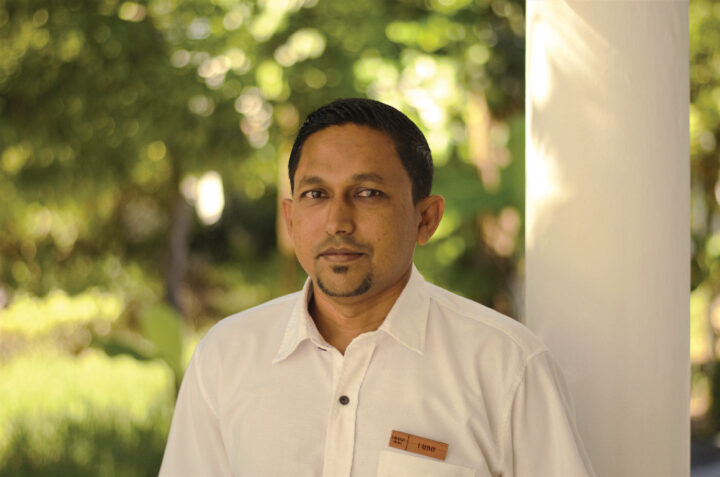 Careers: Abdulla Fahmy, Front Office Manager, Equator Village
Abdulla Fahmy is the third child born to a family of six from Nolhivaram Island of Haa Dhaalu Atoll. Born in 1973, Fahmy describes his childhood with his family as the best times of his life. After completing middle school in his native island as a top student, he moved to Malé for his higher secondary education. While attending school, he helped out in the house he was staying at with their laundry business and got an offer to join Nasandhura Palace Hotel as a part-time laundry assistant.At the time, Fahmy had no particular interest in the hospitality industry, joining instead for the sole purpose of paying his own way and a means to financially assist his father in building their home in his island. Working the laundry sparked an interest in hospitality, which led Fahmy to learn the ins and outs of housekeeping by helping the housekeeping staff during his free time.Fahmy then made a career move, joining Relax Inn as a room attendant. Due to his inquisitive and eager nature, especially his keenness to learn, Fahmy was found acquiring knowledge of the front office and helping out at the reception during his free time, which prompted his promotion as a receptionist. While at Relax Inn, he was offered a job at a new opening – Villingili View Inn, which came from Mr Jameel, his former colleague from Nasandhura Palace Hotel.
"Mr Jameel was a lecturer in hotel school at the time and he had been a great help in my career, teaching me the ways of the hospitality industry," says Fahmy. "He was the one who encouraged me to go into Front Office, and assisted me in joining a programme on Front Office operations."
Fahmy's stint at Villingili View Inn was more than impressive, with his contributions in the actual construction work of the hotel, preparing and serving breakfast to the guests, to housekeeping and front office duties, all the while exploring and developing an interest in all aspects of the hospitality industry.After a five year stint with Villingili View Inn, Fahmy joined Kam Hotel as a Receptionist with the ambition of a long career with them. "I made a promise to myself that I will continue my career in Kam Hotel as long as the company is willing to keep me," says Fahmy."I had learned so many things from my past experiences and I understood that for further development in my career I have to continue working in one place." There, in spite of a very demanding work schedule, Fahmy managed to persevere and was promoted to the position of Front Office Manager.
In 2015, Fahmy was transferred to Equator Village where he is continuing his work as the Front Office Manager. "Front Office is the area of the hotel where guests form their first and last impressions of the hotel," says Fahmy, describing his responsibilities.
"This makes it really important for me to work hard to create a pleasant experience for guests, to ensure their return by making sure that the hotel runs smoothly and the staff works effectively. Managing the Front Office staff and monitoring their daily work while ensuring the front desk provides a professional and friendly service for guests is my main responsibility."
Fahmy strives at all times to attend to his responsibilities, no matter how difficult they are or how long it might take. He describes himself as a very hands-on manager. "While I am clearly in charge of my team, we are nonetheless a team – and I am very much a member of that team," Fahmy explains.
"When the circumstances require it, I will assert my authority and lead my staff to deliver their best. However, I'm always open to new ideas and suggestions and consider myself to be very approachable in that respect.
"I realise the importance of motivating my staff to deliver their best and I'm mindful of that when dealing with potential problems. I believe a lot more can be achieved through communication than through conflict. I believe that my staff sees me as an open-minded respectful person and a good listener."Fahmy also strives to go beyond his responsibilities, making suggestions and bringing changes for the betterment of the hotel. "After I joined Equator Village in 2015, I have brought changes to the front office, especially helping and guiding our receptionists on how to communicate effectively with guests. I have provided guidance to our front office staff on how to handle guest complaints and it is a pleasure to see significant improvements in these areas."The biggest challenge for Equator Village, according to Fahmy, is the transfer of guests to Addu City, as most of their guests arrive via Malé on domestic flights, sometimes having to wait up to four hours to catch their transfer from Velana International Airport.  However, since SriLankan Airlines recently commenced direct flights between Colombo and Gan, and Fahmy says that they now see a little bit of an improvement in that area, but with most of the European guests traveling via Dubai, Doha & Istanbul and with those sector flight only operating to Velana International Airport, the problem still persists.
The second biggest challenge Fahmy notes is staff recruitment, "Most of the staff we recruit for the front office use the place as a training institute, where after a few months of experience they move to other places. At the moment we are unable to overcome this challenge but we have to consider it and find a solution for it."
"I strongly believe Equator Village has the potential for improvement. The opening of Gan International Airport has granted more opportunities for tourism to grow in the south. Staff retention remains a concern for the whole of Addu, mainly due to lack of facilities within the atoll," Fahmy explains.
"It's a catch 22 situation because it becomes attractive to work in places like this when arrivals are high and should we have better facilities. Finding qualified and motivated staff is one of the biggest challenges we face and unless we have that, it proves difficult to provide quality service."
With the Equator Village being situated on the southern tip of the country, the biggest personal challenge for Fahmy is having to work away from his family. He makes it a point to visit his wife and children every six months. He says he copes by being in contact with them regularly through phone calls and mostly just by keeping busy.
As for the future, Fahmy aspires to one day start a business of his own and be an independent person. Which he hopes will allow him to achieve his dreams while being with his family. Having spent much of his career with the Kaimoo team, Fahmy has learned and gained much knowledge from Kaimoo team, pioneers of tourism in the Maldives. Today, Fahmy plays a critical role in Equator Village, a 78-room boutique hotel with a rich history in the Southern Maldives.