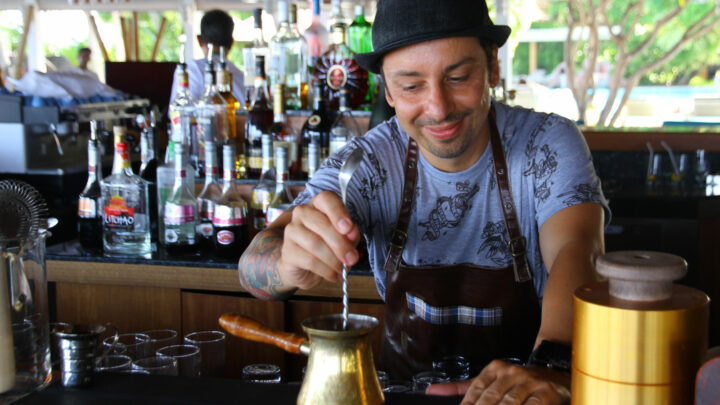 Careers: Roberto Cuda, Mixologist
At an early age, Roberto Cuda knew the humdrum of an office job was not for him. Long hours behind a desk made him want to try something new, adventurous and more rewarding. At the age of 22, he discovered the ideal profession: Mixology.
Far from a sedentary occupation, mixology also offered Roberto the opportunity to combine his love of travelling and his passion for the art of mixing.
"One day I met a bartender who said maybe this is the best job for me. I don't like sitting in an office all day, I can travel. That's why I changed my job and my life," he recalls.
The intrepid Italian gave up his desk job for good and has not looked back. He has since travelled widely across Europe, the Middle East and Asia.
Roberto's new job has taken him from Flair Bartending for Coca Cola and Red Bull to working at hotspots like the Archangel cocktail bar in London, Anantara Bangkok, the Fair Play Golf Hotel in Spain, and Frankie's Bar and Restaurant in Dubai.
In his native Italy, Roberto has worked as a Mixologist at Soho 23, as Bar Manager at the Arabax Club, as Head Mixologist at the Valle Dell'Erica, and as a trainer at the Sweet and Sour Bartending School in Torino.
Fifteen years and a string of mixing experiences later, Roberto finds himself in the Maldives for the first time. He was invited to take part in the Cocktail Week at Kurumba Maldives resort.
Behind the bar, looking relaxed and at home in this tropical setting, Roberto expertly throws together his signature cocktails: the kir royal twist, celery and black pepper margarita, mushroom bourbon sour, beetini, and smoked zacapa.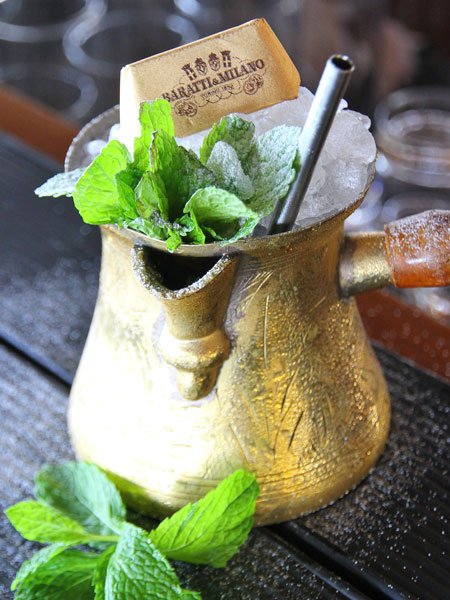 Asked what his favourite cocktail is, Roberto says: "Personally I like Mint Julep and Mojitos because they are refreshing. Here (in Maldives) I like to drink Daiquiris or Moscow Mule. When I'm in London or Italy, I like something strong, something like an old fashioned. So it depends but I like sour drinks," he says.
Roberto likes to put a twist on the classics and concoct a mélange of heady aromas. He mixes up an exquisite blend of Bourbon sour infused with mushrooms, and Vodka with Parmesan cheese and tomatoes – ingredients that normally should not work together. Fresh lemongrass, citrus flowers, mint and basil are some of Roberto's star ingredients.
The type of ingredients depends on the weather and the locale. "When I was in Thailand I discovered new ingredients: yuzu and kumquat," he says.
But back home in Italy, he likes to work with fresh herbs and fragrant flowers. Being able to infuse things like bacon, mushrooms and herbs into cocktails has made pairing them with food popular, Roberto says.
Apart from his day job as a mixologist, Roberto also offers beverage consultations, creates cocktail menus and trains the next generation of talents.
He has also contended in several competitions when he was younger, such as the Finlandia Vodka Competition in Dubai and the Bacardi – Martini Grand Prix. Roberto was a finalist at the World class UAE competition and a judge at the World Class Thailand.
"I think competition is important but it doesn't matter whether you win or lose. The important thing is that you get to show your skills," he says.
After his brief interlude in the Maldives, Roberto will go back to working at the Cristallo Hotel Spa & Golf in Cortina d'Ampezzo. He plans to be working for eight months and travelling for four months a year.
As for the future, he doesn't like to plan too much, Roberto says with a laugh.
"I really enjoy my job. The place where I'm working now is very nice. It's one of the oldest hotels in Italy but the mentality is new. They want to keep introducing new things. It's important for me to have a motivation when I work behind the bar, and to receive support, to have a nice team. It's not just about the money.  If I receive all of these things I'm happy."