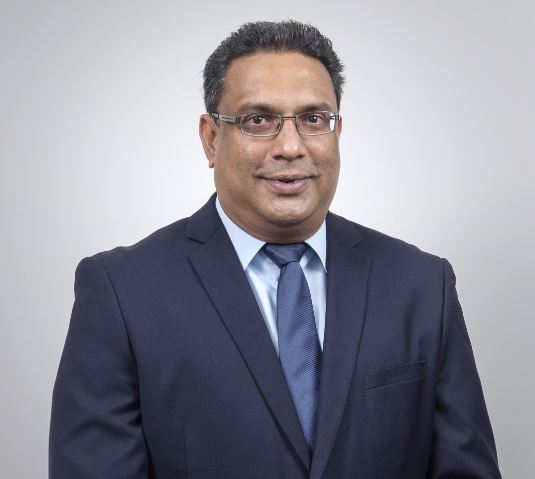 CBM – Bringing you the latest in innovative banking
Dilan Rajapakse has an impressive background of over twenty-seven years of experience in Banking. He moved to the Commercial Bank of Maldives from his previous position as the Chief Operating Officer at the Bangladesh Operations of Commercial Bank of Ceylon PLC where he successfully managed the operations.
"From this vantage, I see Maldives as a good market – notwithstanding its smaller size. It will undoubtedly be interesting to apply all the knowledge and experience that I have learnt and gained from my previous roles to what we plan to accomplish here in the Maldives. The goal is always to provide excellent service and maximum convenience possible to the community" said Rajapakse.
When it comes to banking, the options Maldivians have enjoyed have been severely limited for decades to say the least. However, in the last couple of years, we've been seeing the advent of new institutes that promise to change the game. The latest such player entering the financial market is the Commercial Bank of Maldives, and by all indications, they are gearing to shake things up – and for the better.
Commercial Bank of Maldives (CBM) commenced operations on September 26, 2016 as a joint venture between Tree Top Investments Pvt. Ltd. and Commercial Bank of Ceylon Plc. – the 8th private bank in the country.
Since its establishment in 1969 the Commercial Bank of Ceylon Plc has grown to be the largest private bank in the country, having set a benchmark in Sri Lanka. A true household name and identity forging unsurpassable trends, the Bank boasts an asset base of over USD 6 billion and even won the banking fraternity's highly coveted Bank of the Year Award presented by The Banker of the UK in 2016 for the 10th occasion
The Maldivian partner to the Commercial Bank of Maldives, Tree Top Investments Pvt. Ltd (TTIL) was founded in 2013 with the aim of undertaking projects that contribute greatly towards the development of the economy of Maldives. TTIL is a collaboration between local investors aspiring to combine their local expertise to uncover and secure investments throughout diverse sectors demonstrating high growth potential.
The Commercial Bank of Maldives envisions itself as becoming your trusted financial solutions' partner for growth. Setting itself apart by the excellence of its service quality, the bank hopes to bring the foremost in financial management and banking technologies to Maldivians whilst maintaining unmatched levels of customer care and responsiveness.
In terms of Personal Banking, CBM offers a range of general products such as saving and current accounts, fixed deposits in different tenures as well as more innovative products such as Mobile and Online Banking facilities with payment options for Inter-bank payments, International payments and transfers. The mobile app also has the feature of an "E-Passbook" which allows customers Instant Banking anywhere with access to bank balance and recent transactions.
"With consideration to the geographical dispersion of the islands in the Maldives, I believe that the real competitive advantage will be our Internet Banking products and the efficiency as well as security that these facilities provide to our clients, who may be needing to make transactions from very remote locations at any moment", Rajapakse said.
The Bank also serves as a new option for expatriates (with work permits), who may be seeking personal banking services in the Maldives. CBM offers products and services such as cross border remittances, where expats can open a savings or current account with CBM and have their salaries deposited to the account after which they may transfer funds to their home countries remotely and nearly effortlessly.CBM serves Retail, SME and Corporate Clients and provides banking products and services which include savings and current accounts such as Power Savings and Youth Saver accounts, Fixed deposits, Short and Medium term Loans, Overdraft and Trade Finance facilities and various types of Bank Guarantees.
"We have some more new products lined up to be introduced in the first and second quarter of the year", revealed Rajapakse to Hotelier Maldives. "We are in the process of finalizing the tie-ups with VISA and MasterCard to introduce the international card facilities to the public. The goal is to introduce technological advancements that allow for all kinds of digital banking".
Since opening its doors to customers, Commercial Bank of Maldives has been endeavoring on improving services by ensuring efficiency and convenience to its customers. This includes the introduction of card facilities, VISA and MasterCard and optimizing the Digital Channels within this year.
The Commercial Bank of Maldives has also expressed its interest to work in collaboration with the various existing and emerging parties from the Hospitality sector in the Maldives. The bank will be providing full packages that are specifically tailored to cater to both their business as well as their employee needs. It will be a well rounded service that attends to everything from salary remittance to purchasing, overdrafts, medium term fixed loans to long term development loans.Nearly all banking facilities offer an overall similar set of products and services. CBM aims to set itself apart by offering a service that is trustworthy, reliable and operates at high level of efficiency. In their words, "we want to be a partner in the successes of our clients' business ventures and we will differentiate ourselves by the excellence of our service".
Moreover, Commercial Bank of Maldives aims to be technologically advanced and innovative to alleviate the gap in banking services caused by the challenging logistics and geographical nature of the Maldives. In light of this ambition, CBM has been working on providing a variety of products to appeal to the different personal and business needs of the public and look forward to debuting them in the near future.