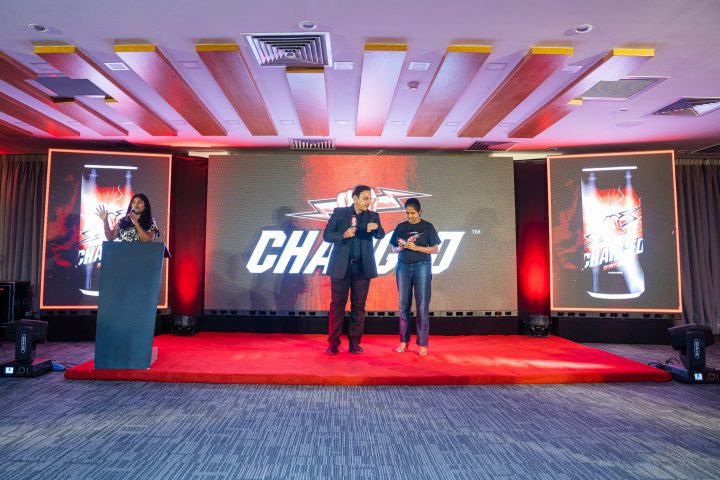 Charged caffeinated beverage launched in Maldives with exciting promotion
Coca-Cola Maldives has announced the successful launch of Charged caffeinated beverage, a ground-breaking addition to its beverage portfolio, during a momentous event held on June 22 in the Maldives with an enticing consumer promotion.
The launch event, held in the Meeruma event hall, was a resounding success, with a remarkable turnout of esteemed guests, key industry professionals, influencers, and members of the media. An evening filled with excitement; attendees were introduced to the unparalleled taste of Charged. Attendees had the opportunity to sample the bold berry flavour, experience the burst of the fully loaded feel-good drink they have been waiting for, and engage with the brand's commitment to promoting an active lifestyle.
"We are constantly striving to deliver innovative beverages that cater to the evolving tastes and lifestyles of our consumers. We envision Charged, in its bold berry flavour, to become the go-to beverage for individuals seeking a revitalising boost to enhance their daily activities and get them in the active island spirit all-year round," said Pankaj Sinha, Managing Director for Coca-Cola in Maldives.
Charged has also initiated an enticing promotion for its consumers in a partnership with Benelli Maldives and Lotus Bike Shop, offering them the chance to win six cutting-edge motorcycles, including the Benelli 180S and Benelli Leoncino 250. Benelli Bike winners will be announced every fortnight – July 2 and 22; August 5 and 19; and September 2 and 16 – at 9:30 pm on Television Maldives (TVM). By buying a Charged drink, asking for a scratch card, and sending the hidden code on the scratch card to 2626 via SMS, the 'Get Charged and Win' promotion also allows consumers to win prizes, including Charged branded helmets and Charged drink cases.
To sustain interest and keep the momentum going, Charged will release a series of follow-up marketing campaigns, including special promotions, contests, and giveaways, targeted at its Maldivian audience. With the thrilling tagline 'Get Charged and Recharged,' Charged is set to captivate consumers and invigorate the Maldives market.
"We are incredibly excited about the journey ahead and the positive impact Charged will have in invigorating the daily lives of people across the country. We would also like to express our sincere gratitude to Benelli and Lotus Bike Shop for the invaluable partnership in making this exciting promotion a reality. The coming together of two amazing brands – Charged and Benelli – supercharges the launch of Charged in Maldives," added Milind Derasari, Chief Operating Officer at Male' Aerated Water Company (MAWC).
Charged is available in 250 ml, in 100% recyclable aluminium cans, in line with our packaging strategy to use 100% recyclable packaging material. The beverage is now widely available at major retail outlets, hotels, restaurants, and cafes throughout the Maldives.