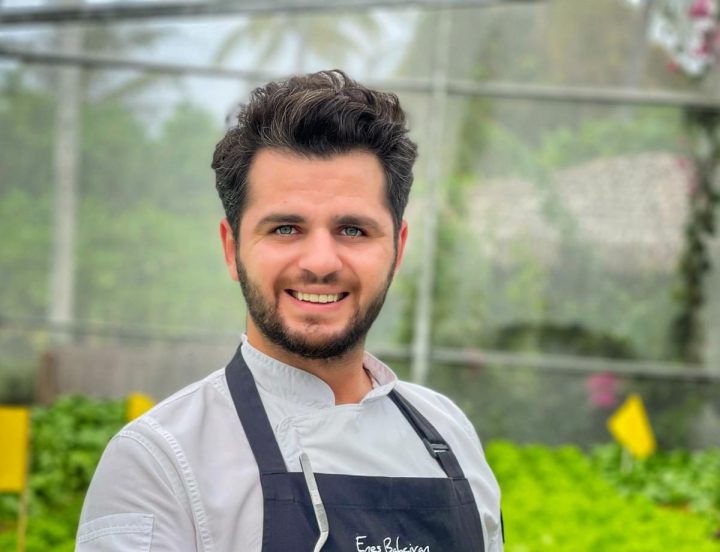 Chef of the Month: Enes Malik Bahcivan
Enes Malik Bahcivan is the Sous Chef of The Velaa Bar & Grill restaurant at Le Meridien Maldives Resort & Spa, Lhaviyani Atoll 
Growing up amongst the fertile cherry and apple orchards in Yahyali, southern Turkey, gave Enes a love of the outdoors and appreciation for the taste of fresh products. From a large family, Enes's affinity for nature made him choose a knife and set of whites over a suit and an office chair that was the expected family norm, which set him on a different career path. Hotelier Maldives spoke to Enes about his culinary journey and his aspirations for the future.
HM: What drew you to the culinary field and becoming a Chef
Enes Malik Bahcivan: I was always an active kid who will not stay still in the classroom, so I needed something that would keep me active. My friend from the year above me joined the culinary school and would tell me all about it when he was home for the holidays, which gave me the idea, so when I left high school, I joined the Izzet Baysal Anadolu Otelcilik ve Turizm Meslek Culinary School. It gave me new and different things to learn every day that fed my curiosity and kept me active. As I learnt I joined different competitions which allowed me to show my passion for food and I knew I had chosen a career I loved.
HM: Where did you learn your skills?
EMB: From the culinary school, watching culinary programs on TV and from joining culinary festivals and competitions. We learnt culinary skills and technical knowledge in our second year, and from experience in hotels and restaurants. In Turkey there were a lot of competitions, and I competed every year which taught me organisation, speed and patience. Getting a great dish on a plate in 30 mins was a challenge, but the feedback helped me develop my skills and was a great way to grow. I also learnt a lot from my first jobs in real life kitchens. I did two placements, one was at Hilton Garden which taught me about systems and techniques.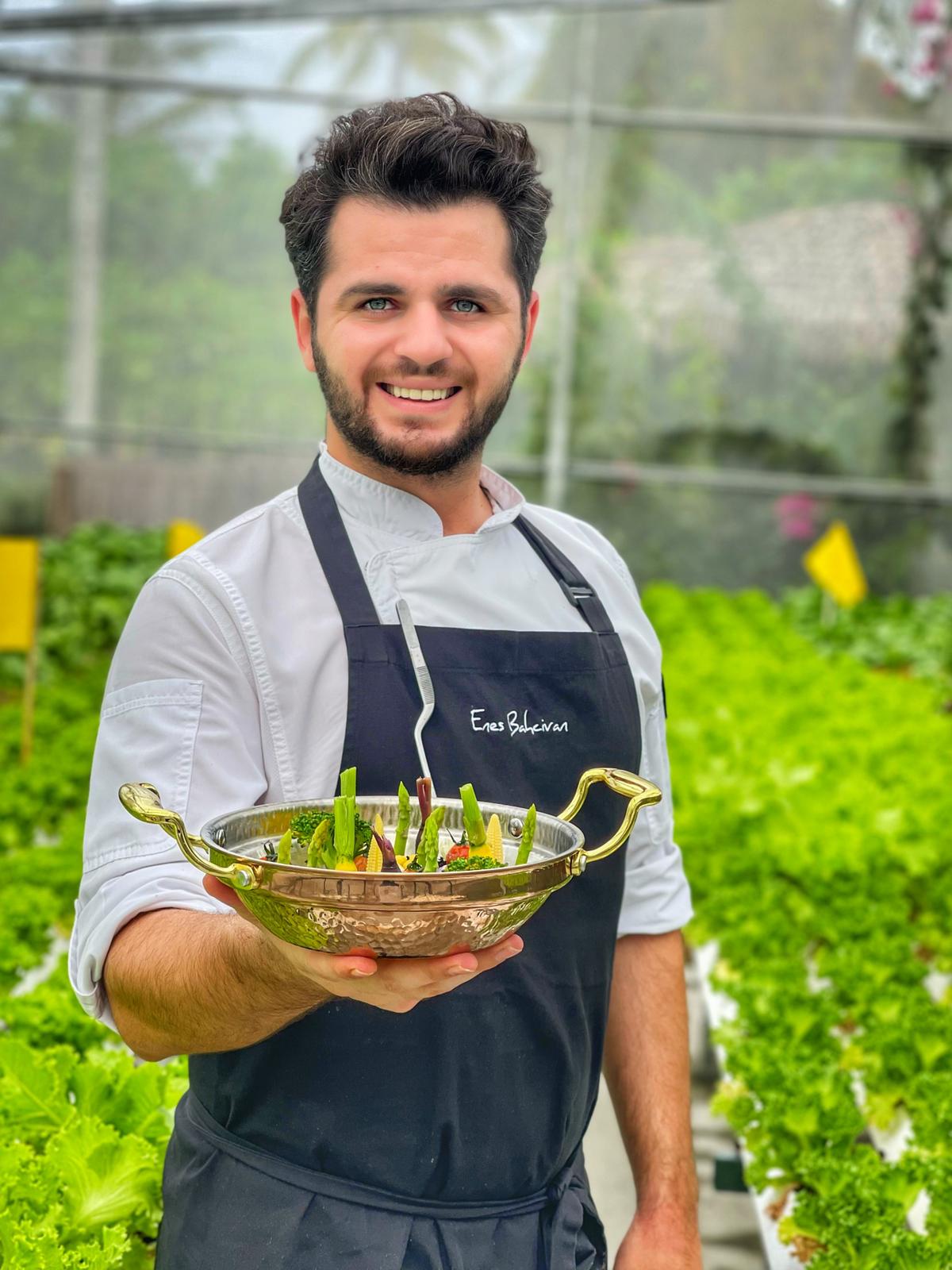 Featured Image: Enes Malik Bahcivan, Sous Chef, The Velaa Bar & Grill, Le Meridien Maldives Resort & Spa
HM: Who has had the greatest influence on your career to date?
EMB: My Mentor Chef Asaf Tasdan. He offered me my first role outside of Turkey in Abu Dhabi. I knew very little English, so it was difficult to communicate. Chef Asaf taught me different systems and helped me with my English. He also showed me good examples of how to manage people. He had a big impact on me, and we still keep in touch.
HM: Of all the many facets of your role, which do you enjoy the most / find the most rewarding
EMB: Having happy guest who enjoy my food is the most rewarding and joyful experience. In the kitchen I enjoy the hot sections most as you have to manage different ingredients, be organised and fast. You must have a good system, which is the same as for life!
HM: Did the pandemic affect your career path?
EMB: Yes, I was on my 2nd month of my inter-ship in Fairmont Washington DC when the government closed everything. As a new hire I was one of the first to go, I waited a few months hoping things would reopen, but then had to take the flight back to my home country. I got a new job for six months, but then everything was closed down again, so the pandemic lost me 2 jobs.
HM: What enticed you to the Maldives and your current property?
EMB: Maldives is famous as one of the best holiday destinations in the world so when I saw an opening for a Turkish chef in a pre-opening property I applied and was accepted. I was there a year before moving to Le Meridien. I wanted to join Marriot as they are one of the best hotel chains in the world so there are lots of opportunities for me to grow personally and professionally.
HM: What do you consider are the key attributes / skills required to become a good chef?
EMB: Curiosity, passion, and Innovation. Its important to look at all the trends and keep up to date
HM: What do you consider are the greatest challenges to working in a kitchen, especially in a foreign country?
EMB: Kitchens are multi-cultural environments so language barrier can be a challenge. In Maldives most of the products are imported so supply and shipping are also challenging so you need to follow up to get the right ingredients and give guests the best experience. However, I believe there is no problem without a solution.
HM: What do you consider are upcoming food trends in the Maldives and why?
EMB: Three main trends:
Plant based. Demand for urban farm products bringing fresh foods from the garden to the table, which is why more and more resorts here are growing their own veggies and spices, to provide fresh ingredients.
Climates-conscious Foods as people are now more aware of sustainability that carries on from the pandemic, especially with people who travel to Maldives.
Island Flavours – a splash of tropical sunshine will add some much-needed "joy of eating" habits that you can give with a fusion of traditional food and island ingredients.
HM: Tell us a unique / interesting fact about you
EMB: I am a professional racing bike rider and have 3 big bikes at home. They are very exhilarating on open roads but also very fast to get around on. I used to travel to work daily on my bike.
HM: How do you spend your free time?
EMB: In Turkey it would be reading a recipe book or riding my bike, here in Maldives I play games to free my mind, snorkel, go on fishing trips, spend time in the social hub, there are lots of things to do here and if I feel homesick, I watch Turkish drama.
HM: Where do you see yourself in 5 years' time?
EMB: Executive Chef, ideally in a city hotel with no supply issues and where it's easy-to-get really fresh products, however it really depends on where the opportunities are.
HM: What 1 piece of advice would you give aspiring chefs?
EMB: Be curious with what is next, never stop learning as life will never stop teaching you and find ways to overcome your challenges. Wherever you go learn different styles and technics from the different cultures as everyone cooks and flavours things differently, especially rice and potatoes. There are at least 100 ways to cook potatoes.
HM: What is your favourite ingredient to work with?
EMB: Vegetables as I love plant-based dishes that don't affect animals. Plants keep producing and are very versatile so you can use them in any meal or dish. Vegetables are quick and easy, plus you get flavour, freshness and a crunch. Here at Le Meridien we have a big green house and grow a lot of vegetables and herbs via a hydroponic system, however as there is no soil the taste is very different to naturally grown items and they spoil much faster. Organic garden products last longer.
HM: Do you have a favourite / signature recipe to share?
EMB: Certainly, its inspired by my childhood from having picnics in our garden. The dish has plant base ingredients that are freshly harvested from our greenhouse here on the island that is light, yet a delicious "Garden in the Pan"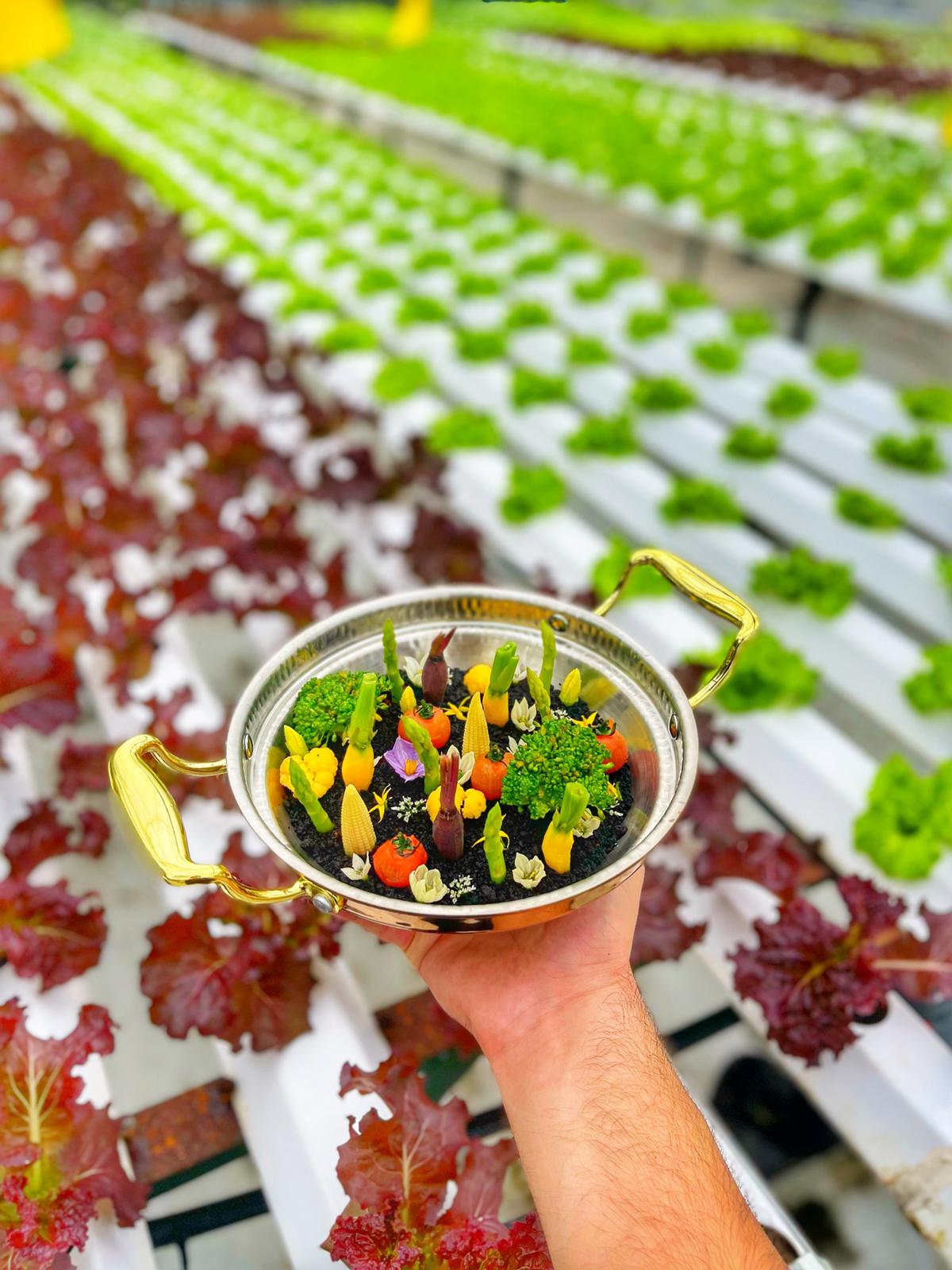 Featured Image: "Garden in the Pan" by Enes Malik Bahcivan
Ingredients
1 roasted red pepper,
1 cup of shredded bread,
1 cup of walnuts,
1 clove of garlic,
1 tablespoon of tomato paste,
4 tablespoons of olive oil,
1 tablespoon of lemon juice,
1 teaspoon of cumin,
20 ml Pomegranate Molasses
2 tablespoon Sundried Olives Powder
5 pcs Asparagus
4 pcs Cherry Tomato
2 pcs small Broccoli
1 pcs small Yellow Cauliflower
5 pcs Baby Carrot Vegetable Flowers(Eggplant, Coriander, Pepper, Capsicum) Eatable Flowers Salt
Preparation
Take the walnuts into a food processor and pulse finely
Add bread and pulse finely
Add roasted pepper, garlic, tomato paste, olive oil, lemon juice, cumin, and salt and pulse until you reach a paste consistency
Take the mixed ingredients to the plate and make it flat
Add sundried olives on top and distribute evenly everywhere
Blanch the Asparagus, broccoli, cauliflower, carrot
Glaze it with garlic oil
Place beautifully on the olive vertically
Add some herbs and flowers around plate and Serve.