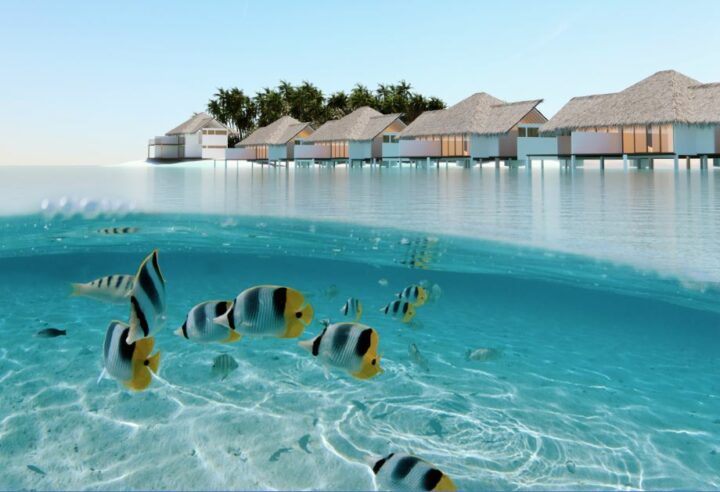 Mohamed Hamy, Managing Director and Lead 3D Artist at Vizarc Pvt Ltd
Mohamed Hamy is a musician-turned-3D artist. After years of perfecting the art of music, his talented fingers, which once fluently worked the piano keys are now working their magic in the world of visualisation. It was an insatiable passion for digital art that drove him towards the foundation of Vizarc Studio; a visualisation company that is now at the top of its game.
After working as a musician commercially for 19 long years, with gigs with Zero Degree and Fasylive and stints at Cheval Blanc Randheli and Velaa Private Island, it was in 1996 when Hamy decided to pursue his passion for 3D art. He then ventured into the realm of 3D architectural design in 2004 and saw the inception of Vizarc Studio nearly 8 years later, in 2012."It was my fascination with 3D art that was behind the formation of Vizarc Studio. I wanted to create a brand that was well-recognized as there was a gaping need in the market for immediate production level renders from small to large scale CG (Computer Graphics) projects," says Hamy.The company started small with a low budget, with Hamy and his partner working as the only staff. Today it is one of the top 3D visualisation studios in the country and provides architectural, interior design, animation, visual effects and visualisation solutions to a number of leading clients in the country, and abroad.Vizarc Studio now employs seasoned design and architectural professionals with years of experience behind them; 3D artists, interior designers, and draftspersons, two of whom are based in India. Hamy, who only had high praise for his team says: "Our team is very young, talented and enthusiastic. Some of them are graduates, while the rest are self-taught and highly experienced."
"Some of our staff have the technical experience of working architectural projects in the hotel industry, while our staff based in India previously worked with international brands including the DreamWorks branch in India," he adds.What started with just a single computer now employs state-of-the-art tools and latest design and visualisation applications. "Our work requires the use of very powerful computers, as rendering takes a lot of processing and graphics power," he explains.
"We faced a number of challenges, mostly financial, in the early stages. But since then, we have overcome system limitations and purchased new and more powerful computer systems, in order to fulfil our promise of quality and timely delivery of products."
Over the years, Vizarc Studio has taken on a number of high-profile projects, including the interior design and 3D rendering work of Sea Life Global housing flats in Hulhumalé. But what is more fascinating, is their design work of a tourist resort – a five-star property – which is expected to open in the near future. It is looking forward to providing conceptual renders not only in the Maldives but for clients based in Malaysia and Singapore too.
"The Sea Life Global project was complicated due to many changes in the initial stages. And the resort project is also very demanding, as there are a number of aspects we have to focus on," Hamy explains.It is this unwavering dedication to delivering perfection what landed the company in bed with an international hotel developer and it is proud to have signed with a Singapore-based developer to design a resort and a hotel."A lot of focus needs to be put into showcasing the brand of the resort. Each resort has its own unique identity and theme. Finding the perfect combination of colours, designs, furniture and other materials is the most challenging task. But our only goal is to ensure that the client's wishes are met, even if it means travelling abroad to find the perfect sample materials and furniture the project requires."
"There's a good amount of work that goes into technically accurate architectural renders. And if you're not doing it at this level, then you're not really seeing the market, or rather you're not being true to customers," he says.
"We believe that good design is not only inspired but tends to inspire others. Every detail we work into our renders, every layout and style come from this belief, that a design is always unique as is the client."Hamy's vision for Vizarc Pvt Ltd. is aspiring. One of his biggest dreams is to build a fully integrated CG motion house and make an own production; a dream which would soon become reality in the form of short animated movies. He wants to lead the company to the top of the game and is building the path one brick at a time. He believes recruiting and training new talent is the way forward.
Vizarc Studio would also take 3D architectural visualisation to the next level soon. Their clients would soon be able to literally take a stroll down their design works, with the help of latest interactive VR technology. Helping other design studios and working closely with other architectural firms is also a core value of Vizarc, which Hamy believes is the key to further the design sector.