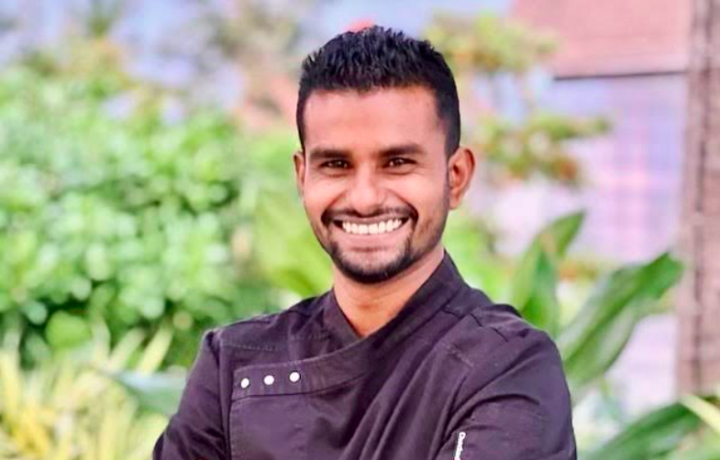 Chef of the Month: Mohamed Mushaf
Mohamed Mushaf is the Junior Sous Chef at Crossroads Maldives
Growing up in Addu City, Feydhoo, Mushaf finished his O' levels with no clear idea of what he wanted to do, just a knowledge that A' levels would be a waste of his time, which resulted him drifting around until his mother pushed him into a course of action that opened his eyes to the hospitality industry and gave him an interest in the culinary arts. This has grown into a deep passion which has survived both the Tsunami and the Pandemic, taking him to his current position in the first dedicated banqueting area in the Maldives. Hotelier Maldives talked to Mushaf to find out more about his journey and his plans for the future.
HM: What drew you to the culinary field and becoming a Chef?
MM: I never thought of becoming a chef. I knew A' levels were not for me but I wanted to do a course that would help me get a job but I did not know what. My mother found out from a friend that Four Seasons was coming to do interviews for their apprenticeship program, so she pushed me to attend. A friend had done an apprenticeship and recommended that I apply for F&B as most apply for front of house or housekeeping roles. This was nearly 20 years ago when very few Maldivians were chefs, so I followed her advice and was selected. I joined Kudaa Hura in 2004. I quickly realised it was a fantastic decision, as I loved the environment and fast pace of the kitchen. I became curious to learn, something that had never happened during my school time!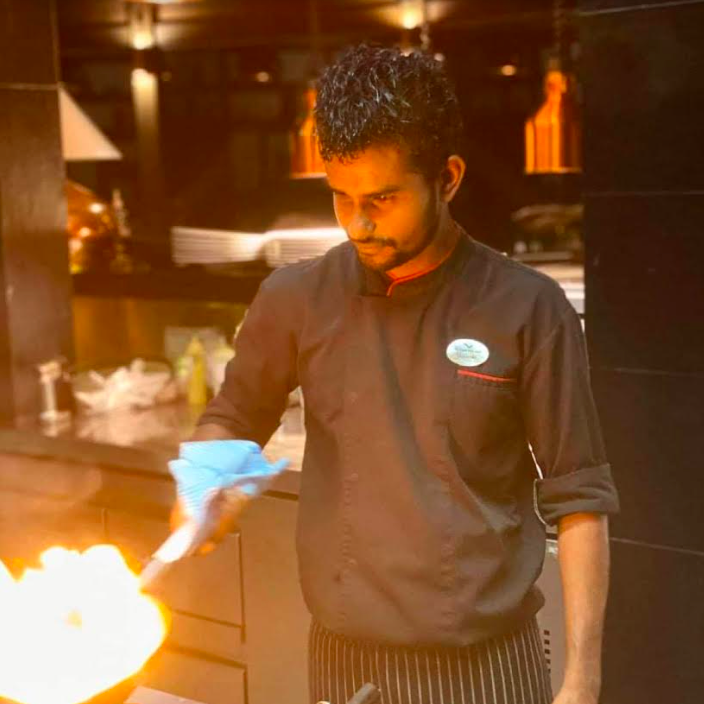 Featured Image: Chef Mohamed Mushaf
HM: Where did you learn your skills?
MM: I had zero knowledge of cooking when I started, but quickly learnt the basics as an apprentice. The theory classes on recipes and costings were really interesting. We were studying when the Tsunami struck in 2004. Once the waves receded, we got the full attention of the senior chefs and the chance to run our own restaurant to feed the staff whilst clean-up was happening. Once the resort re-opened, I joined as a commis. Later I joined Four Seasons Landaa Giraavaru as part of the pre-opening team, which gave me more skills, but I was always in the hot kitchen. I'd been told moving was the best way to learn, so I joined Agsana and learnt about breakfast service. Then I moved to Shangri-La where I got to experience all different areas, including Arabic and fine dining. Now I'm learning the concept of banqueting.
HM: Who has had the greatest influence on your career to date?
MM: I've been supported by all the senior chefs I have worked with. However, if I have to mention one specific person, it would be Chef Emil Minev, who was the Executive Chef at Shangri-La Maldives, when I was there. It was through him I learnt so much about fine dining and different food concepts.
HM: Of all the many facets of your role, which do you enjoy the most / find the most rewarding?
MM: The buzz of seeing someone's face when they take the first bite of something I create gives me the most incredible high, which is an unbeatable feeling! I enjoy creating new ideas, new dishes and coming up with new ways of presenting the food. As a chef it's always exciting to meet new people and make special meals for them, something I find very rewarding.
HM: Did the pandemic affect your career path?
MM: Yes, the resort I was at had to close, but the bright side of it was, I got to spend time with my family until they reopened in November 2020. I was one of the first to get called back. We had a small team, so we all had to be multi-talented.
HM: What enticed you to your current property?
MM: A friend let me know that Crossroads Maldives was looking for a Banquet Chef. I had never worked in banqueting, so it was a great opportunity to learn more. Plus, it was close to Malé where my wife was, so I accepted the challenge. It was difficult at the beginning, but with the help and support of the managers and team, I learnt quickly. Working in a banqueting environment is very different due to the size and scale of dealing with so many clients at once.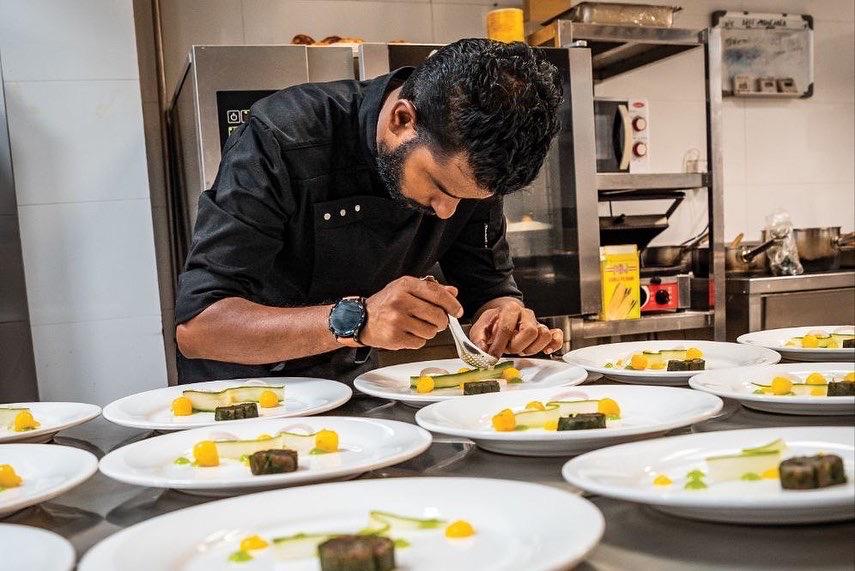 Featured Image: Chef Mohamed Mushaf
HM: What do you consider are the key attributes / skills required to become a good chef?
MM: I believe it's your attitude, creativity, passion, and dedication. Perseverance and not being scared of failure is also necessary as it takes a lot of failed attempts to create a great dish. Skills like keeping the workplace organised and clean and multitasking are very important.
HM: What was the best piece of advice you have been given in your career to date?
MM: When I was learning initially, I was told that the best way to develop career wise was to seek new opportunities, not be afraid of change and accept challenges. It's something I've followed which has brought me to where I am now.
HM: What do you consider are the greatest challenges to working in a kitchen? 
MM: For me, the biggest challenge is getting a good team to work with as not everyone has the right attitude. Getting fresh ingredients can also be a challenge due to our location.
HM: What has been the highlight of your career to date?
MM: There have been a few recently, taking part in Hotel Asia last year was something I had wanted to do for a long time. Having watched MasterChef, I wanted to experience what a competition was like. I didn't win a gold, but I learned so many things and realized what I need to improve. Being part of the Seven Hands Dinner at Salt Café & Restaurant was an amazing experience, and I believe that being featured in this magazine could be a turning point.
HM: What do you consider are upcoming food trends in the Maldives and why?
MM: It depends upon the nationality. There are certainly more people who are health conscious and are looking for healthy foods. Plus, more people appreciate fine dining. However, in local islands that are not so touristy, the locals are still very set in their ways and reluctant to try new foods and ways of eating.
HM: Tell us a unique / interesting fact about you?
MM: I started painting during lockdown. I paint sunsets and sunrises using acrylic paint.
HM: How do you spend your free time?
MM; Whenever I have free time, I watch cooking programs and note anything that looks interesting or challenging. I believe that's how you improve your skills and knowledge. I also enjoy hanging out with friends or watching Netflix.
HM: Where do you see yourself in 5 years' time?
MM: I have always wanted to own a restaurant and spread love with my cooking. I see myself with a fine dining restaurant in Addu where I can introduce the fine dining concept to the local population.
HM: What one piece of advice would you give aspiring chefs? 
MM: I would say, always seek new opportunities to grow and learn new things. Be creative. Never give up on your dream, and don't fear failure. You will fail more than once, do it as many times as it takes, until it comes out exactly how you want. That's how you learn.
HM: What is your favourite ingredient to work with?
MM: I like using all types of seafood. However as a Maldivian, I would say tuna is my favorite ingredient as it is so versatile and easily accessible.
HM: Do you have a favourite / signature recipe to share? 
MM: Yes, it is a dish I created especially for a guest who wanted something special, so I combined items from other dishes on the menu and came up with this which she loved.
Grilled Tuna with Coconut & Lemongrass Sauce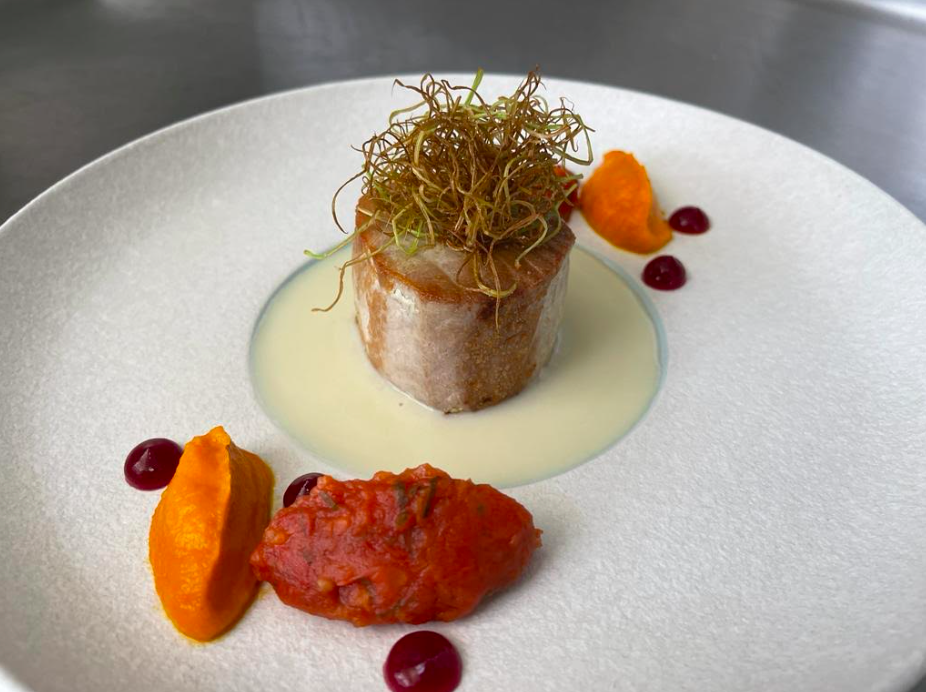 Featured Image: Chef Mushaf's Grilled Tuna with Coconut & Lemongrass Sauce
Ingredients
180 grm              Fresh Tuna
50 grm                Carrot
2 grm                   Fresh Thyme
500 ml                  Water
100 grm              Tomato
2 grm                   Basil
10 grm                 Lemongrass
100 ml                 Coconut milk
10 grm                 Onion
2 grm                   Garlic
5 grm                   Sugar
Salt
Method
Carrot Puree
Cut the carrots into cubes.
Sauté onion and garlic in a saucepan.
When the onions are soft, add the carrots and fresh thyme.
Add water, butter, sugar and boil. Cook it until the carrots are soft.
Strain and blend until it's a fine puree.
Coconut & Lemongrass Sauce 
Sauté onion and garlic.
Add lemongrass when the onions are soft. Next, add coconut milk and basil.
Reduce the coconut milk to half.
When reduced, strain and finish it with butter.
Tomato Marmalade 
Blanch, peel and remove the seeds of tomato.
Cook it with basil until all the water has evaporated. Season with salt and sugar.
To finish the plate
Season and grill the tuna.
Pour the sauce onto the plate.
Place the tuna in the middle. And then place a quenelle of carrot puree and tomato marmalade on the plate. Garnish with fried leeks.