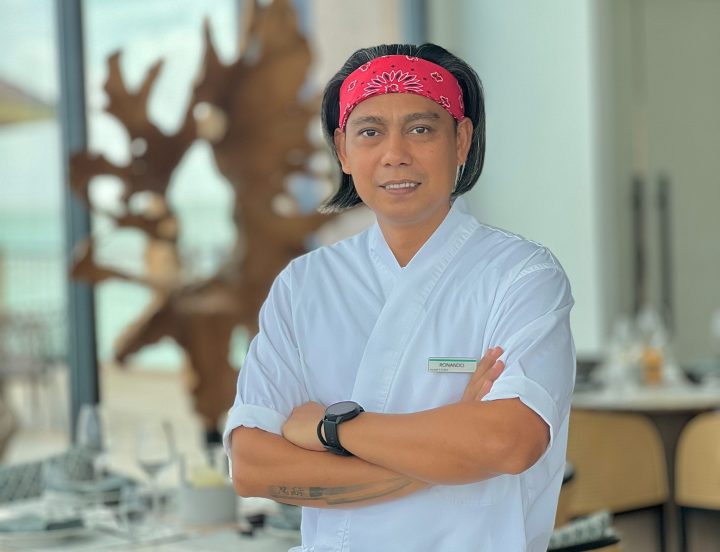 Chef of the Month: Ronando Anievas Ramos
Ronando Anievas Ramos is a Sous Chef of Japanese Cuisine at Le Méridien Maldives Maldives Resort & Spa
Growing up in a small town near Manila in the northern part of the Philippines, Ronando didn't have an interest in the culinary profession. When leaving school, his sole goal was to earn money to help support his family. Ironically, his first job was as a kitchen steward, which he only worked for three months. Ronando worked in a factory and drove for six years before he was encouraged to explore the culinary world which led him to the Maldives as a sushi chef. Hotelier Maldives spoke to Ronando about his journey and his career development over the past 11 years in Maldives.
Featured Image: Tabemasu Restaurant, Le Méridien Maldives Maldives Resort & Spa
HM: What drew you to the culinary field and where did you learn your skills?                 
RR: Initially, I hated cooking and had no interest in it. My girlfriend was working as a manager in a Japanese restaurant and encouraged me to try it. I wanted to impress her and show I was willing to give it a go. She helped me get a junior role in one of the restaurant's other branches. This was in 2005 at Kitaro Japanese Restaurant Philippines. I quickly saw why she had pushed me; it was a great atmosphere; food was part of the perks, and I enjoyed the work. Now cooking is my passion.
I learned all my skills while working. The restaurant trained me first in the hot kitchen and then the cold kitchen and finally sushi. After six months, they saw I was progressing, so I was sent to other branches to cover sick leave and holidays, which gave me more insights before getting a fixed kitchen.
HM: Who has had the greatest influence on your career to date?                    
RR: My girlfriend, who is now my wife. Without her pushing me, I would never have started. The other is Master Chef Hiroyuki Terada who I follow on YouTube. He has been a big influence throughout my career for new ideas and inspiration.
HM: What do you enjoy the most / find the most rewarding about being a chef?
RR: Three things; first being part of a strong and organised team that supports each other. Second, building a team that makes everyone love what they do, and third, receiving great feedback from guests.
Featured Image: Tabemasu Restaurant, Le Méridien Maldives Maldives Resort & Spa
HM: What enticed you to the Maldives and your current property?
RR: One of my wife's colleagues had moved to the Maldives and was looking for a sushi chef. He recommended me, and I arrived in 2012 to join Kuramathi Resort. I then moved to Kandolhu and then Kurumba for four years. I was looking for the next challenge when I saw Le Méridien advertising for a Japanese Chef. Marriott is a big international brand and offers a lot of opportunities, so I was very happy to be selected. I joined the property in 2021 just after it opened. I am now in charge of their Japanese restaurant, Tabemasu. Maldives is a beautiful place to work and means I can support my family financially. I've now been here eleven years and it's become my second home.
HM: What was the best piece of advice you have been given in your career to date?
RR: Always be humble. It was advice I was given at the start of my career by a head chef in the Philippines. He said to never get big-headed by a property or title, but always stay down to earth and keep learning. Learning is the way to grow your career.
HM: What do you consider are the greatest challenges to working in a kitchen?
RR: Time and heat. Often you want more hours in a day, especially when you are putting together special dishes in high season. There is pressure to exceed the guests' expectations and that takes extra effort to make everything perfect. Also, the heat in some of the hot kitchens. Especially when you are behind a Teppanyaki table.
Featured Image: Tabemasu Restaurant, Le Méridien Maldives Maldives Resort & Spa
HM: There are numerous areas to master within a kitchen, what drew you to specialise in Japanese cuisine?
RR: I started my career in a Japanese restaurant, so it was a logical progression. I have worked in other sections, but I asked to specialise in sushi as I love the attention to detail it requires in both preparation and presentation. I learned Teppanyaki when I went to Kandolhu and now I am incorporating the finesse of sushi into the way we are plating our teppanyaki dishes.
HM: What has been the highlight of your career to date?
RR: There isn't a single thing that stands out. I've worked with some great chefs in stunning locations. In 2018, I won a silver medal for a creative Asian dish at Hotel Asia.
HM: What do you consider are upcoming food trends that chefs should be aware of?
RR: Guests can have so many food preferences for diet and allergies. Chefs need to learn how to create a variety of healthy dishes to give guests choice.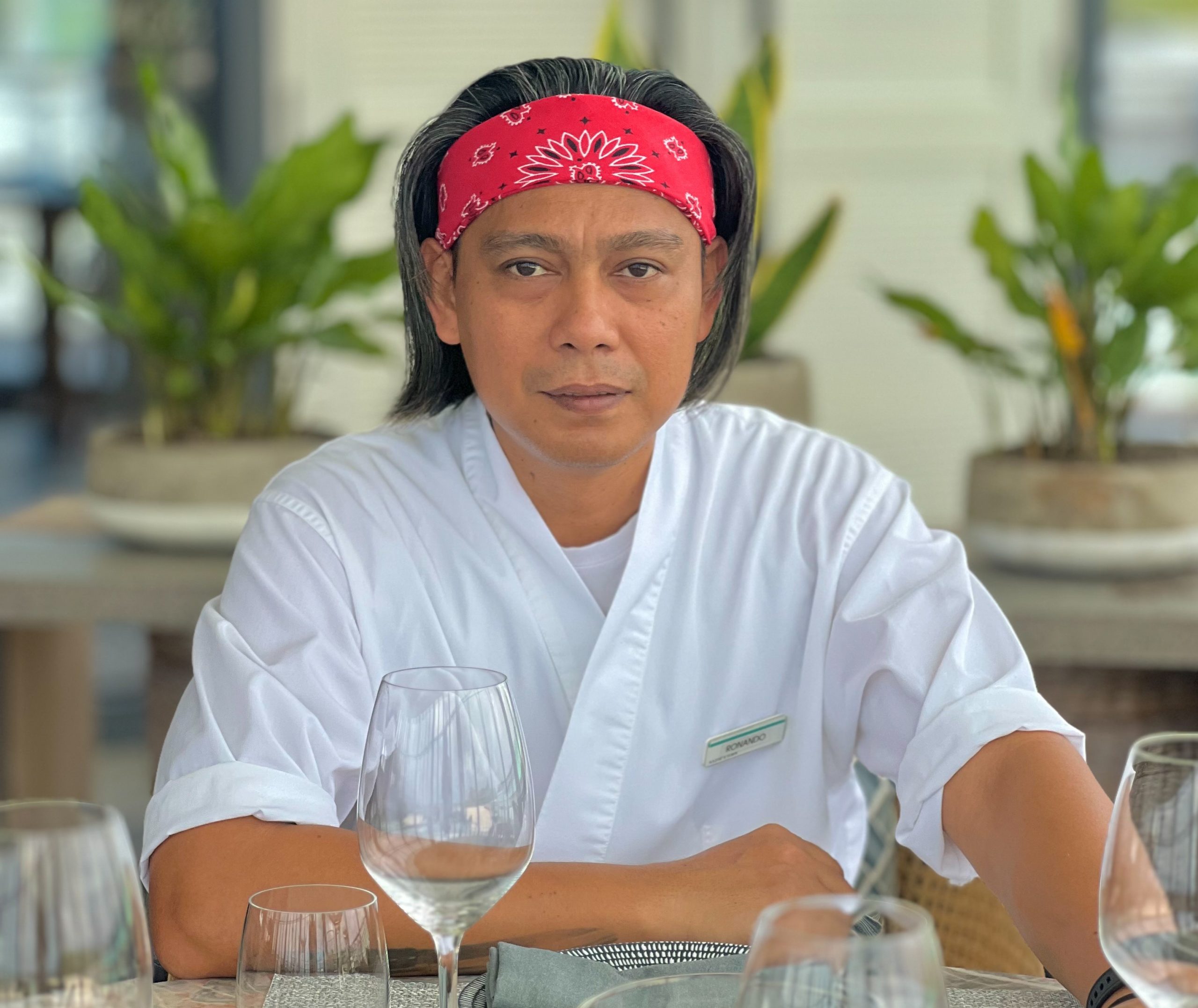 Featured Image: Ronando Anievas Ramos
HM: Tell us a unique / interesting fact about yourself?
RR: I love to teach. It makes me happy when my team learns new things from me. Also, even though I've been here eleven years, I still don't like to swim in the sea!
HM: What do you consider are the key attributes / skills required to become a good chef?
RR: Patience, a good attitude, and self-confidence are all essential. As a teppanyaki chef, attention to detail is extremely important as you need to create perfect dishes in front of the guests, so you need to be able to assess the doneness of the meat and fish with just the touch of a spatula. You also need to be able to interact with the guests and put on a show which is where self-confidence is important.
HM: Where do you see yourself in the next 5 years and what is your career goal?
RR: My current goal is to become Chef de Cuisine within the next two years. After that, I will set a new goal. My long-term goal is to start a small food business with my wife.
HM: What piece of advice would you give to aspiring chefs? 
RR: Be humble, love your passion and always believe in yourself.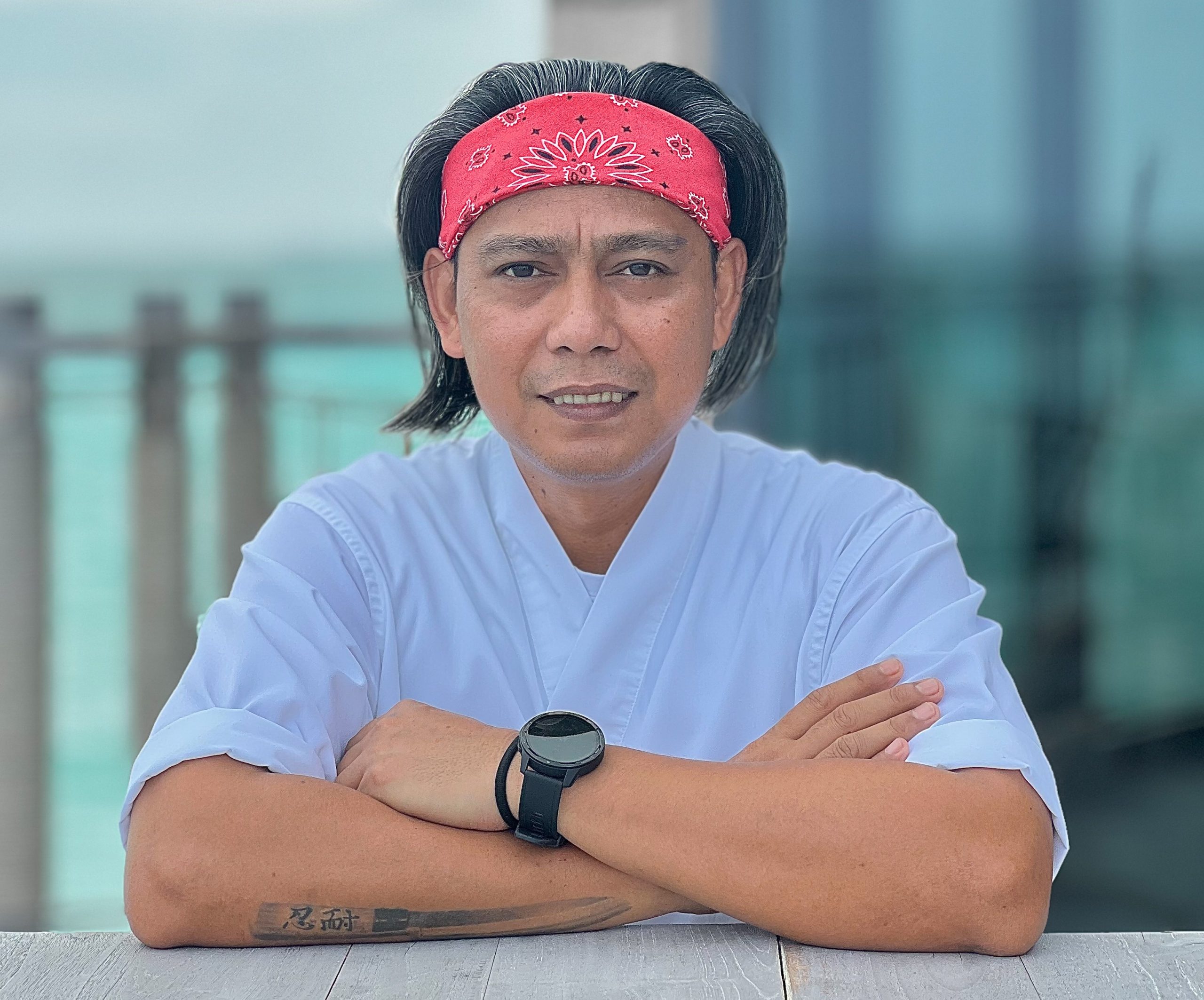 Featured Image: Ronando Anievas Ramos
HM: How do you use social media? Is it a beneficial resource or a distraction?
RR: It's very beneficial as you can get new ideas that help you a lot. It also helped me get both the Kurumba and Le Méridien position.
HM: What is your favourite ingredient to work with and why?
RR: Sake wine, mirin and soy sauce. They are the main ingredients for sauces in Japanese cuisine. Soy sauce is the main one for me as it is versatile.
HM: Do you have a favourite / signature recipe to share? 
RR: Certainly, it is Hamachi Flambé, with incorporates of foie gras, oscietra caviar, avocado puree, and micro herbs.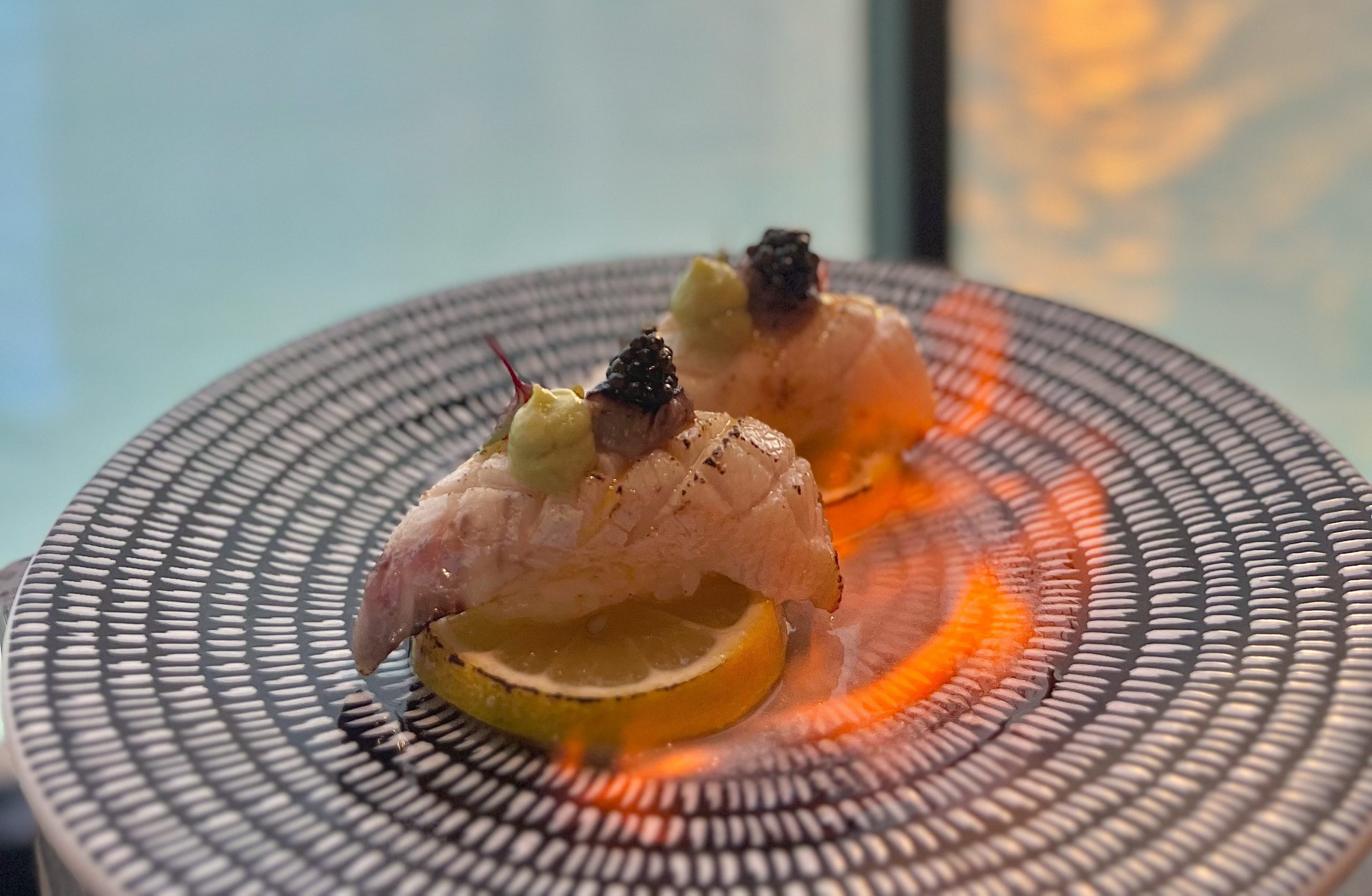 Featured Image: Hamachi Flambé
Ingredients:
20gm – Sushi rice
30gm – Hamachi (Japanese amberjack)
10gm – Foie gras
10gm – Avocado puree
5gm – Oscietra caviar
1pc – lemon
1tbsp – Salt
30ml – vodka 
Wasabi, ginger, micro herb for garnish
SHARI SAUCE
300ml – Mizkan Vinegar
20gm – Salt
60gm – Brown or white Sugar 
Method:
Put the vinegar with the sugar and salt in a saucepan on low fire.

Mix all together until the sugar has dissolved.

Set aside.
SUSHI RICE
500gm – Japanese rice
150ml – Shari sauce
Method:
Wash rice at least 4-5 times until the water becomes clear. 

Cook the rice.

Mix the cooked rice with the shari sauce at least two times every 5 minutes.

Set aside.
AVOCADO PUREE
1pc – Avocado
10ml – Lemon juice
Pinch – Salt and pepper
Method
Mix all together until it becomes a smooth cream.

Put it in a piping bag.

Set aside.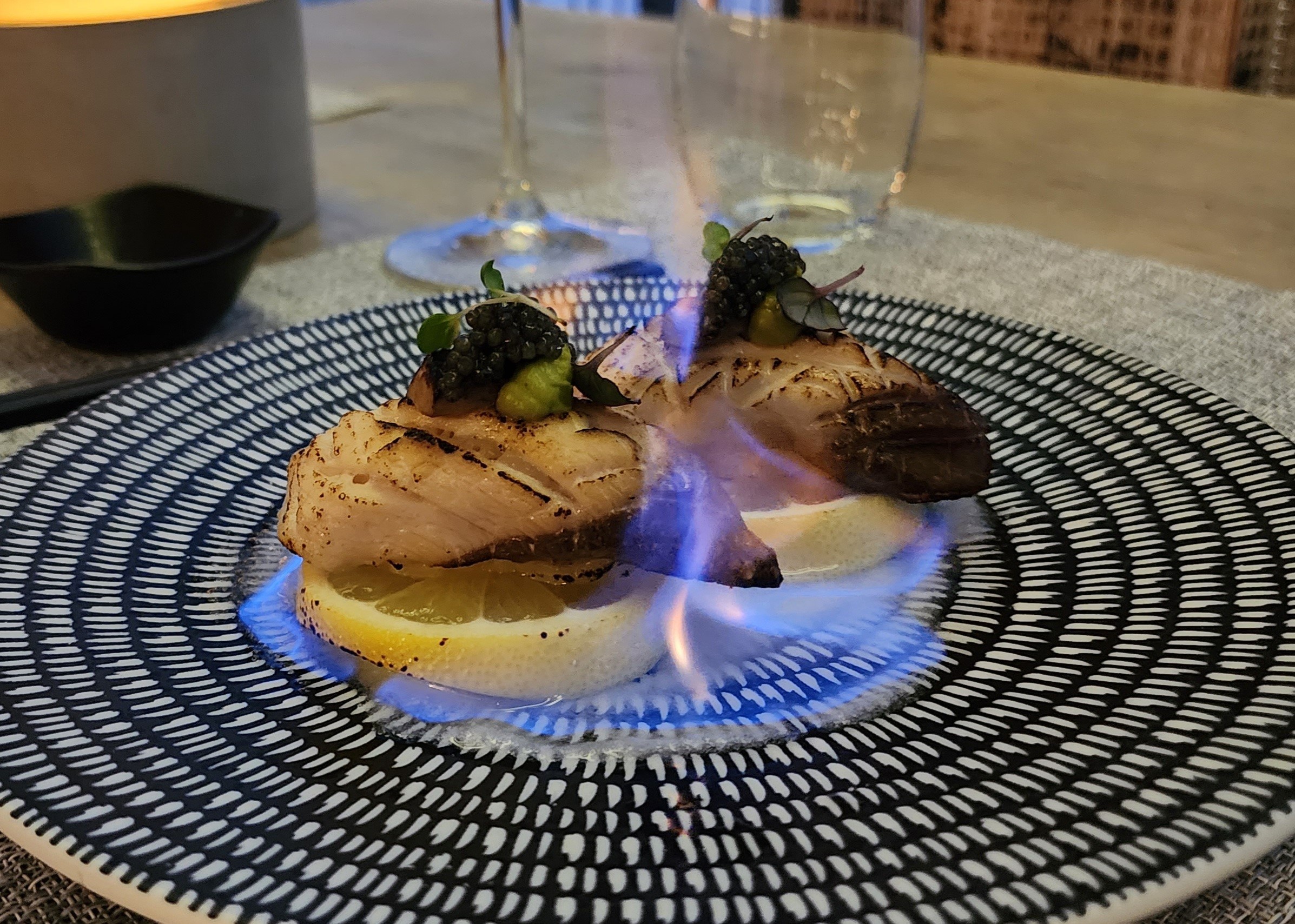 Featured Image: Hamachi Flambé
TO BRING THE DISH TOGETHER
Method:
Slice the fish (Hamachi) against the grain to obtain slices 4 inches (10cm) long, set aside.

Slice the lemon into a flat circle.

Slice foie gras in a small dice.  

Shape the sushi rice into small oblong balls and cover with a fish (Hamachi) slice.

Put the fish (Hamachi) on a clean stainless tray and add the foie gras on top then lightly seared using a flame torch.

On a plate, spread the fine salt in the middle, and put the sliced lemon on top.

Put the Hamachi with foie gras on top of the lemon.

Add the avocado puree and oscietra caviar next to the foie gras.

Garnish with micro herbs.

Put and spread the vodka on the side of the fine salt.

Light the vodka on fire using the flame torch.

 Served with soy sauce, wasabi and pickled ginger on the side.